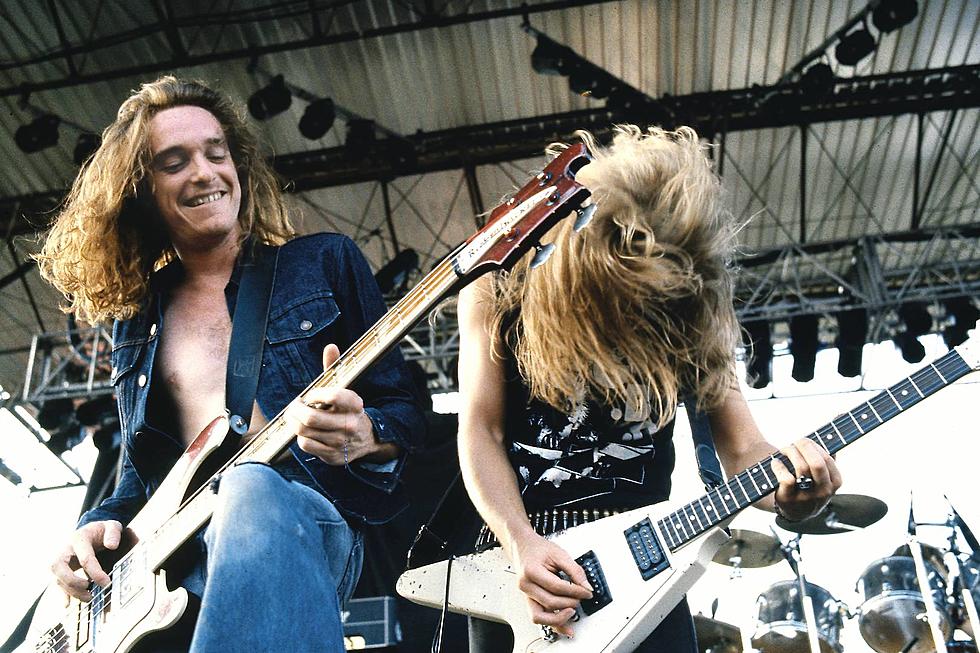 How Did Metallica Find Cliff Burton to Join Their Band?
Pete Cronin, Redferns/Getty Images
How did Metallica find bassist Cliff Burton? And how did they get him to join their band in 1982?
He wasn't Metallica's first bass player, but he's certainly the most legendary. With a more refined musical background than his bandmates, his knowledge of theory and knack for arrangements helped push the band in the songwriting department, which had a permanent effect on its members.
Now, let's dive into some early 'Tallica history!
Who Did Cliff Burton Replace in Metallica?
Metallica only had one other bassist before Cliff Burton — Ron McGovney.
McGovney (featured on the far left in the photo below) was in Obsession (not the power/thrash band Obsession from New Haven, Ct. who released two albums in the mid-'80s), Phantom Lord and Leather Charm with childhood friend James Hetfield prior to the formation of Metallica.
He departed the Metallica lineup in 1982.
What Bands Was Cliff Burton in Before Metallica?
While at Castro Valley High School, Burton formed the rock band EZ-Street, which featured two other musicians who would later garner fame in Faith No More — Jim Martin and Mike Bordin.
Burton and Martin later formed Agents of Misfortune, another band that performed at the local level.
In 1981, the bassist joined power/speed metal group Trauma, who were located in San Francisco, the area that would later give rise to the world's most notable thrash metal scene. Burton recorded one 1982 demo with Trauma and the song "Such a Shame" was featured on Metal Blade's Metal Massacre II compilation, which was the successor to the legendary first comp that included Metallica's first recording — "Hit the Lights."
Trauma, "Such a Shame" (Metal Massacre II)
READ MORE: Why Did Jason Newsted Leave Metallica in 2001?
How Did Metallica Approach Cliff Burton to Join the Band?
In November of 1982, Trauma traveled to Los Angeles to perform at the Whisky a Go Go club on the now infamous Sunset Boulevard. The area was also home to many aspiring thrash bands, but it existed in the shadow of the dominant force on the Strip at the time — hair metal.
In attendance that night were Metallica's ironclad duo, James Hetfield and Lars Ulrich.
Burton's extraordinary talents were obvious to those in the room, spurring Hetfield and Ulrich to make a personnel change and convince Burton to join their band. It took some time, and after Burton persuaded Metallica to relocate from Los Angeles to San Francisco, he became an official member before the year was over.
On March 5, 1983, Burton played his first show with Metallica at The Stone in San Francisco.
Cliff Burton's First Show With Metallica (Audio Only)
Top 66 Rock + Metal Bassists of All Time
Counting down the very best bassists in rock and metal history.
Gallery Credit: Loudwire Staff