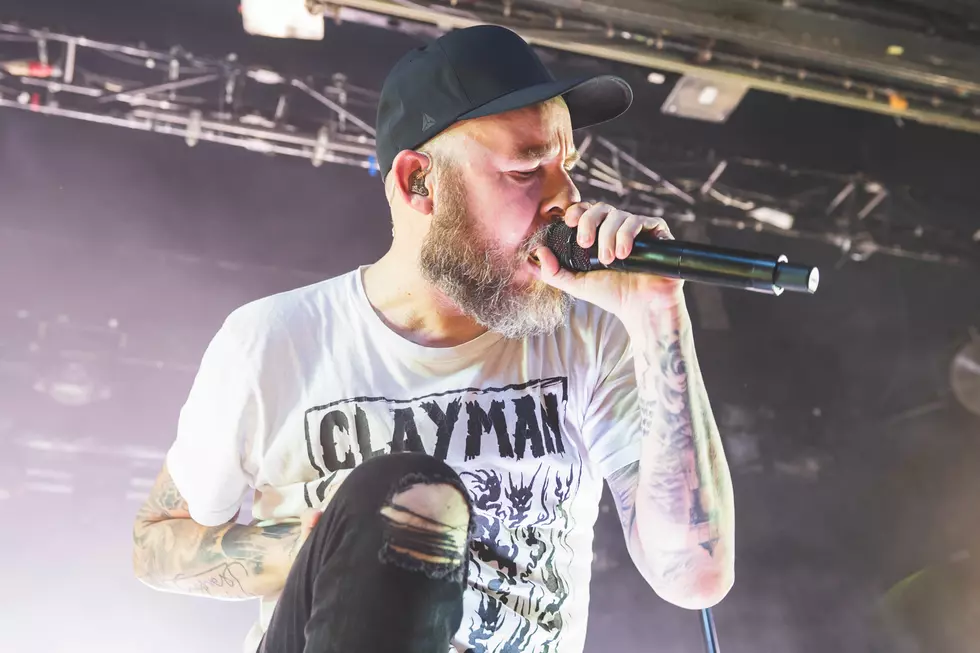 In Flames' Anders Friden – Band Has Never Sounded Better Than With Current Lineup
Mariano Regidor/Redferns, Getty Images
In Flames frontman Anders Friden was the guest on Full Metal Jackie's weekend radio show, dropping in to discuss the band's newly released studio album, Foregone. During the course of the chat, Friden made a bold claim about the ever-evolving band's current lineup. "As of now, I think we haven't sounded better," said the vocalist.
The singer also dives into the creation of their 14th studio album, explaining to Jackie how things such as the pandemic and the war in the Ukraine has impacted their most recent record.
And while streaming may be the big thing for music listeners today, Anders reveals why he still views making albums in the "Side A/Side B" style of his youth and why he feels that's still important.
Dig into Full Metal Jackie's chat with In Flames frontman Anders Friden below:
We are here to celebrate the new In Flames record, it's called Foregone and Anders, recently you stated that this new record is intended to bring the metal back. How do you feel?
Did I say that? But yeah, at least for us, we wanted to add some more guitar and bring up the drums more in the front of the mix, so to speak. So maybe that was the metal I'm talking about. I think we've always been a metal band.
Got it. So you don't feel like there was a point where In Flames strayed from metal?
No, not in our hearts at least. We approach the music the same way all the time. And then we record every third year-ish, something like that. You might be in a different place at that point, or with a different producer or with a different situation and then it sounds different, but I mean, our intention is always it's metal. That that's what we love. And, and that's the genre that we want to be.
"The Great Deceiver" was inspired by the Russian invasion of Ukraine. Why are musicians best suited to chronicle such injustices?
We went through this whole pandemic and as soon as we were able to to travel the world and it felt like the pandemic was over, we had a war in Europe and it was on the television constantly while we were recording. So it was impossible not to be influenced and see the injustice in the whole thing and what's going on and feel for people of Ukraine. So yeah, it was very easy to turn that into a lyric on the album.
In Flames, "The Great Deceiver"
In Flames endorses the importance of an album as a fully representative body of work. What's difficult and fulfilling about making a group of songs fit together as a complete statement?
I understand that people listen to music a little bit different these days. It's streaming. You listen to a song for 30 seconds and then you judge a whole band's career upon those 30 seconds. But for me, I'm very old school in that I'm thinking about Side A and Side B like on a vinyl, the way I listened to or consumed music when I was young.
So, to me, it has to be a certain dynamic within the album, within the song, but there has to be a flow from the beginning to the end and it's really important. While we are creating the music we kind of feel what's missing on the album cause we don't want to have an album that consists of just fast songs or just slow songs. It has to be a vibe, there has to be a dynamic between the songs. So it is super important to us. That's something I think of from the beginning of the recording up until the final mixes are being delivered to the record company.
I hadn't really thought of that this new world of streaming that it used to be when you wanted to hear your favorite song, you'd have to wait to hear it on the radio or you know, God forbid, pull it up on vinyl and find the exact song or even a cassette tape or CD, whatever it was. But now, if a fan discovers you and listens to some random song, I mean, we've all been there where it's like nope, and then you move on. Do you feel like it's harder for bands because of streaming and being able to consume music this way?
It's good, it's a positive and a negative in a way, I guess. Music is not negative. It's easier to get your music out there these days, but it's more difficult to be heard and definitely when people's interest span is about, as you said, you have a couple of seconds to show people that you are worth their time. For a band like us that has 14 albums and definitely has gone through phases, I want to present everything. But that being said, I can't force people to listen to everything either. It's up to each and everyone to do what they want with that time. But, yeah it might be more difficult these days to to crack through the noise out there.
In Flames, "State of Slow Decay"
Anders, lyrics require songwriters to be keen observers of the world around them. What did you observe that directly shaped your words on Foregone?
Well, I am really sick and tired of talking about pandemic, and I think people are quite tired of hearing me talking about it as well. But it has had a huge effect on us and on me. We've been doing this our whole a grownup life basically. We've been touring the world and all of a sudden we are in a situation where we can't see our crew, the band, our fans and you feel almost useless and you start questioning who you are.
I don't know how it was for you guys over there in the States, but after a year here in Sweden, we saw the world was opening up a little bit or it felt like it did at least. And then this Omicron or whatever it was called hit us even harder. And the world went into sort of a lockdown once again.
That was extremely depressing. So I was thinking about what time is doing to us. If for some reason, like you hear like tomorrow everything is over, what you do, then how do you behave and how do you react and what do you say to other people? Do you go through your life and thinking about things you've done or do you just go, 'Fuck it doesn't matter anymore, it's over.' This album has been more for me looking outward and seeing things around me. A lot of the albums in the past been me looking inside and trying to deal with my past and the history and that stuff. So for me it's a different take on the lyrics on this album.
Anders, Bryce, Chris and Tanner are all American. What are the benefits and challenges of being a multinational band?
I mean, when we're in the U.S. they can guide us to In-N-Out Burger, which is awesome. Food is a very big part of the In Flames machinery. But overall they're really good people. Obviously every time you bring someone new into the fold, you learn something about yourself and you have to adapt for the better and bring new energy. I feel these guys definitely have given us a push when it comes to playing live and the way we sound. And I don't put any shadow or say anything negative about anyone that's been in the band, but as of now, I think we haven't sounded better. These guys brought a lot of great vibe into the band and I'm really grateful where we are right now. I think people can hear it on this album too. It has a certain energy and a punch that maybe was lacking like a few albums back, you know, so I'm very happy where we are as band right now.
Anders from In Flames with us, pick up the new record Foregone and looking forward to seeing you guys back in the States. I assume that will be forthcoming information, but we will see you again this year, right?

For sure, for sure. We love being in the States and playing for you guys.
Thanks to In Flames' Anders Friden for the interview. The band's 'Foregone' album is out now and currently available here. You can also keep up with the group via their website, Facebook, Twitter and Instagram accounts. Find out where you can hear Full Metal Jackie's weekend radio show here.
26 Bands Who Sound Nothing Like Their First Album