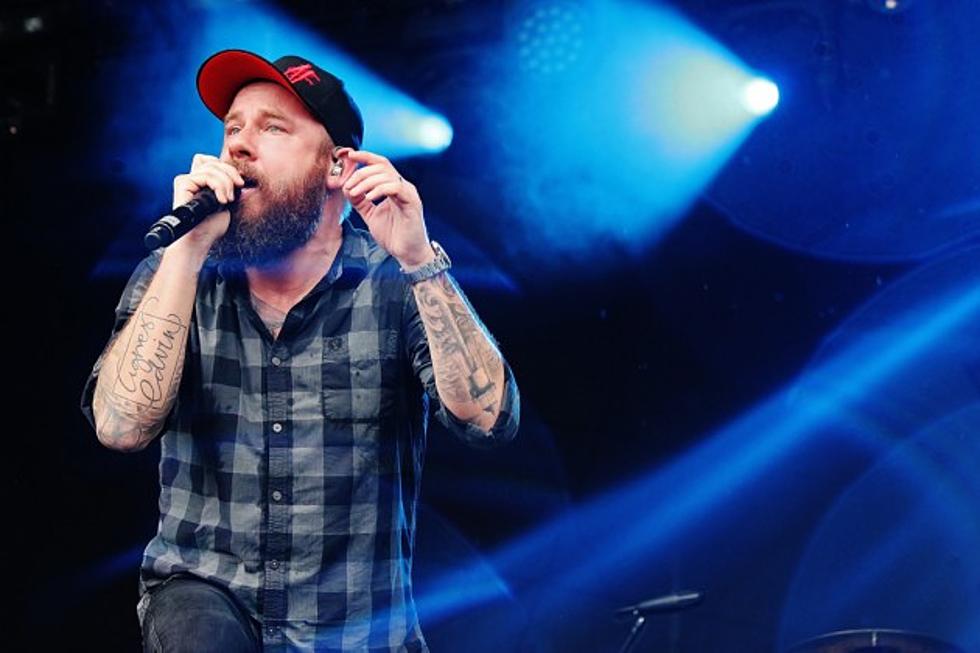 In Flames' Anders Friden Talks Upcoming DVD, Band's Live Show + More
Liz Ramanand, Loudwire
In Flames' Anders Friden was the guest on Full Metal Jackie's weekend radio show. The rocker sat down for a chat about their upcoming DVD and their live show. Check out the chat below.
I'm good. Surviving the warm weather. It's not easy for us Swedish people out there today.
There's a new In Flames concert Blu Ray DVD expected later this year. What do you think the biggest difference is in In Flames as a live band since the last live DVD, Use and Abused: In Live We Trust.
That was about 10 years ago. There are more lights in this one. [Laughs]. No dreads in this one, either. It's a real cool concert shot in our hometown. That's the biggest show on that tour, sold out -- 9,500 people. I went there to see Maiden, Scorpions and Priest growing up. So to be there selling out that place on our own is pretty fantastic when you think about it. Not something I'll brag on the street about, but it's, for me and my personal ego, it's pretty cool. It's also, for you guys, we can't bring that tour over here. It's good to show what we do over there on the other side of the pond.
Is it frustrating for you when you're touring here to go, "Man, I wish the American audience can see what we can really bring and the kind of production?"
I would love to bring that over here but at the same time, that show is a show and we play almost whenever and wherever and still try to maintain the same attitude. It would be cool, one day to bring that European show over here.
In what ways do you hope that In Flames would continue to musically evolve when you make another album?
We haven't really thought about the next one yet, still touring this one. But to just continue to write good melodies and get people into what we do. To find a band that already has 11 albums out and just getting introduced to that whole back catalog, to me, would be awesome. I want people to embrace and just take all the melodies into their hearts and just have a good time with the music, really. What we do is not rocket science. We just try to have a good time and write good tunes. We're not trying to be strange or different just for the sake of it. We'll continue, sound a little bit different but at the same time you will definitely hear it's In Flames.
I was fortunate enough to recently be at an In Flames show, sort of a fly on the wall, on the first day of the last leg of your tour and it was like, "Hey we should do some old songs. Hey we should practice them," and you guys were rehearsing songs in your dressing room playing songs that you haven't played in a really long time.
They are still there somewhere.
What does it feel like to be playing songs that you hadn't played in a long time on stage?
It must be great for the reaction you get out of people.
That too, but I really enjoy them. That's the thing. You realize, these songs were pretty good. Some of the older songs were hard to recreate live because we went into the studio and just overdubbed guitars like crazy. Live, you only have two guitar players so some of the melodies are -- you have to sort of sacrifice some parts. It's still great to play those songs. You hear people say, "Play the old tracks!" When we do, a lot of people don't know what it is, which to me, it's sad but it's still fun. They get to hear them maybe for the first time.
The fans that have been there for a long time, they're like, "I can't believe they're playing this song" and for the newer fans I think it makes them want go back. Maybe newer fans that are just discovering the band and that's always exciting when you discover a band and you're like, "Oh my god there's all this back catalog."
That's what I said before. If I hear a song that I like for the first time today and I realize this band In Flames has another 11 albums out there? Wow.
It's like discovering a show that's on it's last season.
Exactly. We know older fans want to hear all those songs and we constantly have been trying to play newer material, not because we don't like the old but it's sort of what we said -- you can find them, you just have to sort your way through the catalog. I'm sorry you were not there in 1996 when we went on tour with Jester. Sorry, but now we have another however many albums out there. Here and there we can play some old.
Thanks to In Flames' Anders Friden for the interview. The band's 'Siren Charms' album is out now. Look for the band touring Europe for a good portion of the remainder of 2015. Dates can be found here. Full Metal Jackie's weekend show can be heard on radio stations around the country — for a full list of stations, click here.
In Flames Discuss Their 'Siren Charms' Album
100 Metal Facts You May Not Know