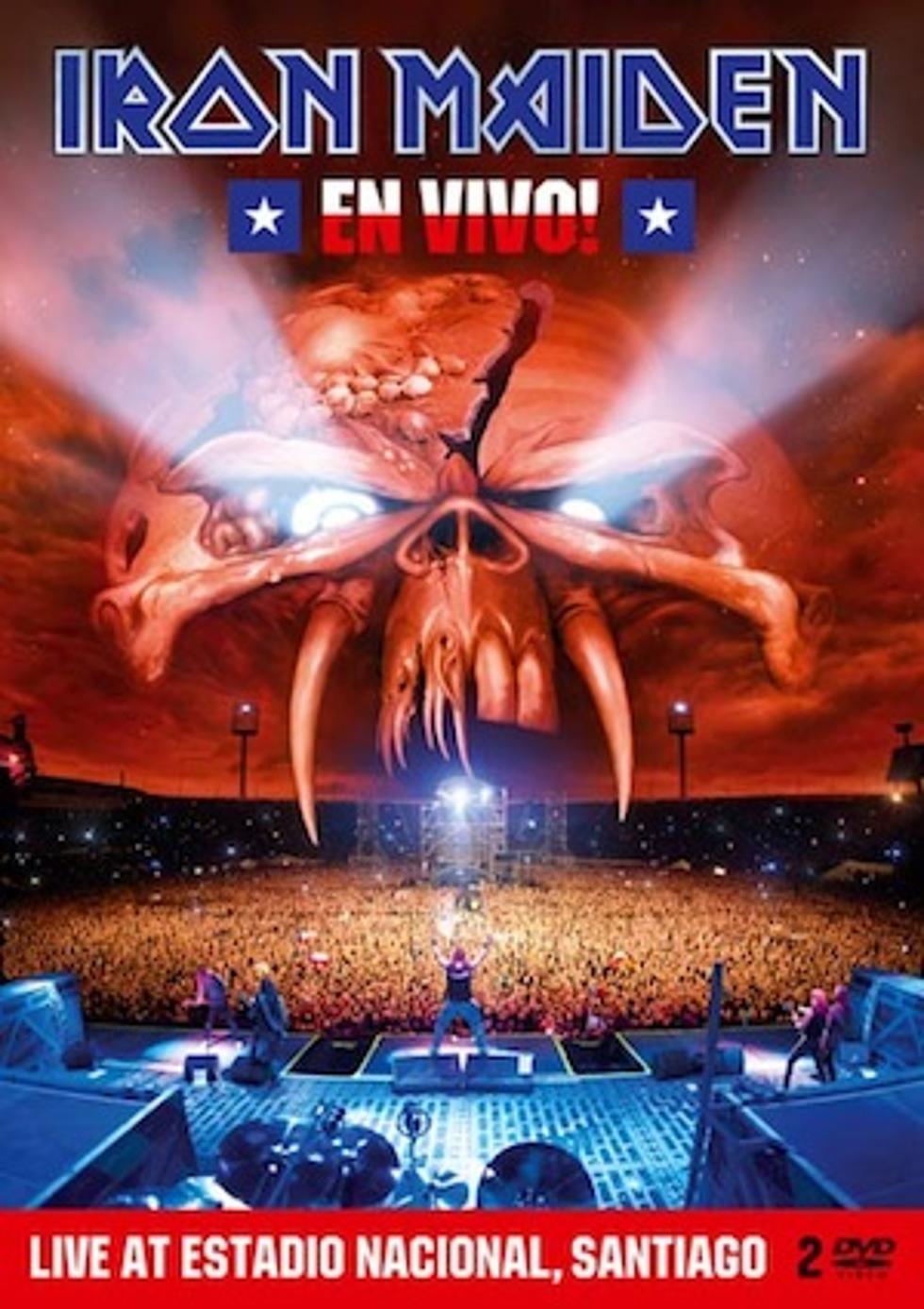 Iron Maiden To Unleash 'En Vivo!' Concert DVD + Documentary
Get ready for some incredible news, Iron Maiden fans. Three years after Iron Maiden's groundbreaking DVD 'Flight 666,' the band has announced the upcoming release of 'En Vivo!,' which contains a concert DVD filmed in Santiago, Chile, and a movie-length documentary.
After the massive success of Iron Maiden's 15th studio album 'The Final Frontier,' the band embarked on yet another world tour - hitting fans with two hours of songs spanning their entire career. The DVD will also contain the disc 'Behind the Beast,' which contains a documentary, the making of the 'Satellite 15… The Final Frontier' music video and a 'Final Frontier World Tour Show Intro.'
Iron Maiden bassist and creative mastermind Steve Harris raved about the upcoming DVD:
"For the Final Frontier Tour it was really important to me that we filmed in South America as we're always so overwhelmed by the fans' reaction when we go to that part of the world and I wanted to reflect that in the filming. After much consideration we chose the Santiago show as we felt it was one of our best performances of the entire Tour and to play at the prestigious Estadio Nacional was a landmark moment for us. For reasons known to our fans, it took a long time before we got to play our first show in Chile, and once we did get to play a show, the response was so phenomenal we just had to keep coming back and it's got better and better each time!"
Harris continues, "This show also features the gigantic new Eddie. He wasn't due to make his appearance until our European leg of the tour later in 2011, but we managed to transport him across the sea in a special huge container just in time for the latter end of the South American dates so it was great we were able to immortalize him for the DVD as he really has to be seen to be believed!"
'Iron Maiden: En Vivo!' will be released March 27 on Blu-Ray, DVD and as a soundtrack album. Check out the full track listing below:
Iron Maiden 'En Vivo!' Track Listing:
DVD Disc One "Live at Estadio Nacional, Santiago" (approx running time 120 mins)
1. Satellite 15
2. The Final Frontier
3. El Dorado
4. 2 Minutes To Midnight
5. The Talisman
6. Coming Home
7. Dance Of Death
8. The Trooper
9. The Wicker Man
10. Blood Brothers
11. When The Wild Wind Blows
12. The Evil That Men Do
13. Fear Of The Dark
14. Iron Maiden
15. The Number Of The Beast
16. Hallowed Be Thy Name
17. Running Free
Bonus Disc - DVD Disc Two "Behind the Beast" (approx running time 102 mins)
1. Behind The Beast documentary
2. Satellite 15...The Final Frontier promo video (director's cut)
3. The Making of Satellite 15...The Final Frontier promo
4. The Final Frontier World Tour Show Intro