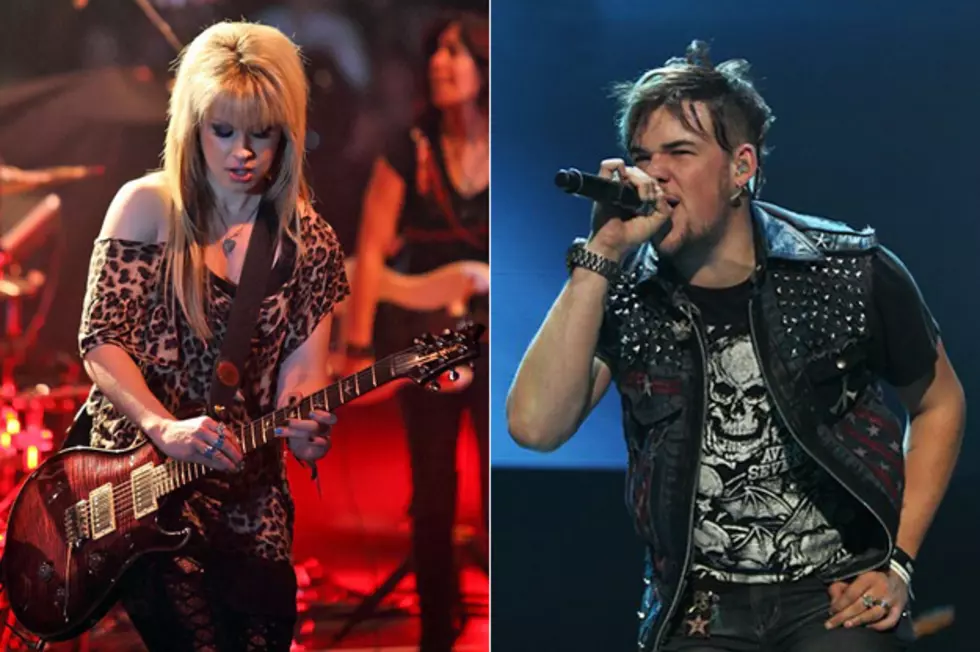 James Durbin and Orianthi Perform Dio Classic at Benefit Show + More
American Idol rocker James Durbin and guitarist Orianthi recently teamed up to lend their talents to a great cause. On March 2 at Center Staging in Burbank, Calif. the two performed at a benefit for the Rock School Scholarship Fund. Rock School Scholarship Fund is a non-profit group that funds music lessons and provides instruments for kids 7-17 who want to attend any rock school nationwide, but whose parents don't have the financial means.
The night would see both Durbin and Orianthi collaborating with students in the program to perform songs from all genres. One of the stand out performances of the night was Durbin and Orianthi jamming the Dio classic 'Rainbow in the Dark' with the School Of Rock North Hollywood, check out the video of their performance below.
Durbin also performed his hit 'Stand Up' and the Journey tune 'Separate Ways.' Orianthi rocked her way through her single 'Heaven in This Hell' as well as playing guitar while students took center stage to belt out songs by Foo Fighters and Aretha Franklin.
Durbin, a benefactor of programs like RSSF throughout his life, was honored to be a part of it all. "If it weren't for music scholarships I wouldn't have been able to learn what I know now," James said. "I play music because it's what I love to do and every single kid that I met at the event had that same fire.  I'm so happy I got to do this because it reminds me to have fun. Playing with those kids brought my fire back. The fire that made me want to be a singer in the first place.  A huge thank you from the bottom of my heart to the RSSF, the teachers, all the kids and to anyone and everyone who supports this great cause."
For more on Rock School Scholarship Fund, visit their website.
Watch James Durbin and Orianthi Perform Dio's 'Rainbow in the Dark'
Watch James Durbin Perform 'Stand Up'
Watch James Durbin Perform Journey's 'Separate Ways'