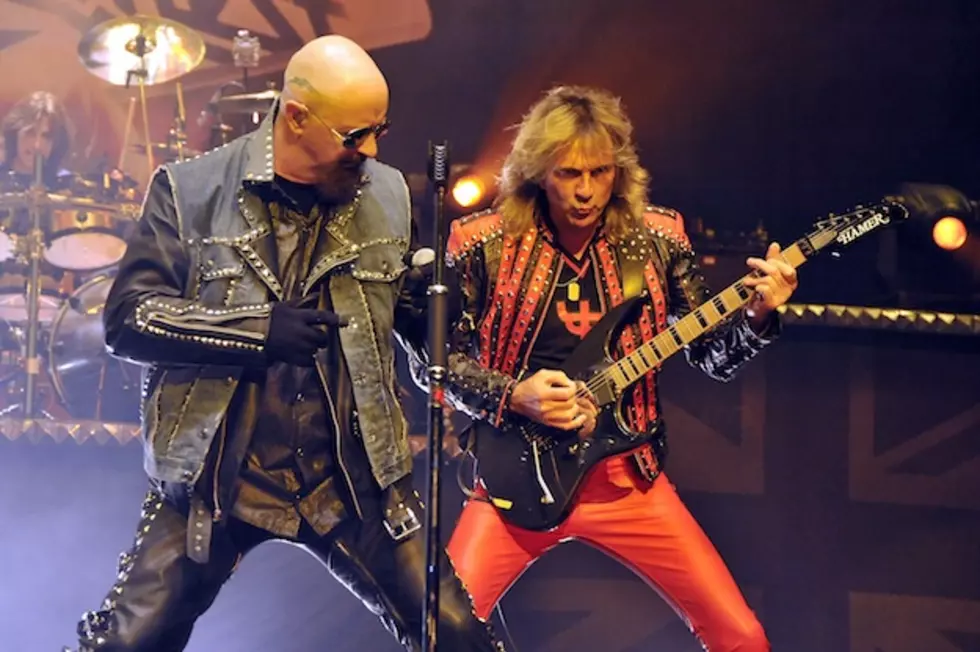 Judas Priest Finish Writing New Album, Band Members Join Fantasy Camp Lineup
Kevin Winter, Getty Images
Metal fans rejoice! British titans Judas Priest have officially completed the writing process for their new album and have started the recording process, producing the album themselves. In addition to this good news, the band has also joined the ranks for the next edition of Rock 'n' Roll Fantasy Camp, which already boasts a host of other metal gods like Zakk Wylde, Rudy Sarzo, Lita Ford and Vinny Appice.
The long-awaited followup to the concept album 'Nostradamus' has been talked about for quite some time now. The last couple years have been busy for Judas Priest with the departure of long time guitarist K.K. Downing and the emergence of the young Richie Faulkner as K.K.'s replacement. Fans were able to catch the new guitarist, who has received significant praise from his bandmates, on the Epitaph tour. The career spanning trek served as a non-traditional farewell tour where the band embarked on what was allegedly their last full-blown, lengthy world tour.
After much talk, light has finally been shed on the new album in a slightly less ambiguous manner than over the past two years. In an interview with Billboard, Rob Halford had this to offer: "It's heavy. It's something we think our Priest fans will be thrilled with. We know we have a reputation to maintain, and we know we have to deliver something really strong and solid. The album is going to be full of all the great things you love about Judas Priest -- I don't think I can say anything more than that without being hung, drawn and quartered."
With the writing finished and tracking under way, Judas Priest will be free to participate in the Rock 'n' Roll Fantasy Camp that takes place from Feb. 27-Mar. 2, 2014, at the MGM Grand Hotel and Casino in Las Vegas, Nev. Commenting on the Camp, Halford stated, "I think they're just looking for some professional tips and want to hear from the voice of experience. It's one thing to sing in the shower and it's another thing to sing on stage. They're two totally different worlds ... I'll try to explain myself as best as possible and give some insight into what it's like to be a metal singer."
Rock 'n' Roll Fantasy Camp allows those who attend a chance to write and record a song with fellow campers under the guidance of some of heavy metal's biggest and brightest stars. Rob Halford, Ian Hill and Scott Travis will join an already-star studded cast in Vegas while Glenn Tipton hangs back to mix the upcoming album.