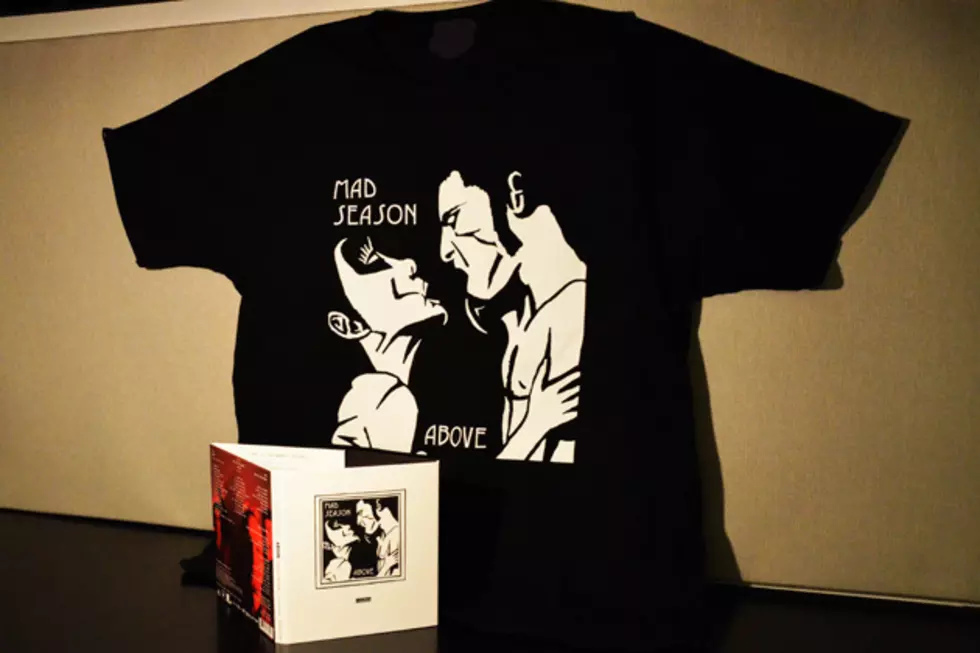 Win a Mad Season Deluxe Edition 'Above' CD/DVD + T-Shirt Prize Package!
Sony Legacy
Grungy supergroup Mad Season may have had their career cut shorter than expected in the '90s, but two of the band's members -- Pearl Jam's Mike McCready and Screaming Trees' Barrett Martin -- got together within the past year to complete the music from their long left unfinished sophomore set. Now the long lost recordings are finally seeing the light of day via Sony Legacy, packaged with 2005's excellent debut 'Above' for a special deluxe edition reissue. Loudwire is thrilled to be teaming up with Diffuser.fm to offer you a chance to win a special prize package based around this very awesome collection.
By entering our contest, you could win a t-shirt featuring Mad Season's striking 'Above' album artwork, as well as the deluxe three-disc package. The set includes the original album, the recently finished music from their sophomore set with Mark Lanegan taking over vocals from the late Layne Staley, and a DVD of the band's final performance with both Staley and bassist John Baker Saunders, whose death in 1999 stalled the progress of their second album. Sadly, Staley would also pass away in 2002.
The group recently debuted the long lost song 'Locomotive' with Lanegan on vocals and the propulsive, chugging track can be heard here. Martin told Rolling Stone of the song, "'Locomotive' is a song that best represents the direction Mad Season was going for our second, unfinished album. Mark Lanegan's lyrics and powerful voice captures that time perfectly." McCready added, "He did an amazing job singing over this track from the elusive second Mad Season record that was to be called 'Disinformation.' 'Locomotive' hits you like one!"
The 'Above' deluxe edition release arrives April 2 and a special double-vinyl version will be offered April 20 as part of the Record Store Day festivities. Pre-orders are currently being taken here. However, you can also enter to win a copy of the 'Above' deluxe edition release, along with the Mad Season 'Above' t-shirt by simply following @loudwire and @diffuser.fm and retweeting the contest announcement by clicking the red button below. The contest ends at 11:59PM ET on Wednesday, March 20. We'll pick a winner at random. Good luck!