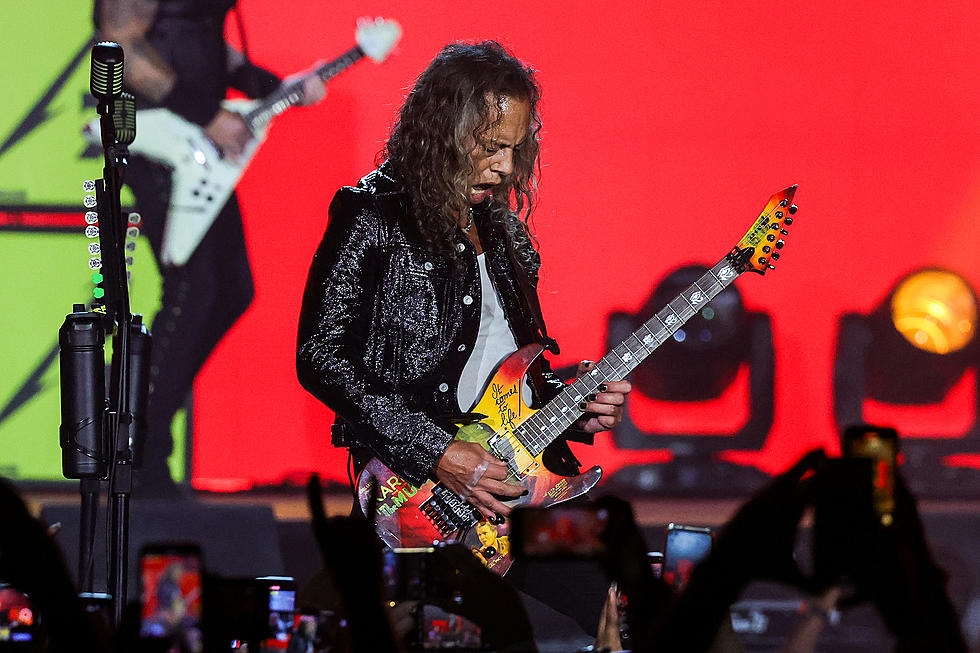 Metallica Play Mostly Old School Set at Power Trip, Kirk Hammett Flubs 'Nothing Else Matters' Again
Kevin Mazur, Getty Images
Metallica closed out the third day of the already historic Power Trip festival last night (Oct. 7) with a mostly old school set and just one minor hiccup where Kirk Hammett laughed off flubbing the intro to "Nothing Else Matters" for the second time on their North American tour leg.
This year, the metal legends have supported their new album, 72 Seasons, with a worldwide tour that features two nights of performances in each location. This "No Repeat Weekend" finds them crafting an entirely different setlist for the respective shows, which makes their Power Trip set even more unique.
Exactly half of the 16-song set was comprised of '80s material, with three off Ride the Lightning, two from Kill 'Em All and Master of Puppets and one plucked from ...And Justice for All. Add in another three from Metallica's self-titled 1991 effort, better known as 'The Black Album,' and that's 11 out of 15 songs from the first decade of their career.
Regarding 72 Seasons, Metallica performed the electrifying "Lux Aeterna" as well as "Too Far Gone," and further mined their 21st century catalog with one track apiece from Death Magnetic and Hardwired... To Self-Destruct.
The set did not feature any songs from Load or St. Anger.
READ MORE: Fans React to AC/DC's Power Trip Festival Performance
As a band that constantly changes their setlists, Metallica famously rehearse often backstage in what is usually a small, curtained-off jam room. Despite this, mistakes can still happen and, fortunately, Metallica are at a point where they can demonstrate humility and laugh off such a moment, rather than pick a fight with one another like their younger selves may have.
On the opening night of the North American leg of Metallica's tour, Kirk Hammett flubbed the introduction to the hit ballad "Nothing Else Matters" and, at Power Trip, the slip-up resurfaced.
Realizing it's better to just own up to it and start again, the guitarist walks up to the microphone and exclaims, "Sorry guys, I did it again. I screwed it up again! I'm gonna play it again for you guys!"
He takes a couple steps back and returns to the mic, "You know it's really fucking hot in the desert," and makes a couple mock coughing noises. In on the joke, drummer Lars Ulrich comes over with a towel and waves it behind his bandmate to help cool him off.
See Metallica's full Power Trip setlist and the "Nothing Else Matters" performance (as part of a full performance video that a fan uploaded) below.
Metallica Setlist — Oct. 8, 2023 (Power Trip Festival)
via setlist.fm
01. "Whiplash"
02. "Creeping Death"
03. "For Whom the Bell Tolls"
04. "Enter Sandman"
05. "Lux Æterna"
06. "Too Far Gone?" (followed by "Funk in the Desert" Kirk & Rob doodle)
07. "Fade to Black"
08. "Fuel"
09. "Orion"
10. "Nothing Else Matters" (False start)
11. "Sad But True"
12. "The Day That Never Comes"
13. "Hardwired"
14. "Seek & Destroy"
15. "One"
16. "Master of Puppets"
Kirk Hammett Flubs "Nothing Else Matters"
The Least Played Song Live From Every Metallica Album
The Most Played Song Live From Every Metallica Album
The songs you are most likely to hear at a Metallica show from every album.
Gallery Credit: Joe DiVita