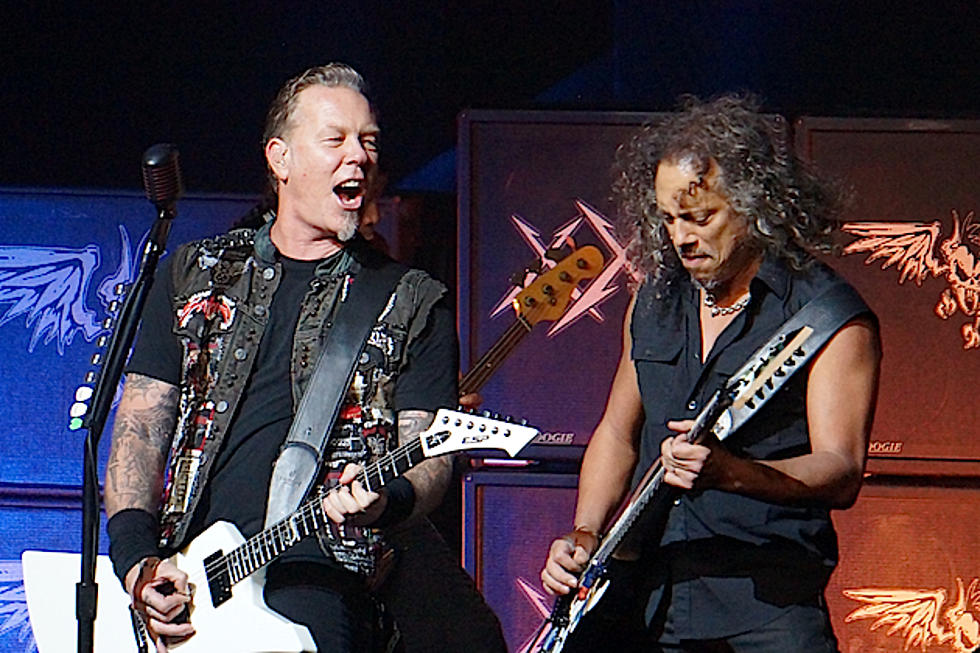 Metallica Plan to Release 27 Live Albums as Box Set
Spencer Kaufman, Loudwire
Here's a way to take your Metallica obsession to the next level. The legendary thrashers are planning the release of 27 live albums, and they'll all become available before 2014 is finished.
Metallica have been building a gigantic library of live performances for the past 10 years. A tremendous amount of shows have been recorded, some even being offered for free. However, Metallica are releasing every single show they've performed in 2014 as individual CDs for $19.81 each or as a massive CD box set for $417. A few of those shows will also see a vinyl release, with Metallica fans invited to vote on which concerts will be pressed.
Metallica announced the news with this statement:
We've been extremely proud to offer virtually every show we've done in the past ten years as a download within days of the shows happening... sometimes even hours! Over the years we've been able to offer more download options adding HD audio and Apple lossless files to the mix, but we still get requests for the "old school" compact disc. To celebrate ten years of Live Metallica, we're going to make that happen! Starting today through the end of this year, every show that we've played in 2014 will be released on CD! All shows with the exception of the MAP Benefit concert and Glastonbury are from the By Request tour with songs that you voted on... each night on the tour presented a different set list.

We want to keep it simple so we'll go in order of when the shows were played starting with Bogotá, Colombia, Quito, Ecuador and Lima, Peru from the March South American run. Next week the next three shows will be available and so on, rolling out three shows at a time on Mondays. For those of you who want it all, we're also giving you a chance to pre-order a box set with all 27 shows included, which will ship in December. There's that special concept of a volume discount and you'll have a box to store all your CD's in. CD's will be priced at the very clever price of $19.81 a pop with the box set at $417.00 (spot the savings!) and you can place your orders at either LiveMetallica.com or in the Met Store.

And for you vinyl junkies, select shows will be released on limited edition 180-gram vinyl early next year. And once again, we here at your friendly Metallica HQ want your input as to which shows you would like to see on vinyl... YOU choose from the 27 shows we've played this year by voting for your favs here. We'll take the top four that receive the most votes and press them up for you to order in early 2015.  Voting will close on September 26.

Let us know what you think and look for many more releases and some cool box sets in the New Year!
Keep your eyes open for that Metallica box set and stay tuned to Loudwire for all your Metallica news.
You Think You Know Metallica?