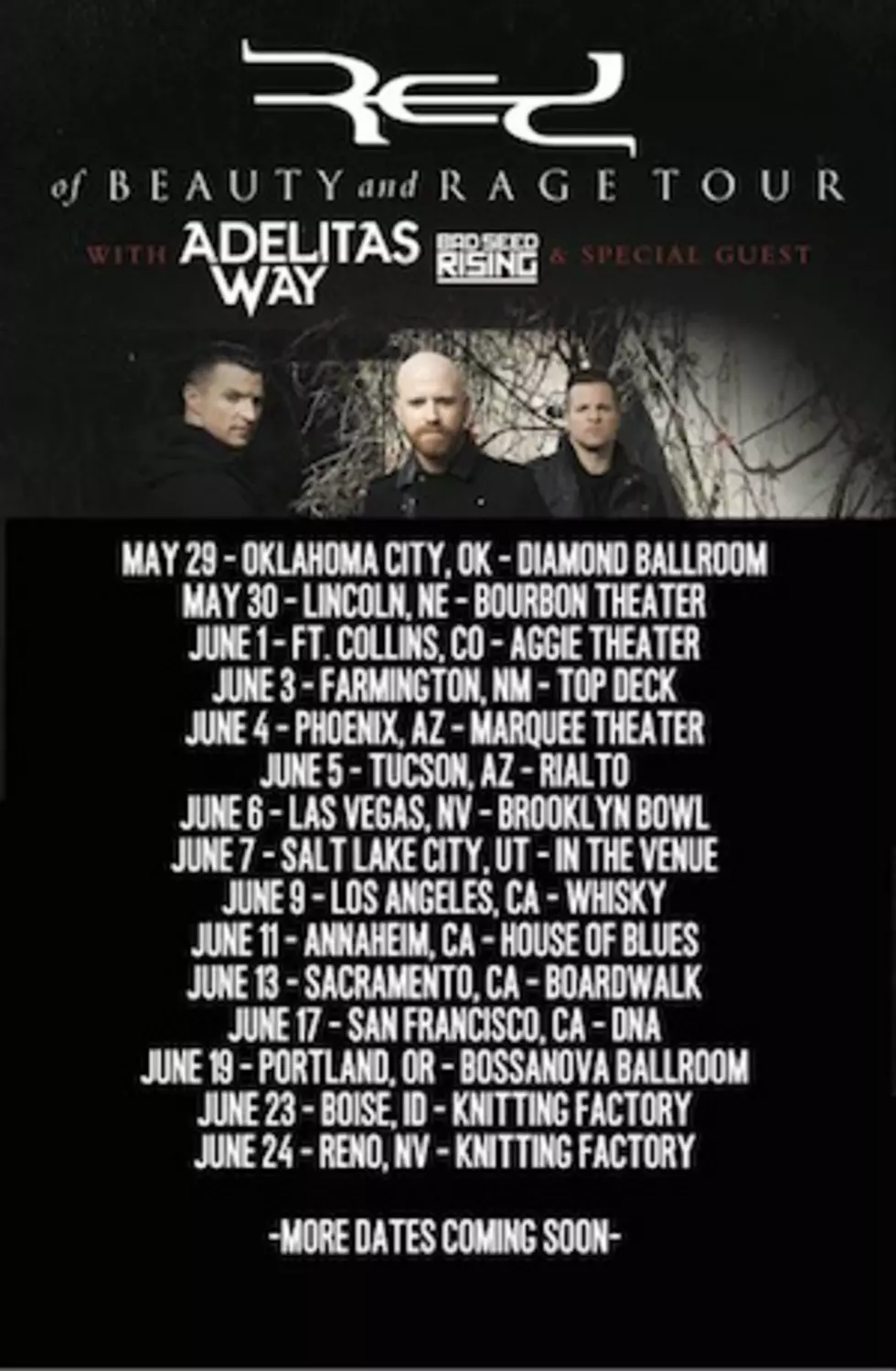 RED To Embark on 2015 U.S. Tour With Adelitas Way and Bad Seed Rising
Courtesy of Adelitas Way
RED will be hitting the road with Adelitas Way later this month as the two acts support their most recent efforts. The trek is dubbed the 'Of Beauty & Rage' tour, sharing the title with RED's most recent release.
RED issued their new disc back in February and have seen a gradual rise for their current single "Darkest Part." Other standout tracks from the disc include "Yours Again" and "Take Me Over," and they'll fit right in with the band's string of rock radio favorites from the last decade. Of Beauty and Rage is currently available at Amazon and iTunes.
Adelitas Way, meanwhile, recently released their Deserve This EP featuring the hit single "I Get Around." And that's just the first thing in a busy year for the group as they're planning a full-length album to be released in the coming months. You can pick up Deserve This or pre-order the forthcoming full-length at the band's PledgeMusic page.
Adelitas Way frontman Rick DeJesus states, "We are very excited to hit the road with RED. We respect everything they have accomplished and are big fans of the music. We are looking forward to a very fun summer of rocking." In addition to their regular set, the band is also offering a VIP pre-show acoustic set package playing some of the songs they never play live. For additional details, click here.
Bad Seed Rising will be opening the shows. The upstart rockers are promoting their new EP, A Place Called Home, which is currently available at iTunes. In addition, fans can look for the group's self-titled song "Bad Seed Rising" from their debut EP Charm City turning up as the end title song for the upcoming Melissa McCarthy film Spy. Check out the video for their current single "It's My Time" here.
The trek gets under way May 29 at the Diamond Ballroom in Oklahoma City and continues into late June at present, but a tour poster reveals that more dates are coming soon.
RED / Adelitas Way / Bad Seed Rising North American Tour
5/29 -- Oklahoma City, Okla. -- Diamond Ballroom
5/30 -- Lincoln, Neb. -- Bourbon Theater
5/31 -- Fort Collins, Colo. -- Aggie Theater
6/1 -- Denver, Colo. -- Summit Music Hall
6/3 -- Farmington, N.M. -- Top Deck
6/4 -- Phoenix, Ariz. -- Marquee Theater
6/5 -- Tucson, Ariz. -- Rialto
6/6 -- Las Vegas, Nev. -- Brooklyn Bowl
6/7 -- Salt Lake City, Utah -- In the Venue
6/9 -- Los Angeles, Calif. -- The Whisky
6/11 -- Anaheim, Calif. -- House Of Blues
6/13 -- Sacramento, Calif. -- Ace Of Spades
6/17 -- San Francisco, Calif. -- DNA
6/19 -- Portland, Ore. -- Bossanova Ballroom
6/23 -- Boise, Idaho -- Knitting Factory
6/24 -- Reno, Nev. -- Knitting Factory