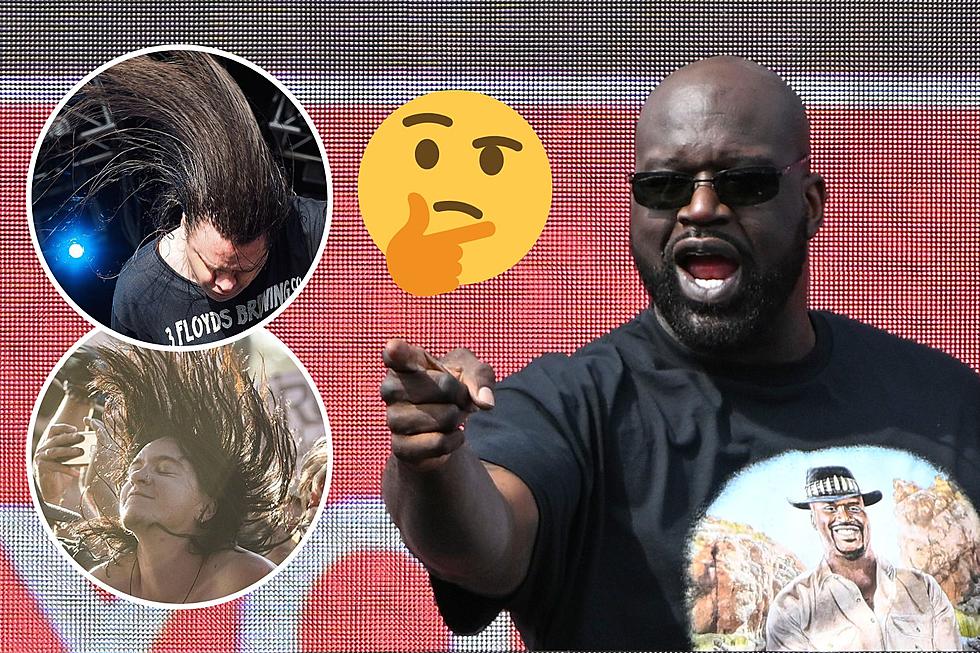 Shaquille O'Neal Announces Shaq's Bass All-Stars Festival Lineup Designed For 'Headbangers' But Something Feels Off…
Logan Riely, Stringer/Getty Images / Mick Hutson, Getty Images/Redferns / Gina Wetzler, Stringer/Getty Images
NBA legend Shaquille O'Neal has just announced the lineup for a Texas installment of Shaq's Bass All-Stars Festival, advertising that it's for his "headbangers" everywhere. But, after a quick glance at the lineup, it appears that ol' Shaq Diesel and rock/metal fans have very different ideas of what constitutes being a headbanger.
The four-time NBA Championship winner is one of 14 musical artists who are set to appear across two stages at this year's event, which is concentrated on EDM (electronic dance music), of which Shaq is known to be a massive fan of.
Even though Shaw has been spotted in mosh pits before and the 7-foot-1 NBA Hall of Famer once did a stage dive during one of his own DJ sets, unfortunately, there won't be any rock or metal acts for the headbangers in attendance to enjoy. And while these artists may not be what rock and metal fans would traditionally give ourselves neck issues to; hey, we're not going to gatekeep headbanging here.
"I am building this festival for all my headbangers out there. I'm bringing together my favorite acts and am excited for this to be a home for bass music fans throughout Texas that we can create a community around," Shaq tells Billboard.
READ MORE: Shaq Tried to Break Guinness World Record for Biggest Mosh Pit
Although the fest may not be lined with acts we're more familiar with at Loudwire, it's still pretty cool to see the celebrity athlete and passionate music fan bolster the scene he loves so much with an event such as this one.
"I've got a big platform, and I love to support up-and-coming acts as well … Some of these little guys on the lineup are just as good as the headliners, and that's what Shaq's Bass All-Stars is all about … It doesn't matter who is performing if we are all together having a great time and headbanging," he adds.
Right on, Shaq!
When are Where Is Shaq's Bass All-Stars Festival?
It all goes down on Sept. 16 in Fort Worth, Texas at Panther Island Pavillion.
Who Is Playing Shaq's Bass All-Stars Festival?
DJ Diesel (Shaq)
Alison Wonderland
Kai Wachi
Sullivan King
Crankdat
Jantsen
Layz
Emorfik
Hairitage
Leotrix
Charlitz Web
Solatn
Ruvlo b2b Celo
When Do Tickets Go on Sale?
Tickets go on sale June 23 at 12PM CT, starting at $49.
The lower ticket price is something important to Shaq, who just wants to invite fans out "for a good time." "I don't DJ for the money. I DJ to replace the Game 7 energy that I can't seem to replicate anywhere else besides at music festivals," he says, comparing the adrenaline rush of performing to do-or-die title-winning moments during his NBA career.
25 Awesome Celebrity Metalheads