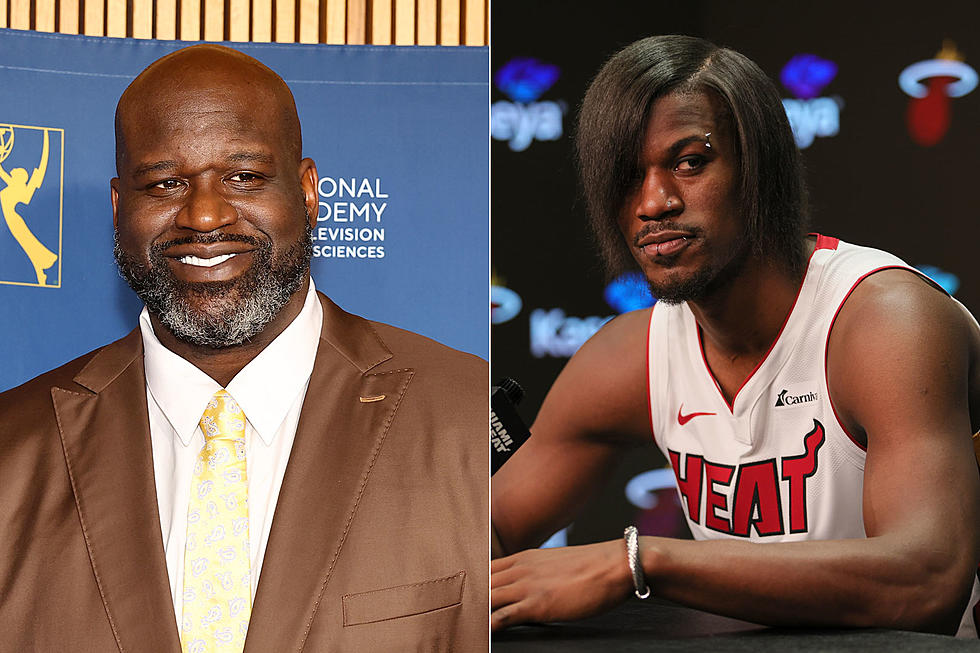 Shaquille O'Neal Dresses as 'Emo Jimmy Butler' for Halloween
Arturo Holmes / Sam Navarro, Getty Images
It's always good to be current with your Halloween costumes, and back at the beginning of October, Miami Heat star Jimmy Butler was all the buzz on media day, suddenly showing up with an emo haircut and plenty of piercings while committing to the perception that he was now "emo." So, for Halloween, another Heat legend, Shaquille O'Neal decided to pull from Jimmy's media day style for his Halloween costume.
O'Neal is one of the hosts of TNT's Inside the NBA, and when the cameras went live for coverage of the NBA's Halloween night games, it was obvious the hosts were up for the dressing up idea. Ernie Johnson quickly turned his attention to Shaq, who was sporting a black T-shirt and an emo swoosh dark black wig. When asked by Johnson who he was, O'Neal in sullen voice stated, "Jimmy Butler," then pointing to his lip ring. He was also sporting a nose stud just below his emo mop.
"That's not actually bad, Shaq. That's pretty good," commented co-host Kenny Smith, with Charles Barkley cracking, "When is an ugly woman not bad?" Smith quickly corrected Barkley, noting, "He's not a woman, he's Jimmy Butler."
The rest of the panel for the night had Kenny "The Jet" Smith as a Top Gun pilot (complete with a line from the movie), Charles Barkley as "The Busdriver" (reiterating some prior trash talking with current star Kevin Durant) and Johnson doing his best Vito Corleone from The Godfather, complete with a fake cat to pet.
When Jimmy Butler Went Emo for Media Day
As stated, back in early October, Butler showed up a press day fully committed to presenting himself as an emo. Sporting straightened, combed over hair, lip, nose and eyebrow rings and painted black fingernails, Butler addressed the media in a sullen tone. This wouldn't be the first time that Butler trolled the media, last year showing up sporting long dreadlocks.
"I'm feeling this," Butler said of his new look during the press conference, where he frequently patted at his long bangs with his hand.
He continued, "I'm very emotional right now. This is my emo state and I like this. This is me. This is how I've been feeling as of late."
Of course, social media went wild with Jimmy's new look, with fans coming up with their best emo related nicknames including "Ball Out Boy" and "Jimmy Eat World."
The look served its purpose for drawing attention on media day, but by the time the season started, Butler's "emo" look was no more.
READ MORE: See How Rockers Dressed Up for Halloween 2023
Shaq's Ties to Rock Music
The "emo" look may have been for Halloween, but Shaquille O'Neal has kept a presence in the rock world over the years. Back in 2001, the then-Los Angeles Lakers center hopped onstage with 311 at a radio festival, then ended up with a bloody mouth when he attempted to crowd surf into the audience. O'Neal had a previous relationship with the group, having agreed to appear, unknowingly to his coaches, in the band's "You Wouldn't Believe" video.
He's also appeared at multiple festivals over the years, both as a fan and a performer. In 2019, he was spotted in the moshpit at a Belgium EDM festival that he was also performing at. In 2021, he attempted to stage dive for the first time while performing at DJ Shaq Diesel at the Lost Lands Festival in Ohio. And he once tried to rally fans to set a Guinness World Record for the biggest moshpit. As a musician, he released the rap song "Thotties Hit the Floor," which samples Drowning Pool's "Bodies," earlier this year.