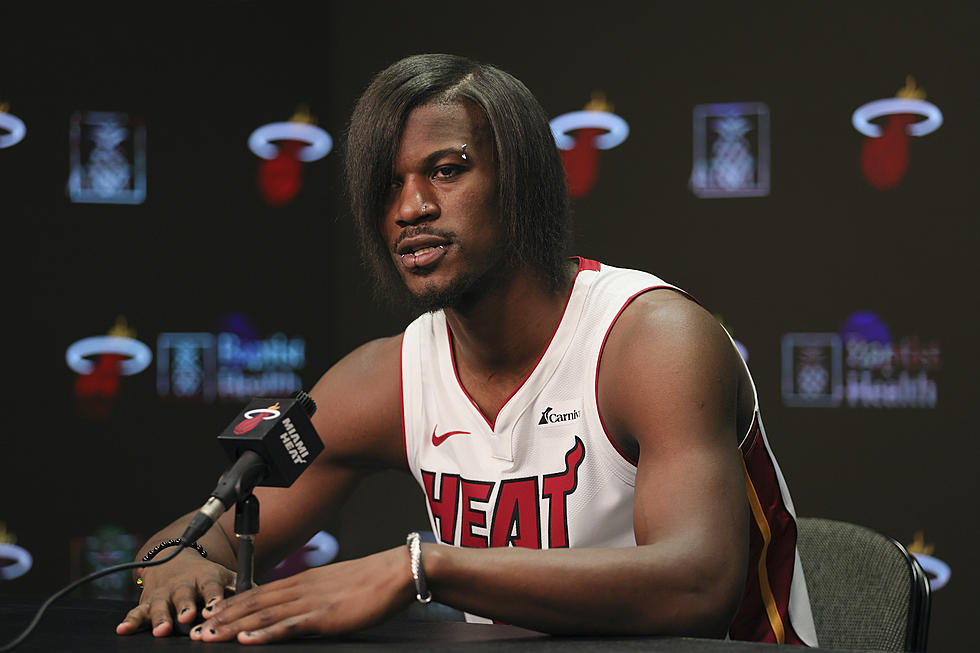 Ball Out Boy – NBA Star Jimmy Butler Explains Why He's Emo Now
Sam Navarro, Getty Images
Star Miami Heat player Jimmy Butler has debuted a new "emo" look ahead of the start of the 2023-24 NBA season. But is the athlete for real?
On Monday (Oct. 2), Butler arrived to the Heat's media day at the team's home arena at Miami's Kaseya Center sporting a complete "emo" makeover that included long straightened hair with pierced lips, nose, eyebrow and black fingernail paint, as the Miami Herald subsequently reported.
As one might guess, internet commenters reacted swiftly, with emo-loving basketball fans giving Butler new nicknames such as "Ball Out Boy."
READ MORE: NBA Star Jimmy Butler Uses Nickelback to Get His Teammates Fired Up
Indeed, Butler looked nothing like the 2022-23 version of himself from that NBA season with his usual braided 'do. But as media day is the first glimpse the public gets each year of a team's players in current uniform, Butler frequently seems to go out of his way to get a reaction. For last year's media day, he showed up with long dreadlocks. But they were gone by the start of that season.
So, sure, maybe this is just for the reaction as well. But is Butler actually full emo now?
Jimmy Butler Emo Hair
"I'm feeling this," Butler said of his new look during a press conference on Monday, where he frequently patted at his long bangs with his hand.
He continued, "I'm very emotional right now. This is my emo state and I like this. This is me. This is how I've been feeling as of late."
Still, it remains to be seen if the emo Jimmy Butler actually hits the court. Regardless, he confirmed to NBA TV on Monday that he's in his emo stage. See video and more photos below.
The Miami Heat's Jimmy Butler Goes "Emo" for NBA Media Day - Oct. 2, 2023
Rock Stars Who've Attended the NBA Finals Over the Years
Several prominent rock musicians — indeed, rock stars — have attended the NBA Finals over the years. Below is a gallery of photos of them that you might find interesting, especially if you're a basketball fan who enjoys rock and metal music. That's right — we're playing basketball!
Gallery Credit: Philip Trapp