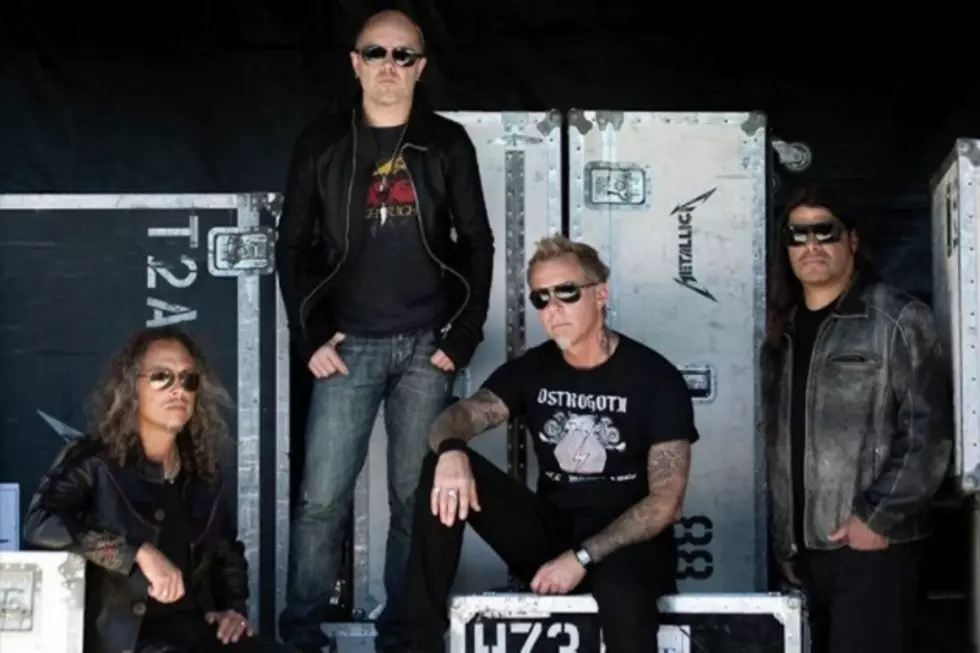 Study Suggests Metallica Have Mastered the Loudest Album Ever
Facebook: Metallica
Spinal Tap may have taught us to turn it up to 11 when we want it loud, but DR3 is a number you might want to remember as well. According to Production Advice, Metallica have reached DR3 (Dynamic Range 3) with their 2008 album Death Magnetic.
The Metallica revelation came about as part of a blog penned by mastering engineer Ian Shepherd in which he compared both the loudness and dynamics of some of the top albums in music history. It's part of a bigger discussion about the "loudness war," an industry term for the practice of mastering music to make it as loud as possible, making the discs seem more exciting to the listener as a result. However, in doing so, the highs and lows of the dynamic range by making it louder often lose some of the nuances and depth of the sound.
In Shepherd's piece, Metallica's Death Magnetic was deemed the loudest album, but also had the smallest dynamic range of the discs included in the research. Also near the high end of the scale for loudness was Red Hot Chili Peppers' 1999 disc Californication, which received a DR5 rank.
On the lower end of the scale, Metallica's The Black Album, Motorhead's Ace of Spades and Sex Pistols' Never Mind the Bollocks discs all checked in at DR11, AC/DC's Back in Black was a DR12 and Dire Straits' Brothers in Arms actually had the broadest dynamic range with a DR16 tally. Check out the full Dynamic Range ranking here.
As Shepherd states in his piece, one of the primary reasons for the excess "loudness" is to attempt to make the music stand out from the competition, but he claims that it doesn't necessarily work because the loudness differences are not audible in such places as Spotify, iTunes Radio, YouTube and even radio or TV. The replay volume in those places is all normalized, thus negating the loudness advantage. Check out more of the article here.
You Think You Know Metallica?
See the Yearbook Photos of James Hetfield + Other Rockers