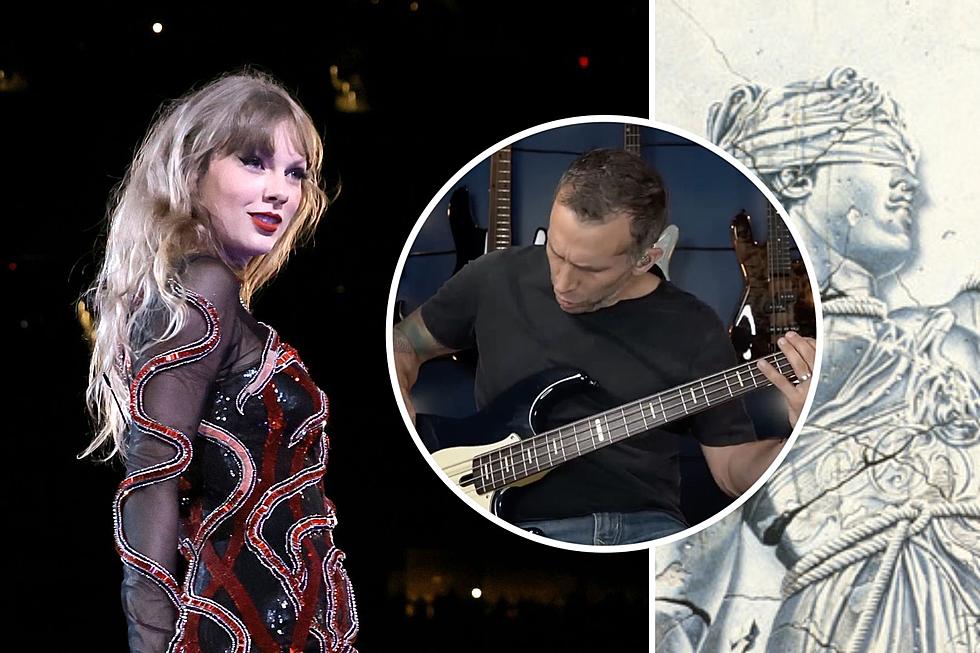 Taylor Swift's Bassist Shows What Metallica's 'Blackened' Would Sound Like With Bass on It
Kevin Winter, Getty Images / YouTube: AmosHeller / Blackened
Amos Heller, who plays bass guitar and keyboards in pop star Taylor Swift's live band, has shared a video where he does a bass guitar play-through of Metallica's classic …And Justice for All track "Blackened." Only he does it with audible bass.
After all, Justice is a "a killer metal album with no bass on it," Heller explains. Of course, as longtime Metallica fans know, the LP does have bass on it — it's just barely evident. And the dearth of low end has become a point of contention regarding the record. Needless to say, the Taylor Swift bassist is a huge fan of thrash metal and Metallica, so Heller delivered his best bass guitar take of "Blackened."
See the video near the bottom of this post.
READ MORE: Is Metallica Rock or Metal?
Heller says, "I don't think I would be a musician if it wasn't for thrash metal, and I don't think I would love thrash if I hadn't listened to it every day of my freshman year riding to school in my brother's car with …And Justice for All blazing out of the speakers."
He adds, "This album is an oddity — a killer metal album with no bass on it. So I put some bass on it."
However, "The modern tone I went for might not be the most era-specific," Heller explains, "but it felt like a good fit to me. This song was a real challenge, and I love playing it. Enjoy."
No Bass Metallica
In 2017, some light was shed on Justice's lack of bass in a Loudwire interview with one of the album's mix engineers, Steve Thompson, who revealed that the decision to lower the bass guitar's volume was at the direction of Metallica drummer Lars Ulrich.
"Lars has a specific way in which he wanted his drums to sound. He would actually send me pictures of an EQ setup," Thompson explained. The beefed up drums came at the expense of louder bass.
Understandably, bassist Jason Newsted wasn't happy with the decision. "I was fucking livid!" the then-Metallica member recalled. "Are you kidding me? I was ready [to go] for throats, man! … I was out of my head, because I really thought I did well and I thought I played how I was supposed to play."
You can subscribe to Loudwire's newsletter or download the Loudwire app to stay up to date with all of the latest rock and metal news.
Amos Heller (Taylor Swift Bassist), "Blackened" (Metallica Bass Guitar Cover)
Metallica Albums Ranked
See how Metallica's albums stack up from worst to best.