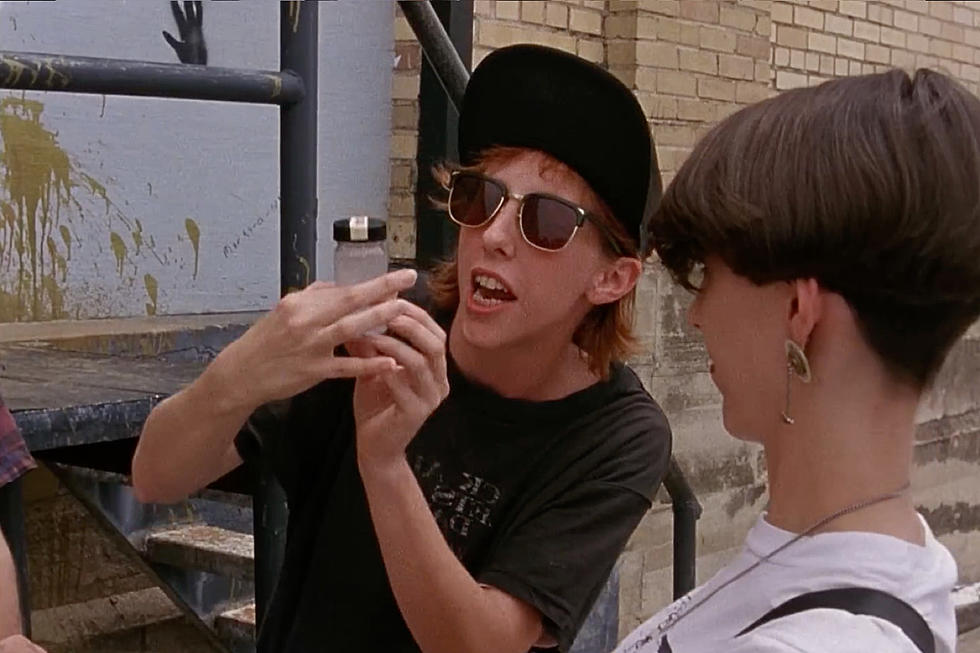 Teresa Taylor, Early Drummer of Butthole Surfers + 'Slacker' Actress, Has Died at 60
YouTube: criterioncollection
Teresa Taylor, AKA Teresa Nervosa, an early drummer for Butthole Surfers who appears in Richard Linklater's 1990 film, Slacker, has died at the age of 60 from complications of lung disease. Her partner, Cheryl Curtice, disclosed her death on Monday (June 19).
Taylor's cunning character from Slacker, which received a wider release in 1991, is the main focus of the film's iconic poster. In the movie, she portrays a hipster who attempts to sell a pap smear she says is from the pop star Madonna.
On Monday, Curtice wrote on Facebook, "Dear friends and loved ones of Teresa Taylor. I want to let you know the sad news. Teresa passed away clean and sober, peacefully in her sleep this weekend. She was so brave, even in the face of her horrible disease."
READ MORE: The 50 Most Controversial Hard Rock + Metal Album Covers [NSFW]
Curtice added, "We were all fortunate to have her beautiful, strong spirit in our lives. She will be forever missed. We will have a memorial service sometime in the future. I love you, beloved Teresa."
Slacker Movie Poster 
Taylor announced she had been diagnosed with end-stage lung disease in November 2021, as Consequence reported.
Taylor joined the Texas-based Butthole Surfers in the early '80s as a second drummer alongside King Coffey (Jeffrey Coffey), who remains in the Gibby Haynes-led experimental rock group today. Listeners can hear Taylor's work on early Butthole Surfers albums such as 1984's Psychic… Powerless… Another Man's Sac and 1988's Hairway to Steven. She rejoined the band for a short time in 2008 and 2009.
The band said, "Teresa Taylor passed away peacefully this weekend after a long battle with lung disease. She will live in our hearts forever. RIP, dear friend."
Butthole Surfers Mourn Teresa Taylor
In addition to Slacker, Taylor appears in 1988's Alex Winter-directed short film Bar-B-Que Movie. A spoof of The Texas Chain Saw Massacre, it also features several other Butthole Surfers members.
Loudwire sends its deepest condolences to Teresa's family, friends and former bandmates. Watch Taylor's memorable scene from Slacker below.
Teresa Taylor's "Madonna" Scene in Slacker
Teresa Taylor Death Notice
Rockers We've Lost in 2023
Rock and metal musicians and icons who died in 2023.
Rockers We've Lost in 2022
Rock + Metal Musicians Who Died in 2022