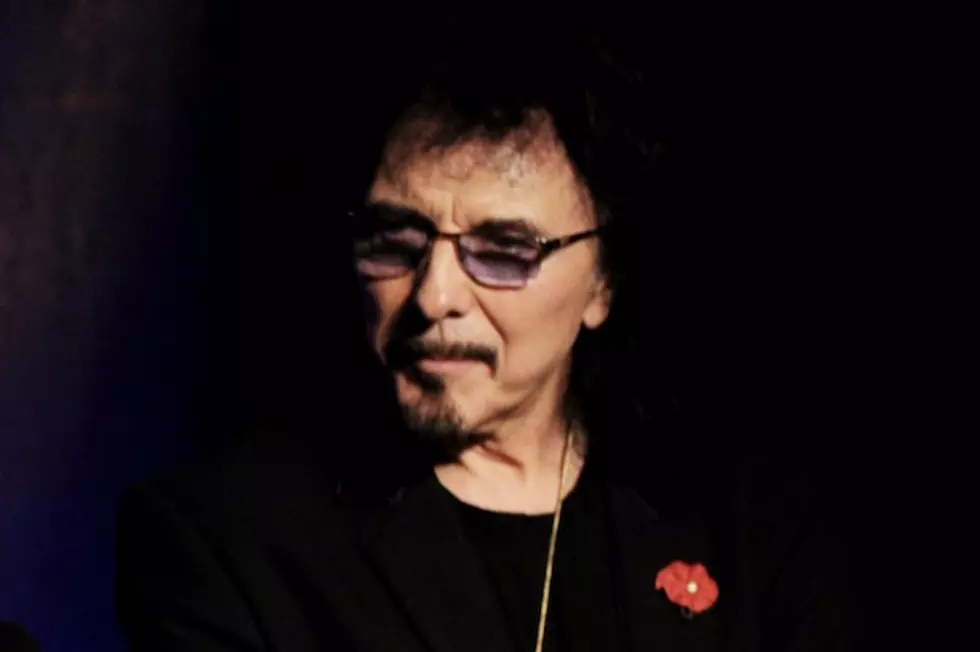 Tony Iommi Offers Update on Progress of New Black Sabbath Album
Kevin Winter, Getty Images
We now know that Black Sabbath's as-yet-untitled new album is set to be released in April of 2013. Last night (Oct. 31), guitarist Tony Iommi was interviewed at the Ronnie James Dio Stand Up and Shout Cancer Fund awards in Hollywood, and he gave an update on the album's progress.
Iommi told Eric Blair (watch below) that previous reports that he had finished the guitar parts for the album are not true. "That's wrong. When Ozzy said it [in a recent interview], I think he meant what we've done. We've written 15 songs and we've played them all. But now, at the moment, we're recording them. We recorded them at my house first, in England, just as demos, but now we're doing them for real. So we're about six tracks in now, at the moment."
Geezer Butler, Ozzy and Iommi are all part of Sabbath's new album, but after a contract dispute, drummer Bill Ward is not. Iommi says although they might play together in the future, it won't be on this album. "We'll always have a heart for Bill, but I think it's gone past that now, because it's gone on so long that I don't see that happening at the moment. Maybe at some point we might [play together again]."
The purpose of last night's event was to raise money and awareness for the Ronnie James Dio Stand Up and Shout Cancer Fund. Having battled cancer himself recently, Iommi was happy to receive the 'King of Rock N' Roll' award. "Well, I'm a survivor up until now. I'm still very new to it. It's great that there's somebody doing something about it and trying to get rid of this awful disease. You can't praise it enough. Things like this is what is needed to make people aware of what is going on."
Iommi shared a favorite memory of Dio. "Oh, I've got a lot of memories of Ronnie. We had some great times. Particularly when we'd done the last album with Ronnie ['The Devil You Know'] and the last tours, it was a whole new world. We had such a great time and we were looking forward to doing another album. So there's a lot of great memories of Ronnie."
In addition to the album release month, Sabbath also announced they will be doing an Australian tour in late April and early May of 2013. And if that weren't enough Black Sabbath news for one day, they also confirmed that they will be headlining the second night of the inaugural Ozzfest Japan in May of 2013.
Watch Eric Blair Interview Tony Iommi