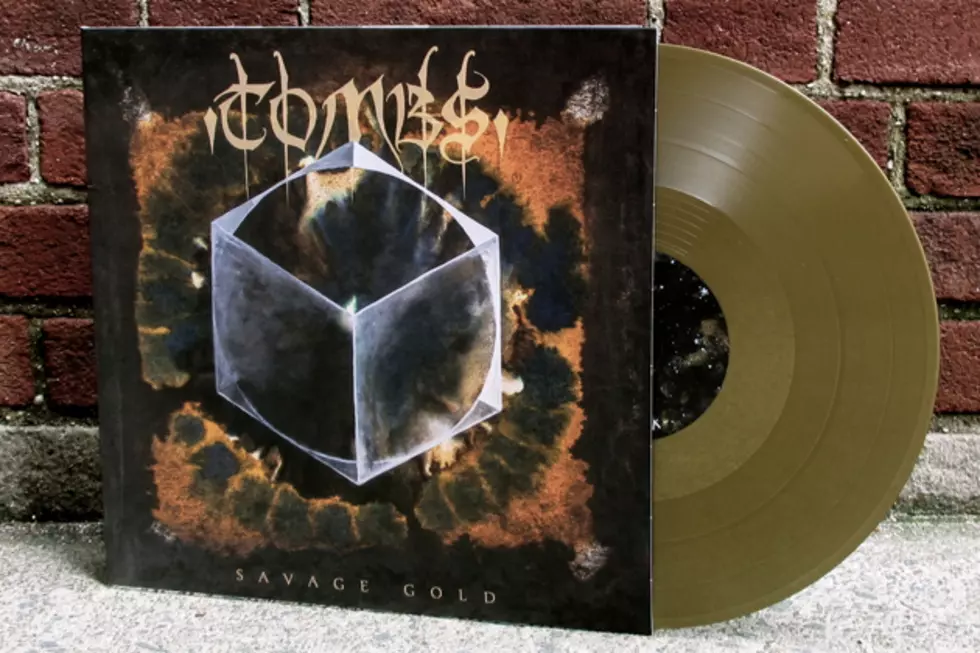 Vital Vinyl: Tombs Frontman Mike Hill Discusses the Band's 'Savage Gold' LP
Relapse Records
Hailing from Brooklyn, metal outfit Tombs have unleashed their third studio album, 'Savage Gold,' unto the masses. A mixture of brutal riffs and vocals, powerful drumming and memorable breakdowns, the album is a nonstop onslaught of raw metal. Elevating the listening experience to an even more powerful level, Tombs released 'Savage Gold' as a deluxe double-LP, pressed on gold wax that features a beautiful etching on side D and an LP-sized booklet full of artwork and lyrics.
Taking a few minutes between celebrating the release of 'Savage Gold' and hitting the road with his band, Tombs vocalist and guitarist Mike Hill chatted with Loudwire about the writing process for the new album, his own personal affection for the vinyl format and what it was like working with Austin-based artist Thomas Hooper.
This is your third studio album since the band formed in 2007. What was the writing process like for 'Savage Gold'?
Usually I write all the riffs and lyrics on my own and bring it to practice. We work out the arrangements in the practice space. The bass player writes his own parts, it's just that kind of vibe. Then it's just repetition and getting everything tight.
And you wrote 'Savage Gold' over the course of three years?
On and off, yeah. There was some touring and of course that puts a damper on being creative and rehearsing new material. It took a little bit of time to put everything together this time around.
Do you think that had a good effect on the overall process?
I think it's always better to be patient and put time and perspective into everything instead of just trying to rush to the end. This time around, having adequate time and patience, we were able to put together something we were all happy with.
You've been with drummer Andrew Hernandez II for a few years now, but this was your first time recording in the studio with guitarist Garrett Bussanick and bassist Ben Brand. What was the chemistry like between the band?
It was really positive. Ben actually wins the award for completing his parts the fastest. I think it took him an afternoon to knock out his bass parts for the entire album. He's a master in the studio. I was really impressed with that. Garrett and I took a little bit more time, we had a few more layers we each had to play. The nature of what we are doing, it took a little bit more time. Garrett and Ben brought a level of musicianship to the band that helped push everything forward to a whole new level.
That level the album is on is brutal. When you listen to it, it sounds like real heavy metal, but there are definitely other aspects to the record. In the world of metal, there are so many different labels, from blackened to death to stoner to black metal. What do those labels mean to you as an artist?
They're totally meaningless to me. It's just labeling something, it creates a sort of cage that you have to stay in. One of the things I'm really into is freedom and having the freedom to explore whatever you want, having whatever influence you want or pursue whimsical ideas that might pop into your head. I don't want to be limited by any particular genre. Some of the bands that I really look up to are Neurosis and Swans and they have records that sound so different from each other.
You mentioned heavy metal, even bands like the Scorpions, their earlier records sound different than their later records. Different guitarists sound different, you have bands that go through different changes and they're allowed to expand and change and explore different avenues. A lot of those bands from the '60s and '70s really influenced me based just on that approach.
Speaking of the '60s and '70s, the format those bands released music on was vinyl. So far in 2014, 'Savage Gold' is one of the coolest vinyl releases. From the gold pressing, the etching on Side D and the artwork, it's quite a robust edition. What compels you to put out new music on vinyl?
As long as we have the resources, I think it's important to maintain that vibe of putting things out on vinyl. It's this legacy I want to keep moving forward with, a tradition. That's the original form that music took. People cutting lacquers, putting things on wax, I like that history behind the format. Being able to present the music with a full visual package is important, too. Artwork, booklet, poster, I think that's all really important to what we do. I do think all the digital stuff is important, too. The ability to release music in such a popular kind of way is really revolutionary. I still think that even if you do that you should consider a physical, tactile form of music. To me, that's always important.
I think that's kind of why vinyl has been able to resurge, most new releases come with a digital download of the album.
I love the digital format for that reason. I can carry thousands of records with me when I go on tour.
What was it like working with artist Thomas Hooper for 'Savage Gold'?
I met him a number of years ago when he lived in New York and we just became friends. Our original bassist knew him and that's how he drifted into our circle. He approached things the same way we did, we had a lot of common interests. I just think that the way he produces his paintings and the way that I work with my music is very similar. We communicate a lot of similar ideas so it just made sense for us to get together.
What was the relationship like between you and Hooper during the creation of the album?
The making of the artwork starts before we record the album. We have demos and lyrical ideas, even if the lyrics aren't finished. I send it to him and he absorbs it. He might ask if I have colors in mind or specific images that seem to be reoccurring and I'll send him a picture of a scorpion or something like that. [Laughs] It'll resonate with something he's working on maybe. Sometimes he'll send sketches, sometimes he'll send full-blown artwork that become part of the booklet or several different options that might end up being the cover of the record. It's a very organic way of developing things.
We didn't just get a graphic from the art department at the label, you now, of a skull or a demon riding a Harley or a crystal tarantula. There is a lot of thought and dedication with this, and that's why I like working with Thomas. He cares about communicating ideas and expressing ideas and emotions. At the heart, that's what the band is all about.
What does the cover art mean to you?
A lot of it is infinity, the idea of galaxies and infinity and the universe and distances that are so vast that they span beyond the single lifetime of a person. This sort of cosmic smallness that humans inhabit in the grand scheme of the universe. That's certainly the idea that I'm hoping to portray, that's something that's very much alive in the lyrics on the album. That artwork makes me think of those types of things.
How important do you think the vinyl format is to the metal community?
It's a good question because there's definitely people out there that are stoked about vinyl. I'm surprised that there are even younger people that are into vinyl, and this probably says more about me, but I assumed younger people don't want to know about archaic ideas like vinyl. They just want free MP3s, you know? That's just my filter, maybe I'm not seeing the whole picture. I have definitely experienced some younger people that are excited about vinyl.
It's almost like when you go to the Middle East and you excavate this lost civilization and find these old tablets that have text engraved on them. You wonder what other things disappeared that couldn't stand the test of time. Maybe they had wifi back in the Sumerian times, you know? Maybe there was a whole Internet-type thing or their own iCloud and it just disappeared because of some catastrophe and the only things that are left are these stone pillars. I kind of feel like records are like that in some ways. When the lights go out on the human race and the cloud disappears and all of our data vanishes, the only things that will be left are our LPs and records, you know? No more Spotify.
Tombs' third studio album, 'Savage Gold,' is available in digital and CD format as well as a standard and double deluxe LP. Get your hands on the Relapse Records release here.
Tombs, 'Savage Gold' - Deluxe Vinyl Edition