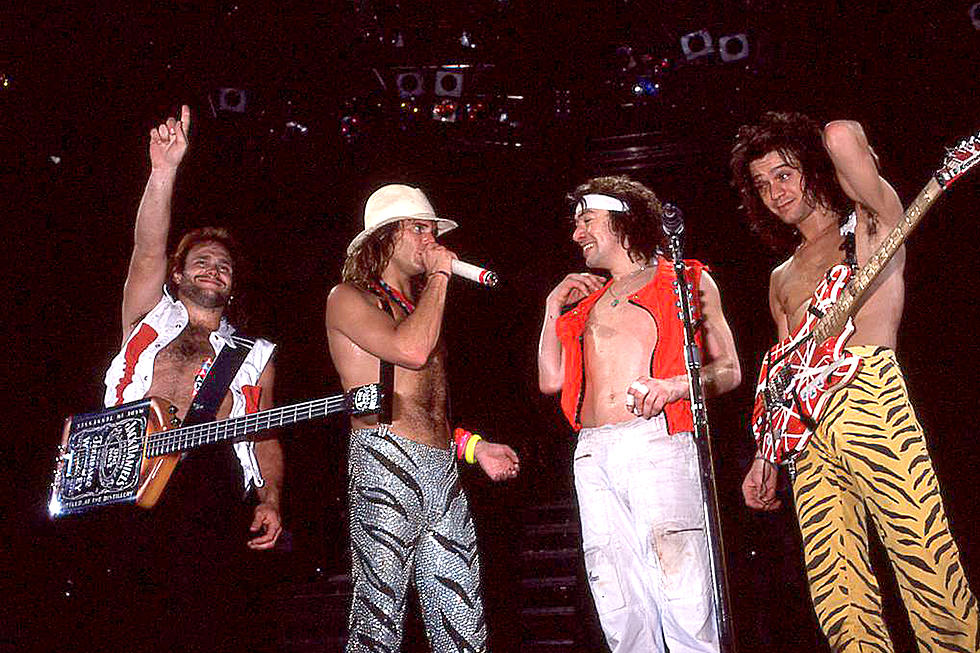 Why Did David Lee Roth Leave Van Halen?
Kevin Winter, Getty Images
Why did David Lee Roth leave Van Halen?
"The band as you know it is over," stated Eddie Van Halen to Rolling Stone in mid-August 1985, confirming the rumors of a divide in the band with David Lee Roth and adding the jab, "Dave left to be a movie star." The first chapter of Van Halen's story was over, but how did it get to that point? Why did David Lee Roth exit Van Halen at the height of their '80s fame?
Years of Underlying Tensions
While the band's star continued to rise in the late '70s and early '80s, several incidents indicated a growing divide between David Lee Roth and the rest of the band, in particular Eddie Van Halen.
Some of these incidents reflected the individual personalities of the band's two central figures. While it's difficult to say where the two musicians first started butting heads, there are several key incidents that are often pointed to as disputes that furthered the wedge in the band.
Women and Children .... and Roth .... First
One oft-reported dispute occurred when it came time for Van Halen to shoot the photo for their third studio album, Women and Children First. Per Medium.com, Roth took the lead in finding a photographer for the photo shoot, securing acclaimed fashion photographer Helmut Newton for a shoot.
With Newton and his assistants on hand, they decided to get started on the shoot while still awaiting the arrival of the Van Halen brothers. As Roth positioned himself by a fence near the pool, one of the assistants dropped some chains that were soon fastened around Roth's wrists, thighs and torso. Once the brothers arrived and took note of what was going on, they were none too pleased. But eventually Newton photographed other members of the band.
Warner Bros. art director Richard Seireeni recalled, "Helmut didn't much like the other band members. So he took some of the other guys but ended up shooting all of these pictures of David." So, as the day continued, eventually the Van Halen brothers and Michael Anthony left with Newton still snapping photos of Roth.
The following day, a dispute between Roth and the brothers occurred over the photo shoot, with Roth being accused of trying to hijack the album artwork. Eventually, another photo shoot was scheduled with Warner Bros. bringing in rock photographer Norman Seeff to shoot the band. The group and Roth eventually reached a compromise, with Seeff's shots being used for the front and back cover, while Roth's famous chained photo from Newton being included as a poster with the first million vinyl pressings of the new album.
Off the "Beat It" Path
We now know Eddie Van Halen's contribution to Michael Jackson's Thriller album, laying down the instantly recognizable solo on the hit song "Beat It." But Eddie's guest turn didn't exactly sit well with Roth. Per the Van Halen News Desk, Eddie decided to do the guest turn not expecting how big it would become. "Certain people in the band at that time didn't like me doing things outside the group," recalled Van Halen. "But Roth happened to be in the Amazon or somewhere, and Mike was at Disneyland and Al was up in Canada or something, and I was home alone. So I thought, 'Well, they'll never know.'"
Jackson told Van Halen he liked the "high fast stuff" that Eddie did, so the guitarist laid down two solos and let Jackson pick his favorite. He even did it for free. Once the song was released, Roth took a jab at Van Halen in Rolling Stone, stating, "What did Edward do with Michael Jackson? He played the same solo he's been playing in this band for 10 years. Big deal!"
Michael Jackson, "Beat It"
A Studio Too Far?
As Van Halen's career continued to build, eventually Eddie Van Halen started to take more creative control. One such move was the building of his 5150 Studio, The band recorded their sixth studio album 1984 in the studio in 1983, but Roth saw the move as a bit of a red flag, feeling that Van Halen was taking too much creative control of the group. As Dangerous Minds reported, Eddie Van Halen admitted as much, noting that he had grown tired of doing covers for each album. "The bottom line is I wanted more control. I was always butting heads with Ted Templeman about what makes a good record. My philosophy has always been I'd rather bomb with my own music than make it with other people's music."
Roth also reportedly was not too keen on Van Halen's use of synthesizer on "Jump," which showed a departure in the band's sound. As Van Halen fans know, synth would become more prominent in the group's sound as the '80s, minus Roth, continued.
Which Way to "Jump"?
Van Halen's "Jump" turned into one of MTV's biggest video hits ever, but once again there was a disagreement between what Roth envisioned and the rest of the band. Producer Robert Lombard recalled to Van Halen News Desk, "'Jump' is where the drama really started. Dave wanted the performance video intercut with him doing crazy shit, like driving his chopped Mercury hot rod and hanging out with midgets and girls in maids' outfits, so we shot hours of footage."
He continued, "I knew that if they kept it as a straight-on performance video, they would have a number one single, so I took the rough cut to Eddie's house up in Coldwater Canyon and played it for him and his brother Alex. I said, 'Guys, I'm taking a stand here. If you put in this crazy footage'—which later surfaced in [the video for] 'Panama,' after I was gone—'the video isn't gonna have the impact it should have.' Eddie and Alex said, 'We agree with you, 100 percent. We're not gonna release this video unless it's done this way.'"
For deciding to bypass Roth with his thoughts, Lombard was fired. Creative director Pete Angelus said in the end, the decision was made to show a more personal side to the band's performance. The clip went on to be nominated for three MTV Video Music Awards, winning the "Moonman" for Best Stage Performance.
Van Halen, "Jump"
David Lee Roth's Ends 1984 On His Own
The year 1984 started with releasing an album titled 1984, then the band completely dominated the year. But before the calendar flipped to 1985, Roth surprised fans with an early holiday present.
The dynamic vocalist pulled out a Beach Boys classic "California Girls" as his first solo single, dropping a playful video that showcased his personality. As we'd soon learn, it was part of a full-on covers EP titled Crazy From the Heat that also saw Roth taking on the Louis Prima medley "Just a Gigolo / I Ain't Got Nobody."  That video further played up Roth's over-the-top personality as the host of the MTV-like, "Dave TV," with the singer invading the video shoots of several popular MTV videos.
In a 1985 Guitar World interview, Eddie Van Halen commented, "I think it's something [David Lee Roth] always wanted to do. I think it's great he's actually doing it. Put it this way, it's something I've always wanted to do and haven't done. I guess in a funny way, it explains Dave as a vocalist and lyricist."
He continued, "He did four cover tunes, but these songs do convey a message within him — 'California Girls,' 'Easy Street,' 'Just a Gigolo' and one other one — but I'm sure it's going to happen in the true Van Halen tradition even though it's not Van Halen music."
The EP hit No. 15 on the Billboard 200, while "California Girls," "Just a Gigolo / I Ain't Got Nobody" and "Easy Street" all enjoyed significant radio airplay. It went on to be certified platinum in the U.S.
David Lee Roth, "California Girls"
Is It Time for Roth to Jump?
If Roth's solo arrival surprised Van Halen fans, by early 1985 they'd start to get a little nervous about the band's future. Per Ultimate Classic Rock, in January 1985 Roth granted an interview to Billboard in which he stated, "Since my very first days in with the band 11 years ago, I have always had the feeling that one day I would wake up in a cold hotel, all the rooms would be empty and I would be stuck by a phone with a busy signal. From the first day. Nothing has changed." The headline of the Billboard article was "Van Halen's Roth: Maybe It's Over."
Following the EP release, Roth scaled back the solo talk, noting to the Indianapolis News, "We'll be going back in the studio and start arguing again and we all look forward to that. ... We have a lot of respect for each other and get along quite well, actually." Roth later added that even though the group hadn't started recording, he'd "heard some great music coming out of Ed's studio."
But things reportedly came to a head in March, when Roth and Eddie Van Halen met to discuss the band's future. According to Roth, Van Halen had suggested scaling back touring, which Roth felt was "a ripoff" for fans.
But things turned more contentious when Roth mentioned spinning off a Crazy From the Heat film from his newly successful solo EP. The singer reportedly asked Van Halen to score the movie, which Van Halen balked at. Per a 1985 interview with Rolling Stone, Roth said that the discussions came to a halt after that with the singer telling Van Halen, "I can't work with you guys anymore. I want to do my movie. Maybe when I'm done, we'll get back together."
READ MORE: Pearl Jam's Jeff Ament Prefers When Musicians Don't Act Like David Lee Roth
Still, as far as fans knew, a split had not yet occurred, but the buzz grew stronger. In July 1985, Rolling Stone reported that the band had been put "on permanent hold," with Eddie rumored to be looking for a new lead singer. The report also made mention of Roth's movie and the singer pursuing an acting career. Then, in mid-August, came Eddie's confirmation to Rolling Stone about Roth's exit.
"He even had the balls to ask if I'd write the score for him," explained Van Halen to Rolling Stone about Roth's decision to pursue his movie, then adding, "I'm looking for a new lead singer ... it's weird that it's over. Twelve years of my life putting up with his bullshit."
Roth's 'Heat' Cools
Roth's desire to make his film seemed to be on the right path. He had teamed up with CBS Productions to make the film, which was inspired by the music he'd recorded for Crazy From the Heat and was currently writing for his 1986 album, Eat 'em and Smile. But by March 1986, CBS Productions backed out of the deal.
In Roth's 1997 autobiography "Crazy From the Heat," the singer revealed that the film starred a rock star named Dave, who traveled to the mysterious Dongo Island, where he and his manager Bernie get into all sorts of kooky capers. The singer revealed that storyboards and costumes were complete and a cast had already been assembled when the plug was pulled on the movie.
CBS, who were undergoing some changes in management at the time, decided not to move forward with Roth's film as well as eight other proposed movies. The singer sued and a large settlement was eventually agreed upon. A good portion of the screenplay eventually found its way to the internet and can be viewed here.
The Aftermath
Once the ties were cut, both sides moved forward pretty quickly. With the split announced in August 1985, by September, Eddie Van Halen turned up onstage at Farm Aid with Sammy Hagar, signifying the next era of Van Halen that was about to come. The band would quickly record their smash 1986 album 5150, which was released in March 1986. It yielded the singles "Why Can't This Be Love," "Dreams," "Love Walks In" and "Best of Both Worlds."
As for Roth, while the movie fell through, it didn't stop him working on new music with his solo band. Eat 'Em and Smile, which featured Steve Vai on guitar, Billy Sheehan on bass and Gregg Bissonette on drums, would arrive in July 1986, also becoming a major hit thanks to the songs "Yankee Rose" and "Goin' Crazy."
But, with Roth exiting the group, things weren't left on good terms exactly. During a 1986 press conference (seen below), Roth took exception to what he viewed as some of the shots fired by his former band. "We're having a career difference here. We're having a musical difference," explained Roth. "We cried, we hugged and we split and two weeks later I'm reading in Rolling Stone what an asshole I am and how poor little Eddie was forced to spend the last 12 years of his life living a lie. It's like National Enquirer or something."
Roth said he tried to take the high road and not feed into it, adding, "I don't think it's necessary to make a comparison, I don't think you have to make a choice, but Van Halen demands it. Van Halen is demanding it for some bizarre, ret*rded reason to make a choice."
Then seeing a chance to market his music, Roth cleverly commented, "Well if we have to, then I eat you for breakfast, dude. I eat you and smile," a nod to his Eat 'em and Smile album.
David Lee Roth Talks About Van Halen's Attacks After He Left the Group
Time would eventually heal some wounds. After a falling out with Sammy Hagar, Van Halen briefly reunited with Roth in 1996, recording two new songs for their greatest hits collection. But the band would once again butt heads with Roth, and opt to go with Extreme's Gary Cherone as their new vocalist instead.
After a one-off reunion tour with Hagar, Van Halen shifted back to Roth in 2006 and by 2007 a reunion was confirmed with Roth returning to the group and Wolfgang Van Halen taking over for Michael Anthony on bass. That foursome then went on to release the band's final studio album, A Different Kind of Truth, in 2012. The group continued to tour into 2015, but health problems arose for Eddie Van Halen, who died on Oct. 6, 2020, bringing the band's career to an end.
Best New Rock / Metal Band of Each Year of the 1980s
Keeping the rock flowing.