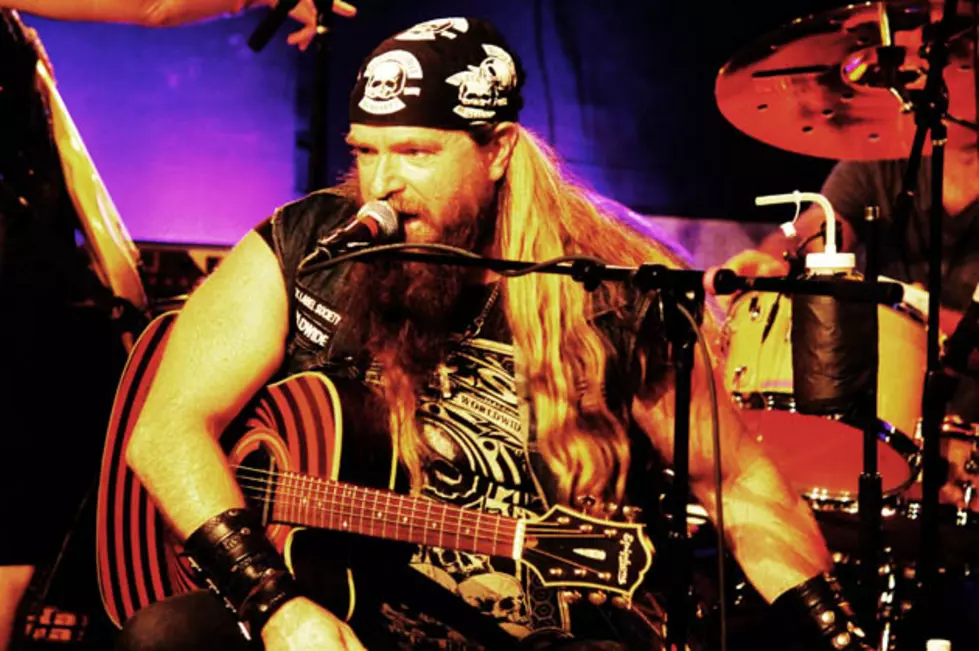 Zakk Wylde Teams Up With Les Paul Trio for Memorable Gig in New York City
Liz Ramanand, Loudwire
On Monday night (June 10) at the Iridium Jazz Club in New York City, Zakk Wylde invited fans to what was sure to be a unique show. Before his death, the one and only Les Paul played at the Iridium every Monday night with the Les Paul Trio. Posthumously, the tradition lives on, but where Les Paul once played, guitar greats are invited to help honor him. Wylde's presence onstage with the Trio proved even more exciting as it was the day after what would have been Les Paul's 98th birthday.
At 8PM sharp, the Les Paul Trio walked out onstage and jammed on four songs in celebration of their former leader. The Trio is made up of guitarist Lou Pallo, bassist Nicki Parrot and pianist John Colianni. With the fifth song, the Trio welcomed a fourth member to the stage, drummer Anton Fig. You might know Fig from his work with the CBS Orchestra ( aka David Letterman's band). After two songs with Fig onstage, Pallo gave a very warm welcome to a man that he's known since he was a young boy: Zakk Wylde.
Not wasting anytime, Wylde ripped into a four-minute solo jam on his acoustic guitar, complete with custom orange-and-black bullseye paint. It didn't take long to realize an acoustic guitar wouldn't keep Wylde from cranking up the distortion and jamming on his wah-wah pedal. After the intro jam, Wylde and crew tore into a 10-minute rendition of Jimi Hendrix's 'Voodoo Child (Slight Return).' Playing only four more songs - but stretching the set out for nearly an hour - Wylde and the Les Paul Trio (and Fig) wailed on all cover tunes, including the Marshall Tucker Band's 'Can't You See Me,' the Allman Brothers' 'One Way Out' and another Hendrix tune with 'Red House.' The night was closed out with a killer version of Mountain's 'Mississippi Queen.'
While some Berzerkers in NYC no doubt would've loved seeing Wylde perform some original tunes with the Trio, fans in attendance were treated to a show they're not likely to get anywhere else. The spotlight was on Wylde's wicked guitar chops, but the night was completely in celebration of Les Paul. Not only did Wylde pay tribute to him with the performance, he also referred to him as "Father" and "Saint Les" throughout the night. It was obvious that Les Paul had -- and continues to have -- a significant impact on Wylde's life.
The morning after the gig, Wylde stopped by the Loudwire offices and talked about what Les Paul means to him. "It's amazing, you know, recording is because of Les Paul," the Black Label Society frontman says. "He invented multitrack recording. Even if it's rap musicians who don't play guitar, Les Paul is there. Anywhere from rap to country to heavy metal to rock to jazz, anything that uses multitrack recording owes a debt to Les Paul."
Wylde goes on, "That's besides him creating the electric guitar. That's mind-blowing, and you've got to remember all the platinum albums he sold with Mary Ford, too. There were so many different hats he wore."
Playing with the Les Paul Trio was a treat for Wylde. "I've known Lou [Pallo] and everybody for years now, as soon as I met Les Paul back in '87 or '88. Anything honoring Les Paul, I love being a part of. They're friends, whenever I'm here with them, it's my home away from home."
Wylde's run at the Iridium didn't end on Monday night. He played the same venue last night, simply billed as 'An Evening with Zakk Wylde,' and will do the same tonight (June 12). Both shows sold out, and there's no question that the jazz club is getting packed to the brim with Doom Crew members.
Check Out Photos of Zakk Wylde with the Les Paul Trio at the Iridium:
Zakk Wylde:
The Les Paul Trio: