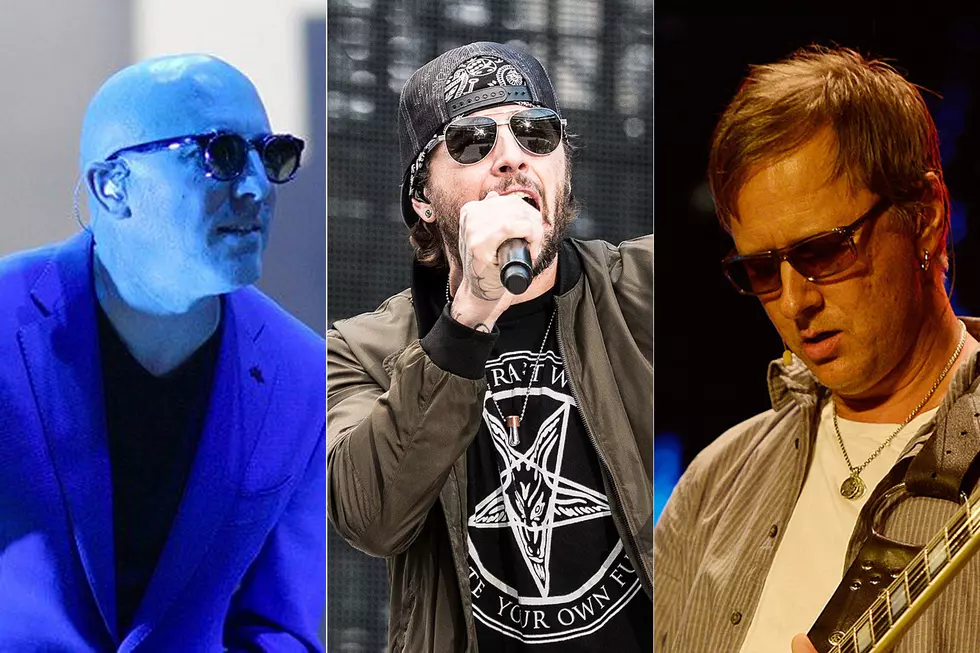 2018 Rock on the Range Daily Performance Lineups Revealed
Charles Epting / Kevin RC Wilson / Kevork Djansezian, Getty Images
Who will rock the range on which day? We now know! Organizers for the annual rite of spring passage -- the Rock on the Range Festival in Columbus, Ohio -- have revealed the breakdown for which acts will perform on what day.
This marks the 12th year in existence for the Rock on the Range Festival, with fans once again set to pack MAPFRE Stadium in Columbus the weekend of May 18-20. In all, there will be just shy of 60 band performing on three different stage over the three day weekend, with headliners Alice in Chains, Avenged Sevenfold and Tool leading the performance pack.
The fun starts on Friday, May 18, with Alice in Chains joined on the Friday bill by A Perfect Circle, Breaking Benjamin, Machine Gun Kelly, Greta Van Fleet, Underoath, Body Count, Quicksand, 10 Years, The Bronx, Emmure, Power Trip, Hawthorne Heights, Turnstile, Senses Fail, The Fever 333, Dance Gavin Dance, I See Stars, Mutoid Man and Spirit Animal.
Avenged Sevenfold get the closing honors on Saturday, May 19, supported by Stone Sour, Three Days Grace, Bullet for My Valentine, Black Veil Brides, Asking Alexandria, Tech N9ne, Trivium, Andrew W.K., Atreyu, Miss May I, New Years Day, From Ashes to New, Stick to Your Guns, Cane Hill, Wilson, Grandson, My Ticket Home, Like Moth to Flames and Them Evils.
And Tool will finish out the weekend on Sunday, May 20. The bill for that day also includes Godsmack, Stone Temple Pilots, The Used, Babymetal, I Prevail, Baroness, Yelawolf, Code Orange, Red Sun Rising, Anti-Flag, We Came as Romans, Tyler Bryant & The Shakedown, Like a Storm, Toothgrinder, Shaman's Harvest, Shim, Stitched Up Heart and Joyous Wolf.
In addition to the three music stages, there will also be the Rock on the Range Rolling Rock Comedy Tent, which features J.B. Smoove, Trae Crowder, and Big Jay Oakerson, Taylor Tomlinson, Yannis Pappas and Tim Dillon, along with Jason Banks, Jake Iannarino, Zach Martina, Bill Squire, Chad Zumock, Tom Dustin, Jay Armstrong and Aaron Kleiber.
Weekend VIP and general admission tickets have sold out, but there remain a limited number of single day general admission field and stadium tickets that are on sale at the Rock on the Range website.
2018 Rock on the Range Lineup
2018 Rock + Metal Festival Guide