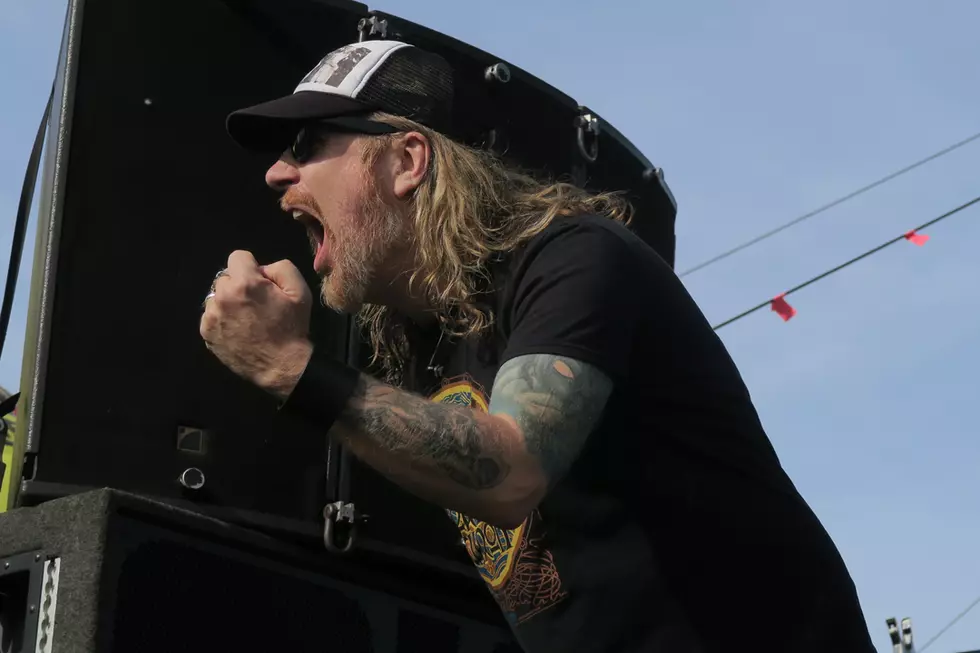 At the Gates Prepare 'To Drink From the Night Itself' With 2018 Album
Chad Childers, Loudwire
Swedish melodic death metal groundbreakers At the Gates have wrapped up To Drink From the Night Itself, their second studio album since reuniting in 2010, which is set for a May 18 release on Century Media.
The album adds 12 new tracks to the band's catalog and will once again embrace a conceptual theme, but the band has remained tight-lipped on exactly what the lyrical component will entail. In a previous update, At the Gates did confirm some of the themes will connect with those on their 1992 debut, The Red in the Sky Is Ours.
At the Gates worked with producer Russ Russell, who has previously helmed efforts from Dimmu Borgir, The Haunted, Napalm Death and dozens of others. As for the strikingly dark album art, the group linked up with Costin Chioreanu and frontman Tomas Lindberg had this to say about it:
It has once again been an absolute pleasure working creatively with Costin. We had a lot of ideas for what we wanted to get across with the art this time around. Overall they were, not surprisingly, related to the general concept of the record. What is great with Costin is that he understands the band. He knows what we are and where we come from. And me and him also have a strong artistic connection. I have never met anyone that goes so deep into the world of my lyrics and concepts. When I first wrote to him describing my ideas, I was worried that my remarks were perhaps too long and too confusing, only to get back an even longer and very inspired response…

The inspiration for the actual front cover piece is taken from the Pergamon Altar, on display at the Pergamon museum in Berlin. It is of course linked closely to the concept that the whole record is based upon, but more on that later. But I will throw a name out there, for the interested ones; Peter Weiss.

I can't wait to get the whole record in my hands now, as this is just one of the many great artwork pieces that Costin has created for us on 'To Drink From The Night Itself'...
Check out the artwork and track listing for To Drink From the Night Itself below. The record will mark the first from At the Gates without co-founding guitarist Anders Bjorler, who left the group last year. Replacing him is Swedish death metal veteran Jonas Stållhammar, who has worked with God Macabre, Bombs of Hades, The Crown and others.
At the Gates, To Drink From the Night Itself Artwork + Track Listing
01. Der Widerstand
02. To Drink From the Night Itself
03. A Stare Bound in Stone
04. Palace of Lepers
05. Daggers of Black Haze
06. The Chasm
07. In Nameless Sleep
08. The Colours of the Beast
09. A Labyrinth of Tombs
10. Seas Of Starvation
11. In Death They Shall Burn
12. The Mirror Black
At the Gates Albums Ranked
10 Greatest Death Metal Bands