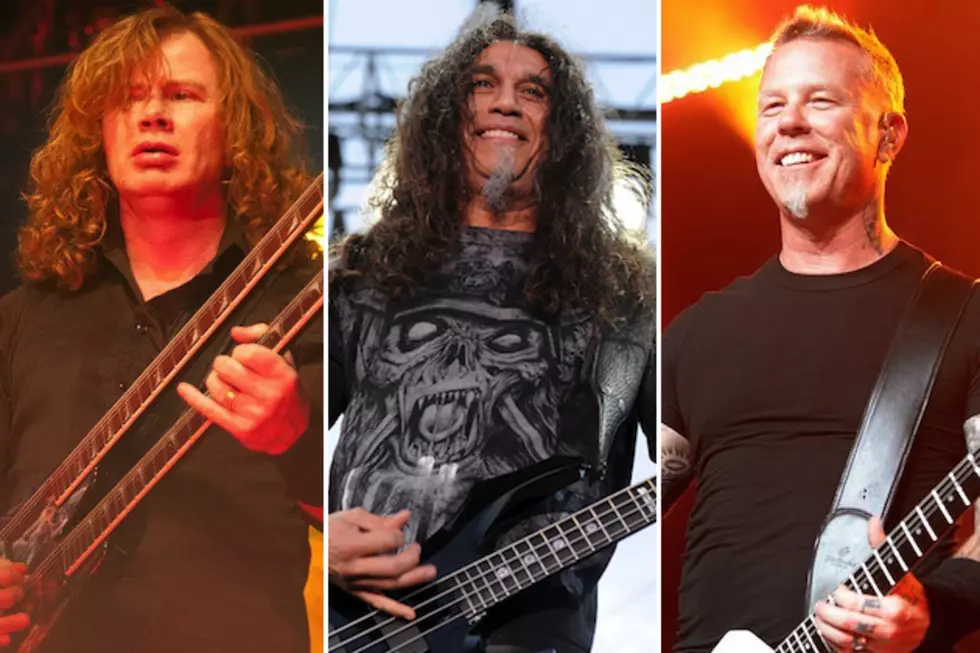 10 Best Thrash Metal Bands of All Time
Daniel Boczarski / Kevin Winter (2), Getty Images
For all intents and purposes, thrash metal is celebrating its 30th anniversary in 2013. Yes, as nebulous as rock 'n' roll history can be when it comes to dating broad-ranging musical developments, we can confidently point to 1983 as the year when sporadic 'speed metal' displays coalesced into the true definition of thrash metal. Until then, one had to sift through piles of 1970s metal to find occasional turbo-charged tunes like Black Sabbath's 'Paranoid,' Queen's 'Stone Cold Crazy,' or Judas Priest's 'Exciter.' And while Motorhead's momentous arrival at decade's end coincided with that of numerous, more consistently energetic New Wave of British Heavy Metal bands (Raven, Venom, etc.), it wasn't until an entirely new generation of upstarts took those lessons (plus those of punk rock) to another level that bona fide thrash was born.
While bands such as the mighty Pantera and Sepultura have dabbled in thrash, this list features bands who have carried the thrash flag throughout their careers. Three decades on, the seminal works of the 10 acts listed below continue to inspire mosh pits and influence all kinds of loud rock bands with the simple instruction to "bang that head that doesn't bang!"
So, check out our list of the 10 Best Thrash Metal Bands, and be sure to enter the contest below for a chance to win a copy of the Bazillion Points book 'Murder in the Front Row,' which chronicles the Bay Area thrash scene.
10

Nowadays, musically inclined teenagers from the same family are usually to be found performing in boy bands, but not so with Death Angel, whose barely legal brothers and cousins (drummer Andy Galeon was 12 when he joined the band!!!) chose to dive headlong into their native San Francisco Bay Area thrash scene. What's more, Death Angel contradicted their own youth with the stunning display of technical thrash found on 1987's, 'The Ultra-Violence,' and then continued to challenge themselves – and their fans – with two more, increasingly mature long players harnessing that precocious musicianship into ever more appealing song structures. Tragically, the band's career would quite literally screech to a halt following a horrific tour bus crash that left several band and crew members severely injured, but a new millennium reunion has thankfully gone a long way toward vindicating and rewarding Death Angel's talents.

9

One of Germany's finest bands, Sodom brought thrash into a unique realm of violence. Many forget Sodom was actually a pioneering thrash band dating back all the way to 1981, though Sodom didn't release a full-length until 1986. Sodom has been extremely consistent throughout the band's 14 albums, actually influencing an entire generation of death metal in the process.

8

Our journey begins in New Jersey with one of thrash's most prolific and persistent champions, Overkill. Evolving from a punk band after discovering metal and plucking their name from Motorhead's landmark second album, the band led by vocalist Bobby 'Blitz' Ellsworth and bassist D.D. Verni quickly found their calling in rough and fancy free thrash and has rarely seen much reason to deviate from this course ever since. Now celebrating over three decades of existence, with 16 studio albums under their bullet belts, Overkill have proven that nothing short of the grim reaper or an atom bomb has any hope of stopping them, and that's good news for dyed-in-the-wool thrash metal veterans everywhere.

7

Outside of the U.S., no country contributed more elite bands to thrash metal's cause than Germany: home to literally hundreds of mosh pit instigators, if you take early speed/power metal contributors like Helloween and Grave Digger into account, along with the acknowledged "big three" of Teutonic thrash: Sodom, Destruction and the inimitable Kreator. Led by vocalist/guitarist Mille Petrozza, the latter packed the 1980s with album after album (among them, the essential 'Pleasure to Kill and 'Extreme Aggression') boasting some of the era's most brutal (yet still technical) thrash, paving the way to death metal and other extreme genres still to come. And though they too got off point and experimented with numerous other influences throughout the 1990s, Kreator too returned to form with a string of decapitating new millennium efforts, thus making them a natural selection for our list of the Top 10 Thrash Metal Bands.

6

One of the original Bay Area thrash bands, initially known as Legacy, Testament briefly faltered when lead vocalist Steve 'Zetro' Souza defected to Exodus; but they soon made up for lost time after enlisting leather-lunged man-mountain Chuck Billy to sing (and growl) on their spectacular 1987 debut, 'The Legacy.' Simply put, no band had a better chance to challenge Metallica for its thrash crown as Testament, thanks to their uncommon blend of melodic sensibility and controlled savagery; but their late arrival on the scene became a liability once thrash (and every other variety of heavy metal, come to think of it) was buried under the Grunge avalanche after 1991. Luckily, Testament, too, have battled back from adversity (including Billy's successful fight with cancer) to deliver a few new millennium thrash gems and revive their reputation as one of the most fearsome live bands the style has ever produced.

5

Had this list of the Top 10 Thrash Metal bands been motivated by pure, consistent devotion to the form, instead of a complex combination of sound, success and other intangibles comprehensible only to idiot rock critics, then Exodus may have well come out top of the heap, rather than just outside the final four. The original kings of the Bay Area thrash scene, having helped define both the style's musical aesthetic and D.I.Y. mentality from day one, Exodus sadly stumbled off the starting blocks when they lost guitarist Kirk Hammett to Metallica, then tarried too long before securing a record label for their indispensable debut, 'Bonded by Blood,' in '85. However, while their uncompromising sound and uneven output in the coming decades kept world domination and platinum success ever at bay, you'd be hard passed to finger any other band, short of Slayer, perhaps, that's flown the thrash flag as proudly and unwaveringly as Exodus.

4

Apologies for being so predictable, but the so-called "Big Four" (i.e. platinum-selling) inevitably hog the final stretch of our list – you can see the box office for your refund. In all seriousness, it even pains us to restrict the cerebral New Yorkers in Anthrax to fourth place here, as their first five albums – and the twin monoliths of 'Spreading the Disease' and 'Among the Living,' in particular – built a cornerstone without which thrash metal's house would simply crumble. And arguably no other band on this list contributed more to the thrash vernacular, most notably by popularizing the word MOSH! And yet Anthrax's reputation eventually became tarnished by a penchant for surf shorts and an ill-advised sense of humor (yes, ridiculous, but true), so that when their '90s LPs saw the band moving away from thrash amidst revolving door singers, we were left no choice but to place three California bands on the podium...

3

No matter what you think of Dave Mustaine, who can be polarizing at times, he deserves all the credit in the world for taking a negative and turning it into a massive positive. Following his ouster from Metallica, Mustaine deserves immense credit for pulling himself up by his bootstraps and channeling an unquenchable thirst for revenge into a new band, Megadeth, who feature the most extensive catalog among the acts discussed here. Along the way, he has probably provided more controversy and compelling magazine copy than any other thrash artist in history (sorry, Lars), while delivering an uneven, yet still positively daunting body of work (including the monumental 'Peace Sells…But Who's Buyng?' and ''Rust in Peace' LPs), rife with both thought provoking lyrics and mind-warping virtuosity.

2

To those not even curious enough to look beyond the basic 'big four' fundamentals, there's little doubt that Slayer epitomize thrash metal at its undiluted extreme. And why not? No thrash band has done more to inflame mainstream sensibilities, thanks to its alternately satanic and war-obsessed lyrics; and despite a few ill-fated cross-genre dalliances of their own over the years, the L.A.-based quartet did create the quintessential thrash album in 1986's 'Reign in Blood,' still the most lethal 28-minutes of music ever captured on tape. And that's to take nothing away of the other four albums (and one EP) released during the band's devastating first decade – all of which set the pace for thrash's evolutionary curve and achieved a scale of quality and influence second only to…

1

How'd you guess? Yes, for all the uproar from thrash purists over the years about the band's change of direction, at the end of the day there are three major reasons for granting Metallica the No. 1 spot in our list of the Top 10 Thrash Metal Bands: 'Kill 'em All,' 'Ride the Lightning' and 'Master of Puppets.' The first disc literally lit the thrash metal flame in the summer of '83; the second broadened its parameters no end and showed thrash could progress and would be no passing fad; and the third decisively consolidated the movement's mainstream awareness with as impeccable a set of songs as fans have ever seen. So what if Metallica's fourth platter, '…And Justice for All,' ushered in the band's more mainstream metal era? With those three, straight essential LPs, Metallica repeatedly set and raised the bar for thrash metal's global conquest for all of the above to reap rewards of their own.