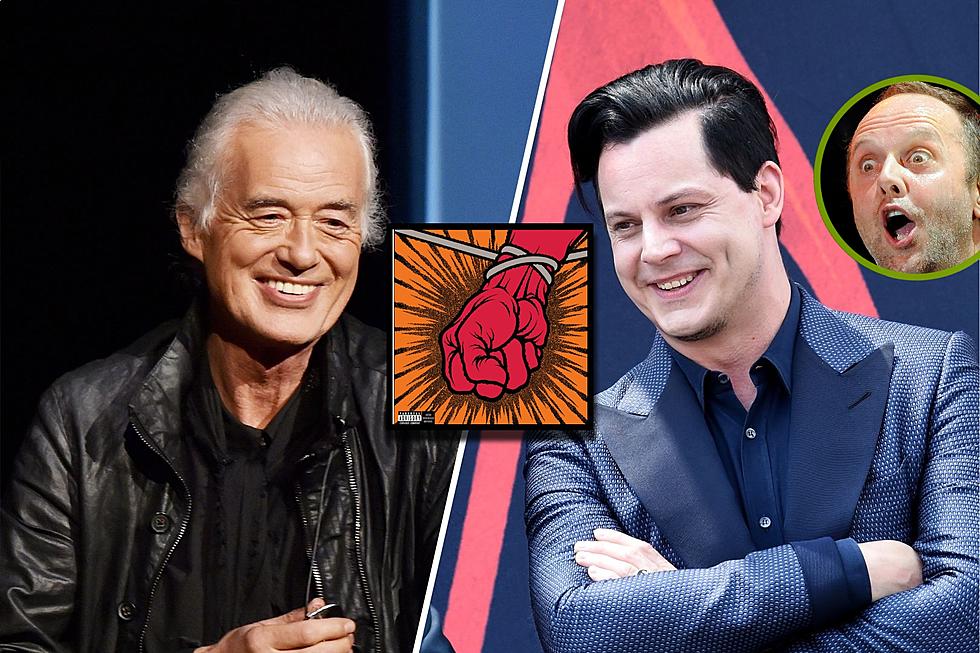 Bob Rock Says Jimmy Page + Jack White Really, REALLY Liked Metallica's 'St. Anger'
Kevin Winter, Getty Images / Rick Diamond, Getty Images / Elektra Records / Ethan Miller, Getty Images
Nearly every metal fan agrees that 2003's St. Anger is a bad record (in fact, it landed at No. 43 on Rolling Stone's recent list of "50 Genuinely Horrible Albums by Brilliant Artists"). Shockingly, though, two of its greatest fans seem to be celebrated guitarists Jimmy Page and Jack White, at least according to famed producer Bob Rock.
During a recent episode of his Talk Is Jericho podcast – posted on May 24, 2023 – Fozzy frontman and former AEW superstar Chris Jericho spoke with Rock about the maligned Metallica misstep (which was their final LP with Rock as co-producer).
Understandably, he spoke highly about some of the artistic choices he and the thrash quartet made. He also confessed that Page and White are two of its biggest supporters. As transcribed by Guitar World:
Two guys in the whole world [told me they liked that record]. Jack White, when It Might Get Loud [came out], at the premiere – I happened to be in Toronto when it happened – came up to me from across the room and he says, "By the way, I love St. Anger. It's an amazing album." Then he left.

Jimmy Page – not to drop names but he's kind of a friend – was at the Sunset Marquis, eating breakfast on the other side of the pool. Someone walked by and said, "I'm here to see Bob Rock." He said, "Oh, Bob's here?" And he came over and talked to me, which blew my mind, coming from Winnipeg! That Jimmy Page even knows my name, you know? He said, "By the way, I loved St. Anger. It's a great album."

I'm okay [with the generally negative reception of St. Anger]. Those two guys bought the album. With those two [liking it] I'm fine, right?
Sure, White and Page could've just been being polite, but it's equally likely – if not more – that they genuinely dug it.
Read More: James Hetfield Visits Wounded Ukrainian Soldiers in U.S. Hospital
Of course, these revelations aren't the only reason Rock's chat with Jericho has been making headlines. As Loudwire reported last week, Rock also discussed Nikki Sixx's initial struggles with playing bass on early Motley Crue records. Rock subsequently issued a new statement about those remarks, too.
So, where do you land on the St. Anger love/hate scale? Let us know!
Also, be sure to catch Metallica during their 2023 "M72 World Tour" in support of 72 Seasons. You can check out the full list of remaining tour dates and grab your tickets here.
All Metallica Songs Ranked