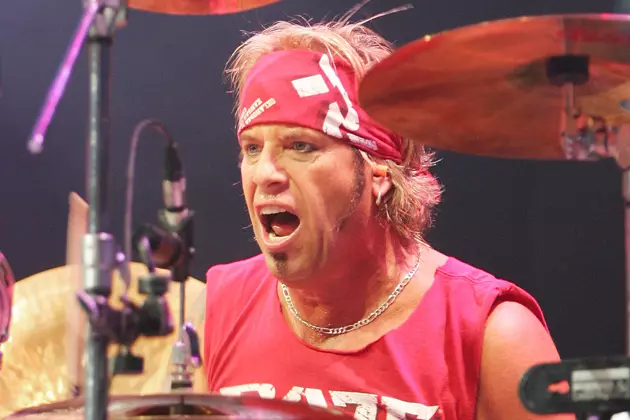 Bobby Blotzer: 'The Cast Could Change, It Could Stay the Same' But Ratt 'Is Gonna Be Out There'
Ethan Miller, Getty Images
Former Ratt vocalist Stephen Pearcy stirred things up a bit this past week when he suggested in an interview that he would "never say never" to the possibility of reuniting with his onetime bandmates again. Pearcy had also posed with Warren DeMartini and Juan Croucier in a photo that also led to the discussion of his potential Ratt future, but noticeably missing was drummer Bobby Blotzer who is currently engaged in a legal battle with DeMartini over the rights to use the Ratt name. Blotzer has been touring as the sole classic member of the Ratt lineup, and he's emerged victorious in early legal challenges by DeMartini. During a new chat with ClassX Radio (heard in the player below), Blotzer discussed his current incarnation of Ratt, as well as his thoughts on the legal challenges from his former bandmates.
The drummer started off by praising the current lineup, which does include onetime Ratt bassist Robbie Crane alongside mostly new members. "No matter what, this band plays so good and does such great integrity to the music of Ratt," stated Blotzer, who added that the band's guitarist covers Warren DeMartini's playing "amazingly" and their new vocalist Josh Alan "blows Stephen Pearcy out of the water at this day and age."
But Blotzer was a little more diplomatic when discussing the legal challenges. "God bless Stephen and my other Ratt cohorts," said Blotzer, acknowledging Pearcy's recent interview. "I mean, we made history. I recognize that. I appreciate it. We all wrote it together ... But it's like, okay guys, there's three rafts left here. You're in or you're out. And it's been going on for five years, and I wanna finish the race. So that's where I'm at."
He goes on to state that it's not his intent to insult anyone from the classic lineup, but he adds that they did the reunion and he was not willing to sit while everyone else stepped away. He adds that he and DeMartini are the two members with claims to the name and when DeMartini decided not to tour with him, he decided to continue with his current Ratt lineup.
As for what the future holds, Blotzer stated that his current lineup will soon pass the 40-show mark under the Ratt name with shows booked into December and booking starting for 2017. He adds, "Ratt is gonna be out there, man. The cast could change; it could stay the same. I don't know. It's like a football team. You want the team to win? You root for the team, 'cause you like the team. And we have a good team, and we have great songs, and we will perform those excellently."
Hear Bobby Blotzer discussing the current Ratt lineup and his legal issues over the name in the player below.
Ratt's Bobby Blotzer Talks to ClassX Radio
Learn More About Metal's History With 100 Metal Facts