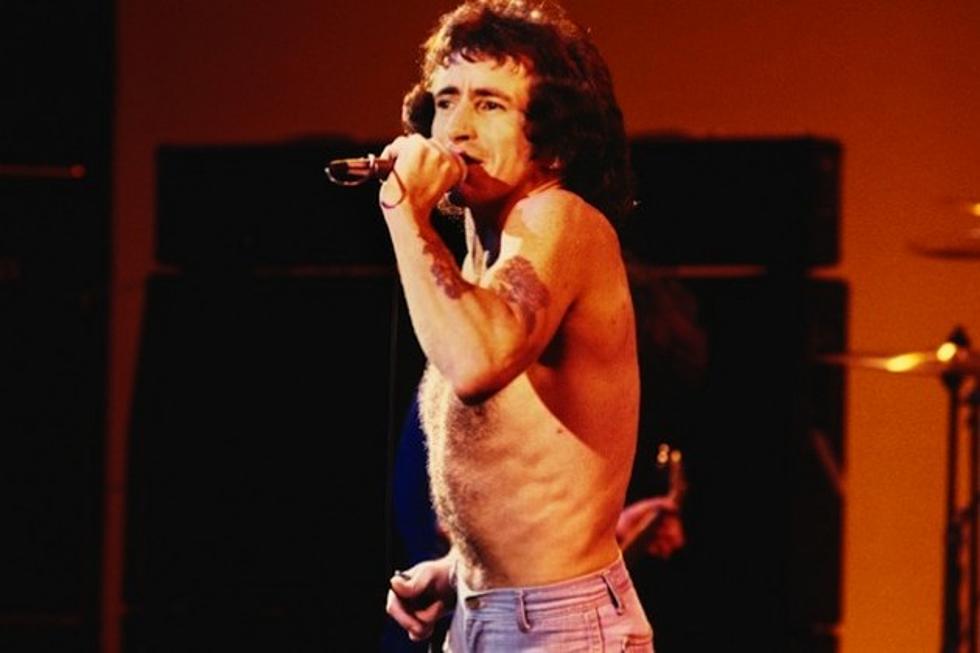 Bon Scott Biopic Moves Forward Despite AC/DC Objections
Despite objections from AC/DC and Bon Scott's estate, a biopic about the late singer is moving forward. Writer Rob Liotti, who is also set to start as Scott in the film, recently said that the release of the 1992 Judas Priest and recent Jimi Hendrix biopics have opened the door for production of the long gestating project to begin production.
According to BraveWords, Liotti pointed out that 'Jimi: All By My Side' and 'Dream Deceivers' [the Judas Priest film] paved the way from a legal standpoint for his film titled 'Bon Scott -- The Legend of AC/DC Unauthorized.' "We have a First Amendment right to tell this story, and we have the ability to utilize the Fair Use Doctrine in assisting us to do so." Liotti claimed. "We're trying to educate the public about this guy's life and tribulations. What the hell is the problem with that?"
In the case of the Hendrix film, 'Jimi: All By My Side,' director John Ridley, who also wrote the Oscar-winning film '12 Years a Slave,' simply told the story without using any of the late guitarist's recordings. While the 1992 film 'Dream Deceivers' used actual Judas Priest songs by lobbying courts for the Fair Use Doctrine for the reasonable use of the music.
The production company behind the Bon Scott film, High Voltage Productions, LLC., has been steadily working on the film even after receiving legal threats from estates and record labels claiming "infringement." Attorneys for AC/DC in New York issued threats of action should the project continue and were followed similarly by Bon Scott's estate in Sydney.
According to Director J. R. Getches, the Bon Scott biopic "will happen" even though AC/DC's lawyers tried to prevent him from speaking with current and former band members for the film. Getches said, "I talk to some of these people. There is zero harm in that, let alone anything illegal." He added, "I am all about supporting AC/DC. Been there, done that for years. Plus, with Malcolm Young's departure from the band, in addition to Bon being deceased, the respect needs to flow both ways. I fully support their artistic efforts and expect the same in return."
Getches says the film will stay true to the story behind the troubled and hard-drinking singer. "We want to portray Bon accurately and capture the mood around him at the time. Rob Liotti, the film's writer and star, tried to be painstakingly on point while capturing Bon's spirit in the story."
According to BraveWords, Getches will head to Charleston, S.C. soon to shoot the theatrical trailer for 'Bon Scott - The Legend of AC/DC Unauthorized' along with Emmy Award winning cinematographer John Barnhardt and producer Michael Meltzer.
Meanwhile, AC/DC recently released their new single 'Play Ball' and announced a Dec. 2 release of their new album 'Rock or Bust.'