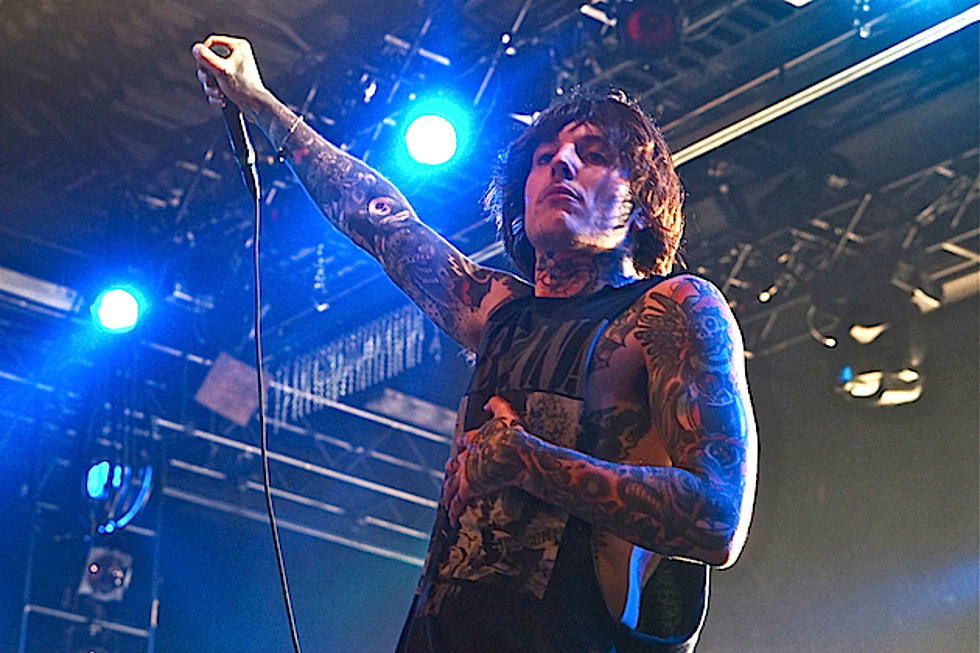 Bring Me the Horizon Mesmerize New York Fans With Help From Of Mice & Men, Issues + Northlane
Spencer Kaufman, Loudwire
We'll say it right now: Bring Me the Horizon are one of the most exciting young bands on the planet. Not only is their most recent disc, 'Sempiternal,' an epic album, their live show is phenomenal. We caught the band's second gig of a two-night stand at New York City's Best Buy Theater on Saturday night (March 1), and the UK act mesmerized the crowd with a stellar set.
Standing behind a curtain for the first minute or so, the silhouettes of the BMTH members made for a cool visual before the drapery dropped and frontman Oli Sykes leapt from a riser to start singing the opening number, 'Can You Feel My Heart.' The youthful crowd was whipped into a frenzy as Sykes hurled his body toward the front of the darkly lit stage. From there, the band went straight into the dynamic anthem 'Shadow Moses,' a call-and-response opus that had the fans singing along to every note.
The set was heavy on tracks from 'Sempiternal,' with eight of the 11 songs played hailing from the 2013 album. Usually, when fans go to a show, they wanna hear the old stuff, but 'Sempiternal' is BMTH's greatest album to date, and the fans soaked up the new songs like they were old favorites. Other highlights included 'Go To Hell For Heaven's Sake,' 'And the Snakes Start to Sing' and the aggressively angry 'Antivist,' featuring a guest vocal from Of Mice & Men's Aaron Pauley.
Throughout the show, Sykes urged the fans to put away their cellphones and to soak in the live experience of seeing the band with their own eyes. At one point he asked the entire front pit to sit down on the floor before they exploded back onto their feet. Sykes also promised that BMTH would be back in NYC soon, which got a huge cheer from the band's loyal followers. Bring Me the Horizon's set closed with the sweeping single 'Sleepwalking' as metallic confetti rained down on the adoring crowd.
Prior to Bring Me the Horizon's set, Of Mice & Men took to the stage and delivered a high-energy set to a very enthusiastic response. The California metalcore act has a huge following of their own, and showcased their new album, 'Restoring Force,' with new songs like 'Bones Exposed,' 'Would You Still Be There' and 'You're Not Alone.' Frontman Austin Carlisle covered the entire stage as he delivered his screams, while guitarist Aaron Pauley countered with his clean vocals.
Issues preceded Of Mice & Men with a set of metalcore mixed with pop-infused clean vocals, while Australian metalcore band Northlane invigorated the crowd with a highly charged opening set. Each of those acts got a very warm response from the sold-out audience.
To catch Bring Me the Horizon and the rest of the bands on the American Dream tour, click here for dates and ticket links. Check out our exclusive photo gallery of the Saturday night NYC show below: