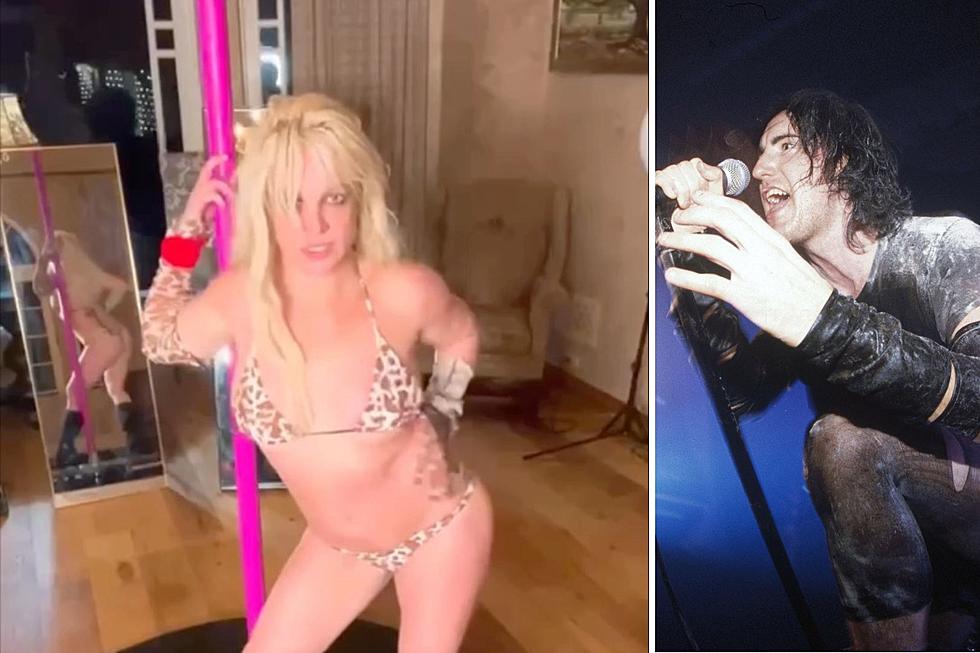 Britney Spears Pole Dances to Nine Inch Nails Song on Instagram
Instagram: @britneyspears / Mick Hutson, Getty Images
Britney Spears pole dancing to Nine Inch Nails? Perhaps there's never been a more perfect union of embattled pop star and industrial rock hit.
On Sunday (Aug. 13), Spears — the 41-year-old singer who frequently posts videos of her dancing on Instagram, especially since her conservatorship ended — tested out her new stripper pole to Nine Inch Nails' signature 1994 single "Closer." All while wearing a skimpy leopard print bikini. Spears said she had just received the pole days prior.
Watch the video near the bottom of this page.
READ MORE: Why Trent Reznor Isn't Keen on Putting Out New Nine Inch Nails Music
"Got this pole two days ago and last night was my first time on it!!!" Spears explained in the post.
The video is similar to other scantily-clad dance clips Spears has shared on Instagram since her conservatorship ended after nearly 14 years in 2021.
Spears' conservatorship — a conservatorship is an appointment by another party other to oversee someone's finances or affairs — began in 2008 due to concerns about the singer's mental health. It gave her father, Jamie Spears, significant control over her assets. Over the years, there were legal battles and public discussions about the conservatorship's impact on Britney's life and autonomy.
The #FreeBritney movement aligned supporters advocating for the termination of the conservatorship, with them arguing it was overly restrictive and unjust. In 2021, Britney Spears spoke out in court, expressing her desire to end the conservatorship and detailing alleged abuse and control. After her testimony, there were significant changes, including adjustments in her legal representation and mounting public pressure.
Subscribe to Loudwire's newsletter or download the Loudwire app to stay up to date with all the latest rock and metal news.
Britney Spears' Nine Inch Nails Pole Dance Video - Aug. 12, 2023
The 66 Best Rock Songs of the 2000s: 2000-2009
The 21st century started off rocking.