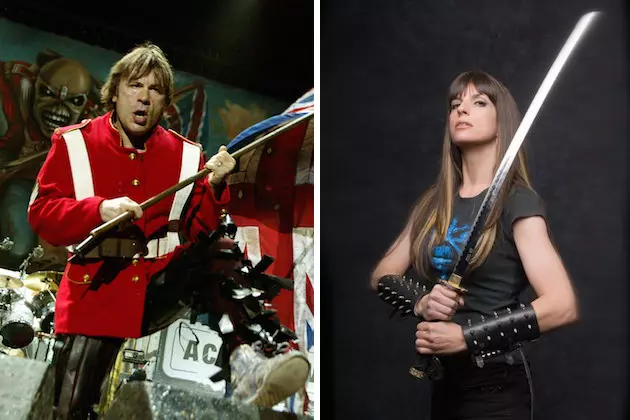 Bruce Dickinson Reacts to Seeing All Female Tribute Act The Iron Maidens
Karl Walter, Getty Images / Photo by Robert John, Official The Iron Maidens Facebook
There's nothing like catching a tribute band for one of your favorite acts. It creates a fun atmosphere where fans can rock out and scream the lyrics out loud, spilling their beer while raising a fist in the air. When the band isn't on tour it helps scratch the itch while waiting for the real thing to come to town. But what is it like when Iron Maiden watch the all female tribute act the Iron Maidens? Bruce Dickinson sounds like he still isn't sure how to react.
Speaking with Classic Rock, the high-flying frontman talked about seeing female versions of himself and the rest of the band onstage, saying, "I've seen the Iron Maidens in Mexico. We all went. We were watching them and I said to Steve [Harris], 'This is a really weird question, but looking at them, would you f--k yourself?' And he went, 'I don't know, but we've all been thinking it.' It was very, very weird."
Dickinson, continued, adding "The only difference between us and and Iron Maiden cover bands is that we do new Iron Maiden albums. Funnily enough, while that's a joke, it's also a good point." Explaining the importance of releasing new music, he went on, "Without doing new albums, you just become a karaoke band of yourself. And that's not a good enough reason for me to give up a big chunk of my life to go on tour. Hey, the money's great. It's not enough. There needs to be more than that, because this band is so important to so many people."
The Iron Maidens features the female alter egos of Bruce Chickinson, Mega Murray (Nita Strauss, Alice Cooper), Adriana Smith, Steph Harris and Nikki McBurrain.
Iron Maiden will be embarking on another ambitious world tour in 2016. They'll be firing up the newest incarnation of Ed Force One, this time with a jumbo jet that will transport the band, crew and gear while being piloted by Dickinson as they make the rounds across the globe. For a list of North American tour dates, visit our 2016 Guide to Rock + Metal Tours.
See Where Bruce Dickinson Ranks Among the Top 50 Hard Rock + Metal Frontmen of All Time
10 Amazing Bruce Dickinson Onstage Moments