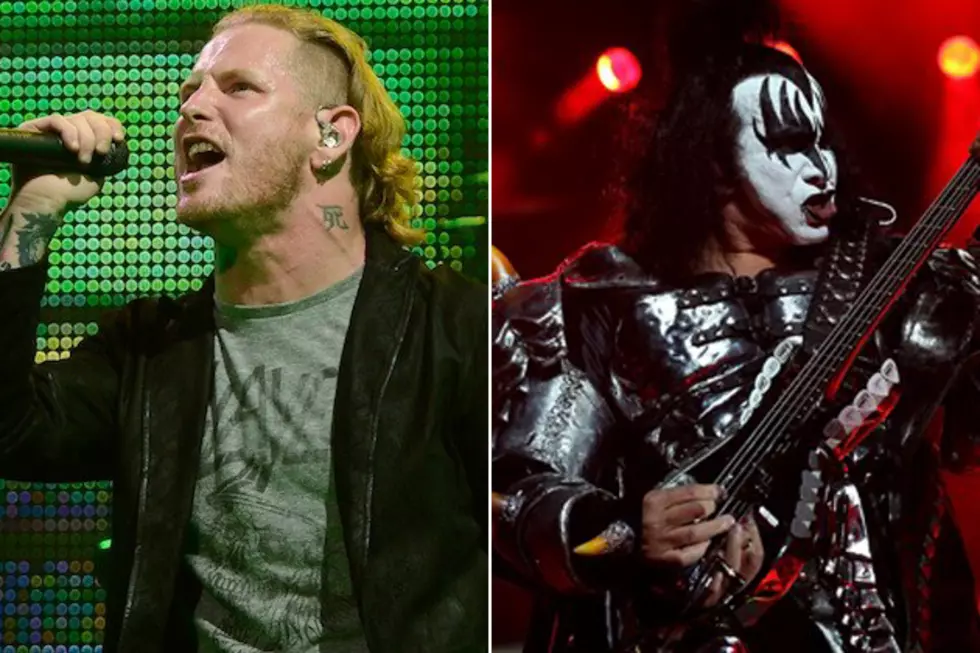 Corey Taylor on KISS' Rock Hall Drama: 'I Think It's Petty and Ridiculous'
Frazer Harrison / Paul Kane, Getty Images
Slipknot and Stone Sour frontman Corey Taylor has found a way to balance the personalities in two different bands and definitely understands the drama that can come with being in a music group. But in a recent interview with Radio.com, the subject turned to KISS' Rock and Roll Hall of Fame induction and the drama currently going on as the current and former members take public shots at each other while also deciding not to perform at the ceremony.
Taylor explained, "On one hand, you're stoked being a KISS fan, but on the other hand it's like, 'Can you guys just put aside your petty issues and realize that without one another you wouldn't have been able to do this? Can you just set stuff aside and do one show for the fans of the original lineup again? And then you never have to see each other again?'"
He added, "Just do one thing, because without those two guys [Ace Frehley and Peter Criss], the other two guys [Paul Stanley and Gene Simmons] wouldn't be where they are! And that's just me layin' it straight! I might not ever get a kind word from anybody in that band anymore. But I think it's petty and I think it's ridiculous! Figure it out! Show respect, because sometimes it's not about you, it's about the fans."
That being said, Taylor does understand the fragility of relationships in rock bands. He explains, "You gotta remember, we're musicians … we're just crazy people who can't get along sometimes. I've definitely come to the table with my knife in my pocket a couple of times, you know how it is. It's part of being human. Now add fame and money and all that rock and roll craziness to it -- we're lucky we don't eat each other in this industry!"
Though he's not thrilled with how things are turning out, Taylor says he still remains a fan and states that KISS were a huge influence on him.