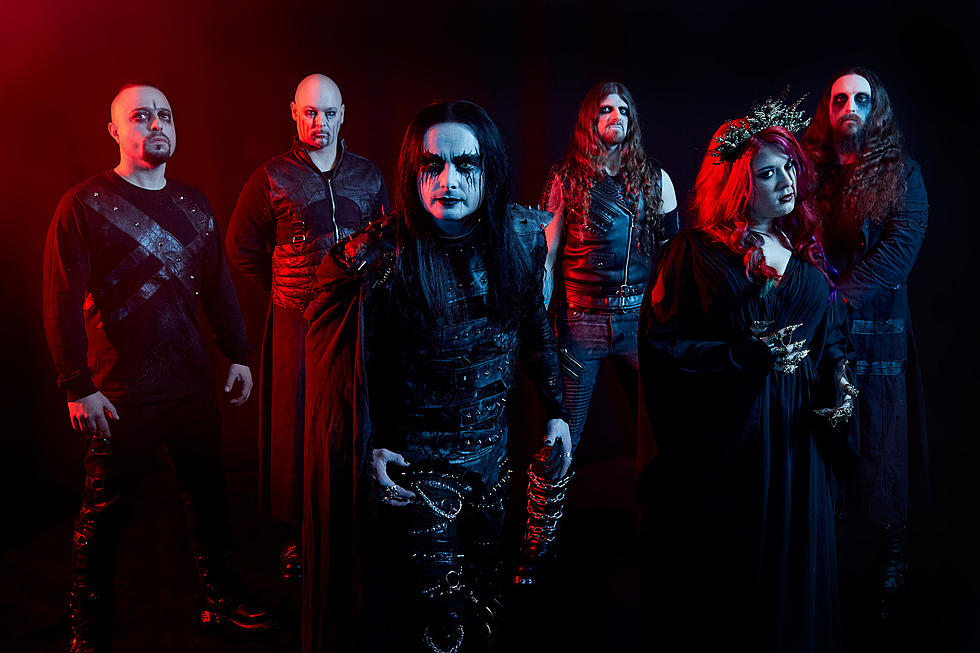 Cradle of Filth Postpone 2024 Tel Aviv Performance, Issue Statement Refuting 'Nefarious' Terrorist Accusations
Photo by James Sharrock
English extreme metal sextet Cradle of Filth recently broke the news that their upcoming show in Tel Aviv, Israel (on Feb. 10, 2024) needs to be postponed, resulting in numerous fans alleging that the decision is connected to their "affiliation with terrorist groups." Now, the band has issued a statement denouncing such claims and clarifying the situation.
This past Friday (Nov. 10), Cradle of Filth took to social media to give more insight into why the show – which, Lambgoat notes, was set "to be the first date of their 2024 European tour with Wednesday 13 and Sick N' Beautiful" – had to be canceled.
"Cradle of Filth announce the postponement of their Tel Aviv show in Israel, not because of any affiliation with terrorist groups as some people on Facebook have nefariously suggested, but due to band member's governments advising against travel to the region, our insurers refusing to cover the band for the show and the logistics of bringing a concert and equipment to a nation in the grip of war," the statement begins.
It continues:
We fully understand the gravity of the situation in Israel and Gaza City at the present and apologies to all our fans in the region for the postponement.

We are very sorry for the decision and appreciate the disappointment that our fans must be feeling, but it must be realised that this opportunity has been taken out of our hands due to the seriousness of the situation, as it was when we were forced to postpone our lengthy tour of Russia last year under similar circumstances.

We have performed in Israel before and thoroughly enjoyed the experience with our Israeli friends and fans alike and were very much looking forward to starting our February tour in Tel Aviv.

Thank you for your understanding. We are mere musicians not activists or soldiers and by that token, are privy to the concerns and requests of international advisement.

Yours faithfully, Cradle of Filth.

 
READ MORE: Cradle of Filth's Dani Filth Picks His 13 Essential Halloween Albums
As of now, the post – which was shared by both the band and founder/frontman Dani Filth –  has comments disabled.
As Blabbermouth confirms, the U.S. State Department "warned Americans to reconsider travel to Israel in the wake of the deadly Hamas attacks" last month. Since then, it's also given "another 'worldwide caution' for travelers" as the conflict continues [per Blabbermouth].

Indeed, the ongoing war between Israel and Hamas (which began in early October 2023) has had devastated consequences across the globe and in many contexts, including the world of music. For instance, Hamas' attack on the Supernova music festival (near Gaza) on Oct. 7 resulted in the death of ex-Desolated bassist Jake Marlowe (among many other casualties and disappearances); plus, the 2023 MTV EMAs (European Music Awards) – originally scheduled to take place in Paris, France on Nov. 5 – was canceled due to "the volatility of world events."
As for Cradle of Filth's tour next year, it's now scheduled to begin on Feb. 12, 2024 in Poland and stretch across places such as Finland, Turkey, Greece, Hungary, Czechia and Romania over the ensuing month. You can see the full list of dates here or by viewing the band's social media post below.
Cradle of Filth's Dani Filth Picks 13 Essential Halloween Albums
The Cradle of Filth frontman provides the soundtrack to your Halloween.
Gallery Credit: Dani Filth