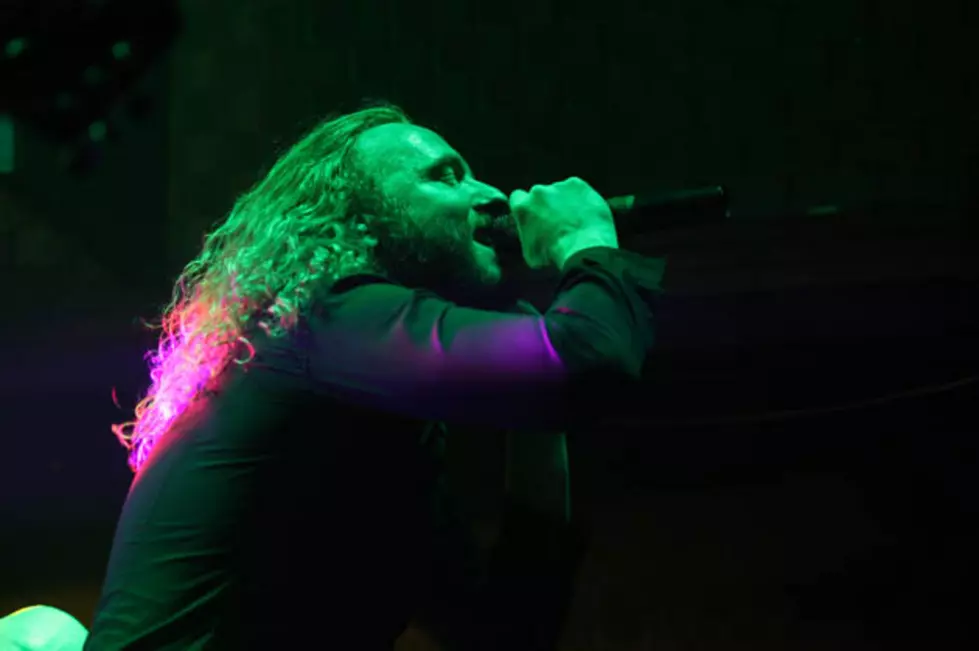 Dark Tranquility Wreak Havoc on New York City With Omnium Gatherum
Liz Ramanand, Loudwire
On a chilly, snowy night, metalheads kicked off their week by trudging through slush as they made their way to Stage 48. Dark Tranquility headlined their North American 'Construct' tour which made its stop in New York City on Monday (Feb. 3). Support included Omnium Gatherum, Exmortus and Winter Nights.
Fans were anything but tranquil when Swedish melodic death metalers of Dark Tranquility  took the stage. With well over two decades of music under their belt and a setlist of nearly 20 songs, fans headbanged and moshed the night away. With no security and no barricade separating fans from the band, unwavering crowdsurfers made their way to the stage.
The band kicked off their set with 'The Science of Noise' and played other new, infectious tunes 'The Silence In Between,' 'What You Only Know' and 'State of Trust' from their latest album 'Construct.'
Vocalist Mikael Stanne sung older favorites 'Punish My Heaven,' The Wonders at Your Feet,' and 'Final Reistance' right in the faces of diehard fans. For an encore, the band pulled out 'Lethe,' 'Endtime Hearts' and during the final track 'Misery's Crown' Stanne himself jumped into the crowd a few times. This up close and personal experience that Dark Tranquility brings to the stage and has brought to Stage 48 is one that metal fans won't soon forget.
Finnish metal outfit Omnium Gatherum took the stage before Dark Tranquility and were nothing short of mindblowing to see live. The band are also touring in promotion of their latest record 'Beyond' and the group were beyond amazing onstage. Their chemistry and interaction with each other and their fans was very much like that of Dark Tranquility.
West Coast band Exmortus and opening act Winter Nights provided crushing performances to get the crowd pumped. For a full list of dates where you can catch Dark Tranquility on tour, go here.
Check Out Photos of Dark Tranquility + Omnium Gatherum Performing in NYC Below: