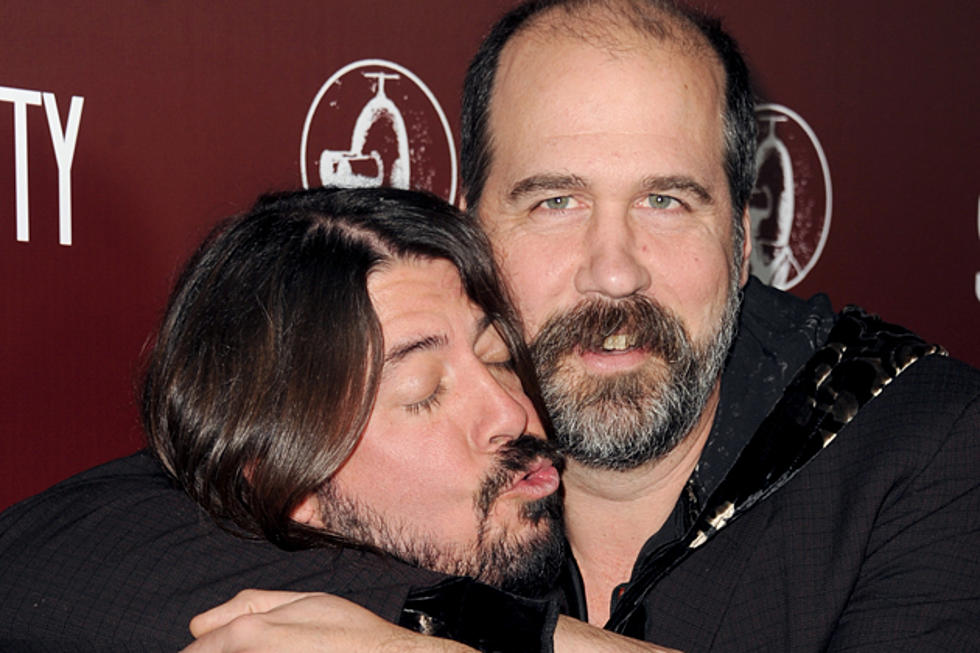 Dave Grohl and Krist Novoselic Discuss the Joy and Pain of Listening to Nirvana Songs
Kevin Winter, Getty Images
Both Krist Novoselic and Dave Grohl were part of one of the biggest bands ever in Nirvana, but in April 1994 Nirvana ended with the suicide of frontman Kurt Cobain. Both musicians recently spoke with Rolling Stone about their reflections on the groundbreaking band and still dealing with the aftermath nearly 20 years later.
Novoselic admitted he's been listening to Nirvana a lot lately, something which would seem natural given the new 20th anniversary edition of 'In Utero' arriving in stores. He goes on to add, "There is a lot of baggage that comes with it. It brings back a lot of memories -- good memories, painful memories. But it's good music -- good rock music."
Grohl, meanwhile, recently told Rolling Stone that he has a hard time listening to 'In Utero.' He explains, "The album should be listened to as it was the day it came out. That's my problem with the record. I used to like to listen to it. And I don't anymore, because of that. To me, if you listen to it without thinking of Kurt dying, you might get the original intention of the record."
The drummer adds, "My kids, they know I was in Nirvana. They know Kurt was killed. I haven't told them that he killed himself. They're four and seven years old. So when they listen to 'In Utero,' they'll have that fresh perspective -- the original intention of the album, as a first-time listener."
Even though it's been years since Nirvana was active, Novoselic says playing with Grohl and Pat Smear last year on their track with Paul McCartney brought back a lot of old feelings. He explains, "Dave, Pat and I hadn't played together for 20 years, until last year, when we were in the room with Paul McCartney, of all people … He's a left-handed guitar player, like Kurt. He's playing this mean slide … All of a sudden, this song comes together. It came together in an hour. I looked at Dave and Pat and kind of forgot about Paul. I was like, 'We haven't done this in so long.' It's like we walked out that door 20 years ago, we walked back in and it was all still there. In the film, when Paul says, 'I didn't know I was in the middle of a Nirvana reunion . . . '"
Nirvana's 'In Utero' 20th Anniversary reissue is out now.