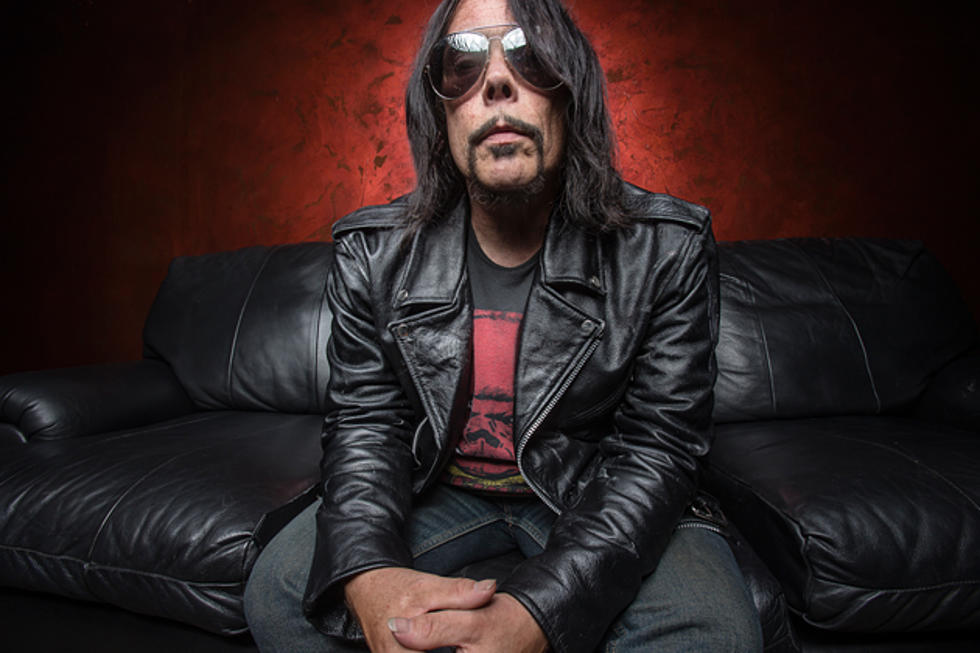 Dave Wyndorf Talks New Monster Magnet Album + First North American Tour in 10 Years
Photo Credit: Jeremy Safferwyn
When looking back on the history of Monster Magnet, one truth stands out: frontman Dave Wyndorf is the Alpha and the Omega. The only original member of the band left, Wyndorf spearheads the creative process when it comes to Magnet music, so it makes perfect sense that he did exactly what he wanted with their latest studio album, 'Last Patrol.' More reminiscent of old-school rock and roll, 'Last Patrol' proves to be an album like few others in today's music scene.
Ahead of the release of 'Last Patrol,' Loudwire caught up with Wyndorf to talk all things music, from the new album to his first North American tour in a decade to what's coming next for Magnet (hint: it's another new album).
What do longtime Monster Magnet fans have to look forward to with 'Last Patrol?'
Longtime fans, look for a return to the past. It's a dedicated psychedelic rock album, psych only. This was a record I really wanted to have as vibe only, not a fist in the air rock record. It's a midnight record, a record you put on at 12 o'clock at night or on a weird cloudy day, during a lunar eclipse. It's a return to a recording style I used to do a long time ago, which is a do-it-yourself type style, mistakes and all. Not a very single oriented sort of thing. So if people are into that s--t, they'll love it.
Yeah, but even stripped down, it still rocks.
I say psychedelic rock for a reason. Rock with a capital R.
Why did you decide to return to your roots on this album?
I thought it had been too long for me to not make a record like this. I do this stuff at home all the time, and why it doesn't end up on the Monster Magnet records, I don't know. I love all of the small stuff, squirrelly vocals, creepy, whispery conversational s--t. I play live so often I guess I lost touch with it. You know, big rock shows and big rock songs, and I'd write records that went along with that. I started to notice that I was unhappy doing records that way so I decided to go back and do a totally squirrelly record.
It's your first album since Magnet parted ways with guitarist Ed Mundell. What was it like being in the studio with new guitarist Garrett Sweeny?
It was fine. Ed is a great guitarist, but for the last couple of records he wasn't around that much. Ed was wanting to do his own thing. He's got his own thing, his own style. He was more and more out of the Monster Magnet thing. On the last record, a lot of the leads were done by Phil [Caivano] and by me, so it wasn't a problem. The Magnet plan is pretty much set by me and whoever gets there first to record it, gets the job.
You're the only remaining founding member of the band. Does that ever get in your head?
I don't think about it that much. We never went too long without changing members anyway. I don't think we went more than a year before people started changing. Even in the very beginning, there were different people in and out. Right after the first record, 'Spine of God,' we changed guitarists. Then five years after that, we changed bass players and drummers. It's always the same thing, me screaming at the bow of the ship and then different members coming and going depending on how much they were into it and how much they could handle from the crazy rock business.
The word on the street is you wrote your latest record in one week. Is that true?
Somehow that got out and it's not true. I did write the lyrics in one week, but if I wrote the whole record in one week, I'd be a f--king genius! To write the record, it probably took about a month and a half.
Fair enough, but putting the lyrics down in one week is still pretty impressive. What was that like?
Yeah, man, it's a nutty way to do things. It's called, "I'm missing my deadline and I'm going to die!" It's horrible. I do this every time, man. It's really easy for me to get the music, get the concepts, get the titles and build it like a house. Then, when it finally comes time to decorate the thing, I don't really feel like decorating. I put it off and put more bells and whistles on the record. But, there's something to be said about that, about waiting. When you wait, the material that comes out, if it's a nice, healthy vomit of psyche, it all kind of ties together. I just lock myself in a room, in this case it was my kitchen. I woke up everyday at 7 o'clock in the morning, drank a ton of coffee and said, "You better f--king do this." I just go into my memory bank from my last record to now. What did I do? Well, I went on a million tours. Did I go out with girls? Did I break up with girls? What did I see on TV? What was going on in the news? There is an unending source of material from my own brain, emotionally that means something to me. That's what I write. I write from the heart. I think about what I'm going to say, and then I think it's boring and I can't say it that way.
So I write about it as if the world just split open. I get really visually evocative about stuff. I'll take the notions of my life - sex, drugs, what I want, what I hate, what I'm scared of. It's all got to be on the edge, no middle stuff. That's boring. It's not just love, it's either fear or complete nirvana, you know? I write about those things, but I use the vernacular of science fiction. It kind of suits the music. It's a weird style, it works for me, though. It never seems enough when I write this stuff. At first it's like a bad country western and then I got to spice this s--t up!
The weirdness of the lyrics really comes through on 'Last Patrol.'
It's important for me to leave the lyrics just a little bit ambiguous to the listener. I grew up listening to records where I didn't know what the lyrics were. So, I like to write the songs so there is a little bit of space for people to fill in the blanks.
On the heels of the release of 'Last Patrol,' you're gearing up for Magnet's first North American tour in a decade. Why has it taken you so long to tour the continent?
About 10 or 12 years ago, I got off my major label, I didn't think I could survive with those guys. I was a really, really small fish in a big pond and I wanted to get out of there. I sensed something was coming in the states, kind of a cultural void. The emphasis on "live" just wasn't there, not for me anyway, not for my kind of music. It was tough playing little clubs with not a lot of people and I was always misrepresented. We were put in weird places, these metal clubs that were already 15 years out of date. Nobody really made the connection of art and creativity. It was just going through the motions. The whole thing just seemed like s--t. I would go on the Internet and everybody was shouting, "New, new new!" And it wasn't really new, they just lost the plot. I don't see any smart people on the street at all. Now, I'm not going to be an a--hole and try to pick my audience, but I'll be damned if I have to win over a bunch of morons, you know what I mean? I'm too old for that. So, I went to where culture is rewarded, and that's Europe. Rock is alive in Europe, dude. It's f--king on fire. Great clubs, guys put their money into the venues, great lights, great sound. And these are not big clubs, they're smaller. So I was just like, when things change around here, I'll come back.
I did Europe for like 10 years and did really, really good. I'd do New York City and maybe L.A., but I was in Europe most of the time. I don't want to diss anyone, I mean the love was here, the people were here, I just didn't see it physically manifest itself. I think things might be changing. I think maybe people are getting a handle on their priorities musically. There seem to be people who are looking through the giant haze and white noise and are picking their priorities. This is good for Magnet. We've always been esoteric, not everybody gets it.
That seems to be a good thing, especially for this new record.
That's the way I prefer to go. It feels good. It's music for music's sake. I did my time in leather pants. I did my time! It was really f-cking fun and really cool, but there are plenty of people out there who look way better in leather pants than me.
2013 marks the 20th anniversary of 'Superjudge.' What are your thoughts on that album 20 years later?
'Superjudge,' what a f--king crazed album. I f--ked that one up big time. I did it in like three weeks and it sounds like an anxiety attack, me screaming at some producer guy the whole time. That was a crazy time. I always wished I could remix that record someday, you know? Hey, wait a minute, it's the 20th anniversary? Maybe I should remix it! I didn't realize it's been 20 years. My perception of time is f--ked forever.
I'm sure your perception of time won't get any better with a new album and full-blown tour. What's next for Magnet?
Right now, before this tour gets together, I'm putting together some retracks and alternate versions of 'Last Patrol.' It's not a remix album, but stuff I didn't use on this one. Sometimes the songs are longer, sometimes they're more spaced out. It all has to do with the material that was previously tracked for 'Last Patrol' but didn't make it onto the record. And some reworked versions, too, like down and dirty '60s versions. More psych, more insane. Some acoustic versions and even some new songs. That'll be out probably summer next year. It's pretty f--king cool. I usually don't like to do this stuff, but there was just so much I didn't use. It'll kind of be like the sister album to 'Last Patrol.'
Then, we tour the living s--t out of it. In between stuff, I jot down musical notes for the next one. I don't see life changing for me anytime soon. After a couple years of touring, I go home. Then I go home and I gotta write a record. Music is the most fun, man. Music is the one thing in my life that I can start but it finishes itself. It's like magic. It's doing it itself! You just follow the vision. It's the only thing in my life that I can truly count on, more than people, you know?
Monster Magnet's latest studio album, 'Last Patrol,' hits storeshelves on Oct. 15 via Napalm Records. You can pick up a copy here.