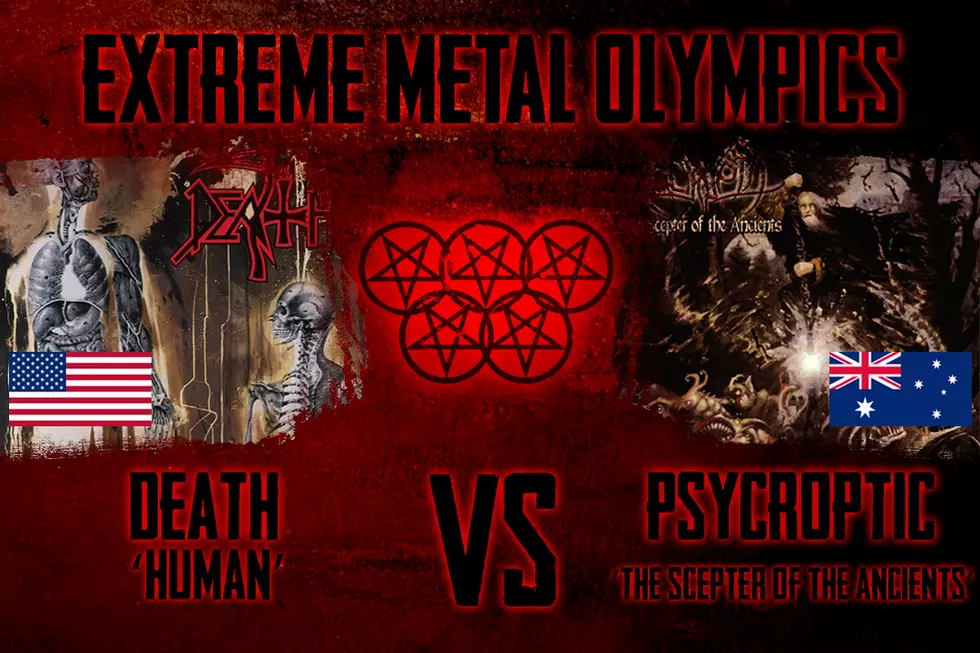 Death vs. Psycroptic – Extreme Metal Olympics 2016, Round 1
Relativity / Unique Leader
It's the U.S.A against Australia in Round 1 of the Extreme Metal Olympics! In the red, white and blue corner is Death with their widely influential album Human against techdeath heavyweights Psycroptic and their disc The Scepter of the Ancients representing the land Down Under.
The U.S.A.'s Death were one of death metal's prime movers, helping define the genre with what many consider to be the first ever death metal record. Resetting their sights in 1991, Chuck Schuldiner & co. locked in and released one of the genre's most influential albums with Human. Taking the rhythm-first approach and peppering it with understated, progressive guitar work and the world-class drumming of Sean Reinert, Human is rightfully put on a pedestal and is one of death metal's crown jewels.
Australian techdeath purveyors Psycroptic came into their own with the release of The Scepter of the Ancients. With artful guitar playing taking on vocal-like cadences, it opened up the floor for frontman Chalky to implore a myriad of different styles and twisted patterns around these intricate leads. Constant tempo changes and unforgettable riff after riff after make songs like "The Colour of Sleep," "Battling the Misery of Organon" and "Skin Coffin" some of the best extreme metal jams to come from the land down under.
Which album will move on to the Quarterfinals of the Extreme Metal Olympics? Vote for either Death's Human or Psycroptic's The Scepter of the Ancients in the poll below and check out a song from each album beneath the poll if you're unfamiliar.
(This poll will end on Thursday, Aug. 11, at 9AM ET. Fans are able to vote once per hour, so keep coming back to make sure your favorite song wins!)
Psycroptic, "Skin Coffin"
Extreme Metal Olympics Matchups