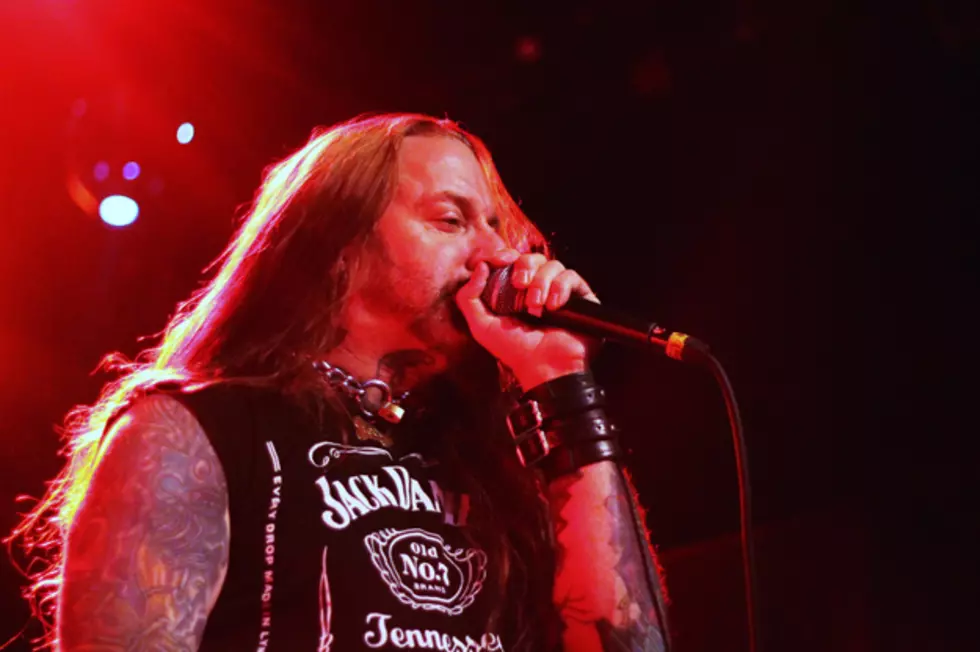 DevilDriver Singer Dez Fafara Offers Details on New Album, New Label + More
Liz Ramanand, Loudwire
It's been quite a year for DevilDriver, as they began 2012 as part of the Metal Alliance tour with Arch Enemy and recently finished up a massive U.S. trek with GWAR.
During DevilDriver's stop in Brooklyn, N.Y., we caught up with frontman Dez Fafara, who dished on the band's new album and expressed his excitement about joining Napalm Records' roster. He also took a look back on DevilDriver's 2011 release 'Beast.'
How would you describe your relationship with GWAR and the rest of the roster on this tour?
We've been friends with GWAR for a long time; we toured with them six or seven years ago it was one of the funnest tours we ever did. We know everybody, we know the Cancer Bats really well, we've toured with them before – it was my ideas to put the Bats on as well and it ended up happening so it's been really killer so far. Everyone's just hanging out and having a great time.
No doubt you have toured with numerous bands but is there one band or musician you would love to tour with that you haven't gotten a chance to tour with yet?

We did some shows with Metallica but they were festivals but I would love to do a Metallica tour – every band is going to say that. Other than that, there's a lot of artists out there that I would still love to work with of course.
With all of this touring what is one thing you must bring on tour with you, no electronics?
I bring my own blankets because there's been a million musicians sleeping in those bunks and on those mattresses so I bring my own blankets, my own sheets, my own pillow, my own everything. If you tour like we do and I take the same bunk every time in different buses.
Any creepy findings in one of your tour buses?
Oh yeah, I got really ill about a year ago on a tour and they couldn't figure out why was so ill. It was about two weeks into it and I was coughing up black s—t, we finally stripped my bunk down and we turned over the bunk and the whole thing – the bottom was covered in black mold. Somebody had spilled a drink in there or whatever and left it over the course of time and it was just getting me really sick. Other than that I've never experienced other creepy crawlies, you'll see spiders in buses sometimes but we tend to let those guys out and let them live 'cause they've already had a hard road.
Congratulations on your new home of Napalm Records – what made your guys decide on this move?
They have passion. I think when the whole folding of Roadrunner was happening, they were ... letting a bunch of other people go – I had been there a long time, I think they decided, I decided, we all decided that it was just time to part ways. Napalm has a massive amount of passion for heavy metal, they love the band. When we met with the owner, he was like "I love the band." He knew songs and it was like okay, "This is a guy who's entrenched in our music so we want him behind it."
We're also with Roadrunner still overseas in Australia and New Zealand so it's good to be with them still over there. The United States label itself has changed and I forsee in the next year, it's just going to fold completely in probably to Warner, I would imagine. With people in the UK that I've worked with forever, press people and others – when they lose their job, it's time to go, start over and I'm not afraid of that. A lot of people are afraid of moving into a new house but it's awesome to do and decorate it new and make it happen again, make it feel alive so that's what's happening with DevilDriver and Napalm right now.
We're excited for the record, they're excited for the record – I think Napalm needs a flagship in the United States and I think we could be it for them and I think their press people and they think we could be it for them, too. We're going to go gunnin' with this next record and see the numbers – I'm predicting both higher sales and a higher chart position than what Roadrunner offered us. So we'll see.
What's the progress on the next album?
Songs are all written – I'm six songs in right now, written, we've got two covers that we're going to be doing. We're looking at a late fall – sometime between late August and late September, kind of hard to quote me right because we're just looking for that release space but I believe that's when the time is going to be. So this is the last time DevilDriver will be in the United Stated at least until September, October of next year. We're taking a whole year away from the States to just let it marinate and then come on back on the new record.
What do you think the vibe will be like for this new album?
Every record is different, that being said I thought 'Pray For Villains' was kind of an out of the box record for us, I thought 'Beast' was a weird out of the box record for us - we've kind honed back in to where we are. This new record sounds a lot like the first three records, it's got an intense groove to it and I'm really happy – the writing is going extremely well. That being said I think we've laid back on our laurels right now and be like, "We're a groove band" the fans started calling us The Groove Machine, The California Groove Machine – everybody needs a title, we'll take that one and we're going to give them that on the new record for sure.
It's been well over a year since the release of 'Beast.' Looking back on it, what does Dez the music fan love about that album?
A weird record for us, I'm not going to lie, when I sat down – the arrangements everything, it was a weird record to write. When it came out we knew it was just an out of the box, aggressive record for us and it got a lot of positive feedback. All of the accolades that it got, I didn't know if I expected that reaction.
Now looking back in hindsight, we needed that, we to just do something apart from ourselves and that's what has led us now to where we are with the new record which is like, "Let's really hone in on the songwriting on this one, let's make sure the arrangements are really tight." Everyone's really excited.
Looking back on 'Beast' we worked really hard, we toured really hard on it and it did what it was supposed to do for us which was put our sound out there in a unique way and make sure that we didn't follow any kind of course of anybody else and we laid our own path, which we've been doing since we started.