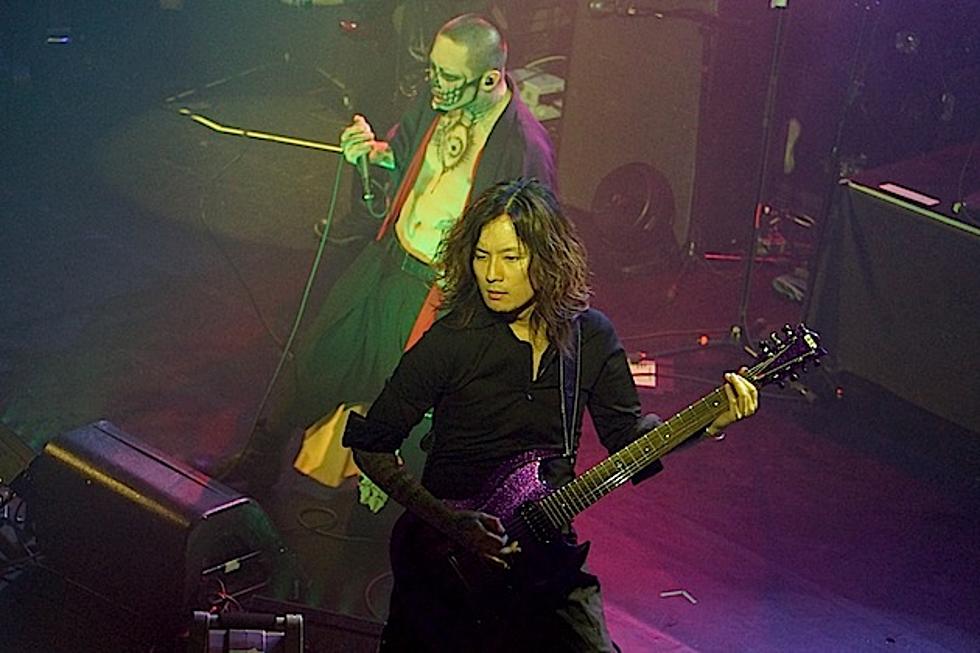 Dir En Grey Guitarist Kaoru Discusses Latest EP, Next Album + Scream for the Truth Campaign
Spencer Kaufman, Loudwire
Dir En Grey just wrapped up a North American tour and we were able to catch up with guitarist Kaoru for a brief interview prior to the band's gig at New York City's Irving Plaza (check out our recap and photos of that show here).
The Japanese metal band has been together for more than 15 years, and Kaoru discussed the group's sonic and visual evolution over the years, as well as the band's latest EP, 'The Unraveling,' and their upcoming album.
The guitarist also spoke of the band's 'Scream for the Truth' campaign in reaction to the Japanese government's handling of the March 2011 earthquake and tsunami, which is still making headlines today. Check out our interview with Dir En Grey's Kaoru below:
The latest EP, 'The Unraveling,' is very unique in that aside from the title track, the rest of the songs are reworked versions of older Dir En Grey tunes. What was the inspiration behind creating this EP?
We've revisited our songs before, but we wanted to take some songs that we stopped playing live and update them for our current style so they would fit with our live performances. We felt that a collection of updated songs wouldn't be enough for a full-length album, so we decided to release it as an EP.
Speaking of your current style, the band has evolved both visually and sonically over the years. Were you ever afraid of distancing yourselves from the fans who have been there from the beginning?
It wasn't a sudden change. It happened gradually, over a period of time. Eventually, we felt that dressing like we used to onstage put up a wall between us and the audience, so we stopped wearing the kind of makeup we did before. We still wear some makeup sometimes, but we're older now than when we started, so not as much.
As mentioned, there is one new song on the EP -- the title track, 'Unraveling.' Is that song representative of what fans can expect on the next full-length Dir En Grey album?
'Unraveling' is just one new song, and it's not representative of where we're headed. Our new single ['Sustain the Untruth'] is coming out in January [2014], and that's a much better indicator of our current direction.
When touring, what are the main differences that you notice between Japanese audiences and those outside of Japan like in the United States and Europe?
Because of the way Japanese culture is, Japanese audiences react as a group. They're quiet during the quiet songs and energetic during the loud ones. It feels like they're being polite. In the U.S., each member of the audience reacts the way they want to, meaning sometimes they're loud during the quiet songs if that's what they want to do. It's a completely new and interesting experience for us, seeing audiences react however they feel. American and European audiences are basically the same, but South American audiences are extremely energetic. You can really feel their power.
Which musician was your greatest influence when you were starting out?
X Japan's [late guitarist] hide made me want to play guitar. If I had never known him, I wouldn't be who I am today.
And who is your favorite guitarist outside of Japan, past or present?
Another member of X Japan, Yoshiki, produced some early Dir En Grey recordings. What did you and the band learn from working with him?
Yoshiki taught us how to evaluate what we make and have passion for what we do. He gave us the confidence to believe in what we do and write what we personally believe is good.
Is there a young up-and-coming Japanese band who you would recommend to music fans outside of your country?
They're not a young band, but recently I've been listening to -- Downy. They're on an indie label, and I'd recommend checking them out.
Dir En Grey have been quite outspoken about the Japanese government's handling of the tsunami and earthquake that devastated northern Japan in 2011. That year, the band launched the 'Scream for the Truth' campaign to seek answers, and now, from recent headlines, it appears that some important facts were withheld from the public. What are your thoughts on the current situation in Japan in regard to the tragic events of 2011?
In Japan, people are okay with not questioning the government about what happened. If foreign countries questioned Japan about what happened, it might inspire Japanese people to take action on their own.
Our thanks to Dir En Grey's Kaoru for taking the time to speak with us. Pick up the band's latest EP, 'The Unraveling,' at iTunes, and stay tuned for their new album, which is tentatively due next year.