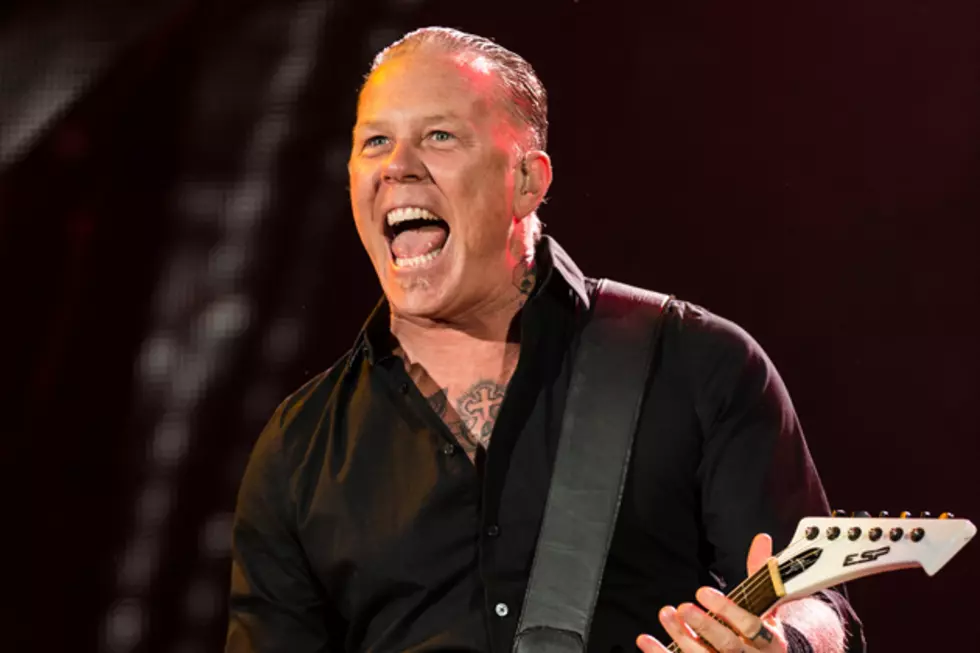 Fan Petition Launched for Metallica to Thrash Super Bowl 50 Halftime Show
Ian Gavan, Getty Images
In 2016, the NFL will hit a landmark with Super Bowl 50. The iconic event will take place in the San Francisco Bay Area, widely known as the Mecca for thrash metal. Of course, the Bay Area is home for Metallica, so a fan has launched a petition for Metallica to play the 50th Super Bowl Halftime Show.
Let's take the NFL's target audience into consideration here. Do beer-drinking dudes from ages 18 to 65+ want to sit through a sugar-coated pop extravaganza? Probably not. No rock act has headlined the Super Bowl Halftime Show since the Who in 2010, so with the 2016 show coming up, why not invite the pride of San Francisco to tear up the place?
The petition, which is quickly closing in on its goal of 5,000 signatures, reads:
They've won Grammy's, they've headlined every festival around the globe from Glastonbury to Lollapalooza. They've sold over 110 million records worldwide and have a consecutive streak of #1 chart debuting albums that spans their last five full length releases. They were first ballot Rock and Roll Hall of Fame inductees. Quite frankly, there's nothing they haven't done or accomplished which is why it is with zero trepidation that I make the bold statement that it is absolutely stupefying that these American pioneers of rock have not been involved with a Super Bowl halftime to date and it is time for that to change … We don't need pop-tarts on mechanical tigers giving us flash and no substance, we need amps and drums cranked up and played with power and emotion. It's time.
Amen, brother! Unfortunately, Metallica may not want to enter into a deal with the NFL. As the Wall Street Journal recently reported, the NFL has asked musicians for money to play the coveted halftime spot. "When reaching out to artists, league representatives asked some acts if they would exchange a headlining slot for a portion of their post-Super Bowl tour earnings, or make another type of financial contribution to the NFL," the Journal reports. Unsurprisingly, the stipulation "got a chilly reception from the candidates' representatives."
Interestingly enough, Metallica's booking agent, Dennis Arfa, spoke out to Rolling Stone about the Super Bowl Halftime Show policies. "Halftime's for sale," says Arfa. "If I was a young band, and I had a billionaire backer, I'd buy my way to the Super Bowl — everybody would know me after the Super Bowl. Is Paul McCartney going to pay? I doubt it."
There's no word whether or not Paul McCartney entered into some sort of "pay to play" deal when the Beatles legend performed at the Halftime Show in 2005.
It should be noted that the sports world has honored Metallica on multiple occasions. Both the San Francisco Giants and the San Jose Sharks have instituted 'Metallica Night' for the Bay Area legends.
Thrashers, head over to Change.org and commit your name to the Metallica Super Bowl 50 Halftime Show petition!
Watch our 'Big 4' Video Game Trailer Feat. Metallica + More
See the Yearbook Photos of James Hetfield + More Rock Stars