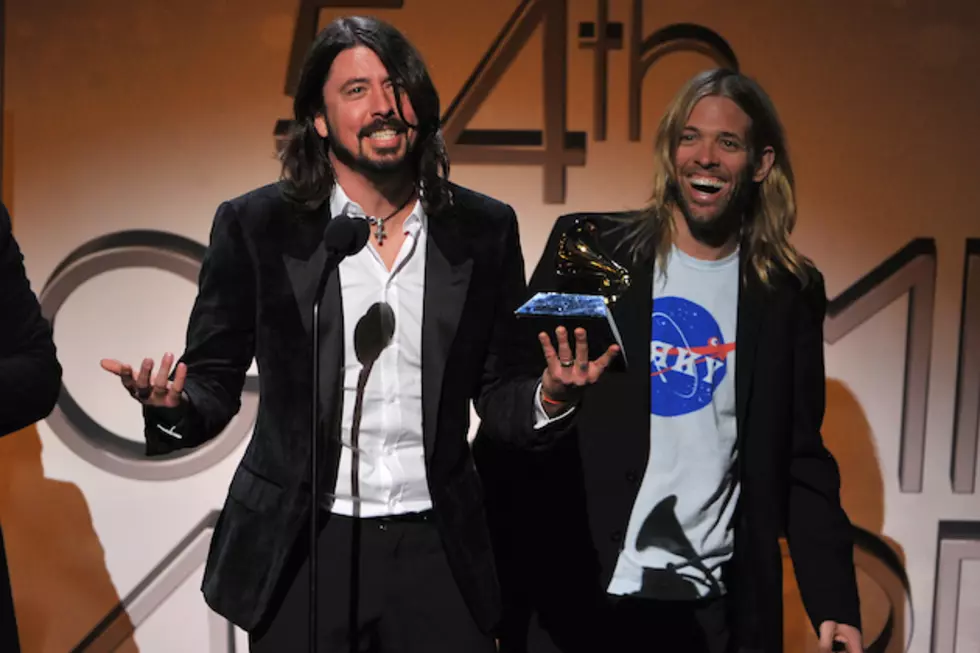 Foo Fighters' Dave Grohl + Taylor Hawkins Swap Places To Honor Led Zeppelin
Kevin Winter, Getty Images
Over the weekend (Dec. 2), several rockers descended upon Washington, D.C., to pay homage to one of the most influential rock bands of all time – the legendary Led Zeppelin. The tribute performances for the annual Kennedy Center Honors show would see the combined talents of Foo Fighters, Lenny Kravitz and Kid Rock all take the stage to play classics from Led Zeppelin and attempt to do them justice.
It was in the practice stages for this main event that Foo Fighters lead vocalist Dave Grohl had an epiphany, thinking he might want to return to the drum kit for this one. Grohl told the Washington Post that the decision came during a practice run when he asked himself, "Can I sing Zep? I can drum Zep," concluding with he and Foo Fighters drummer Taylor Hawkins swapping roles for the evening with Grohl taking over the drum kit and Hawkins providing vocals. Together, Foo Fighters conjured up their versions of  Zeppelin tunes 'Black Dog' and 'Rock and Roll.'
Grohl also spoke about the impact late Led Zeppelin drummer Jon Bonham had on him as a player. "I was completely obsessed with John Bonham," Grohl gushed. "So much so, that I knew that I would never be technically able to do what he did. But I wanted to see if I could crack open his instinct and see why he did the things that he did." He continued singing Bonham's praises, "Because, as any musician or producer will tell you, John Bonham's feel was legendary. Just the way that he held down a back beat was something that no one had ever heard. And no one has been able to recreate since."
It wasn't just Bonham that Grohl had kind words for though, he called Led Zep "the most powerful musical entity in the world when they were together," and said that "No one could touch them." From one musical great to another, Grohl summed it up, saying, "They were fearless because they were so confident. And they had the chops to back it up."
Fans can tune in to see the Foo Fighters and many more honor Led Zeppelin when the Kennedy Center Honors award show airs on CBS on Dec. 26 at 9PM ET.