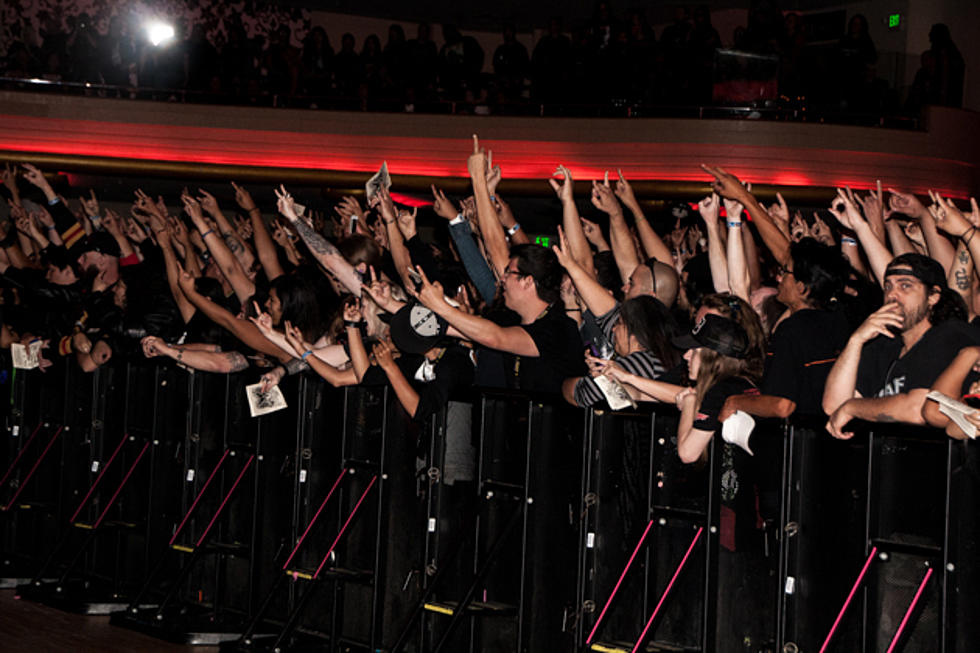 Friends + Peers Remember Slayer's Jeff Hanneman at Memorial Celebration
Kathy Flynn, WickedGoddessPhotography.com
Though it could have been a somber occasion, the memorial celebration for late Slayer guitarist Jeff Hanneman brought a range of emotions from tears to laughs as his friends and peers took the time to reflect on his musical and personal legacy.
Slayer and Hanneman fans lined up as far as the eye could see outside of the Hollywood Palladium Thursday afternoon (May 23), all hoping to gain entry to the venue to pay respect to the guitar legend. Marshall Amplifications' Nick Bowcott served as the officiator for the event and began the proceedings exclaiming, "Let's get this straight. This is a celebration. This is not about tears. This is not about getting sad." Bowcott, who also performed with Grim Reaper earlier in his career, recalled seeing Slayer many times over the years and added, "Slayer's worst show was better than anyone's best show on this planet."
Metal Blade Records' Brain Slagel was the first to speak. Slagel, who also served as executive producer of the band's first release 'Show No Mercy,' recalled those early recordings, stating, "Jeff was really a young kid, very shy, didn't say a whole lot, but in the studio he was just playing unbelievable stuff ... [He was] such an unbelievable player. Really, back then, you had the feeling that something special was happening when we made the record, but none of us really realized how special that would become."
American Recordings' Dino Parades also had a long career in the studio working with Slayer. Of Hanneman, he explained, "Jeff did things his way no matter what and that could be from his personal life to the studio. Jeff did what Jeff wanted to do and there are very few artists who lived by that credo that could actually only do what they believe in that much … I had the ultimate respect for him because he stood by what he believed in through and through and that's a rare breed these days."
An emotional Parades also brought up Hanneman's final performance with Slayer at the 'Big 4' show in Indio, Calif. "It was typical Jeff," said Parades. "He had been recovering from the flesh-eating virus that had affected his right arm … Jeff was self-conscious about how his arm had looked and he was wearing a long sleeve shirt and right before he walked onstage, he said, 'F--- it!' and tore that sleeve off his shirt. He walked onstage to a thunderous ovation and after he walked onstage, he raised his right arm defiantly and showed the world what he had and that was Jeff."
Slayer's Kerry King chose to keep things upbeat during his appearance, sharing lighthearted stories and reflecting on the irony of the event being held at the Palladium, a venue where he and Hanneman had once been banned. "It's really cool and I think it's a long time coming. We have a lot of great memories here and I'm sure you guys share those with me." See our full coverage of Kerry King's speech here.
Metallica's Robert Trujillo, reading a message for the absent Slayer producer Rick Rubin, offered, "Although he may have been the quietest member of the band personally, he was the heart and soul of the band musically. He was an innovator, an original and a creative force who we will all miss everyday going forward. Thankfully he left us with recordings we can listen to anytime we want to feel his presence."
System of a Down's Shavo Odadjian also made a surprise speech, remembering Hanneman as a person who was always there to make things better in the most difficult of times. He added, "That just makes him larger than life. He was and still is."
Prior to the celebration-closing music and video montage, Kristen Mulderig from the band's management team spoke on behalf of Hanneman's widow Kathryn. Speaking to the fans, Kathryn's message was that she was always treated with kindness and respect and that her heart ached for the fans as well. On Hanneman himself, Kathryn passed along, "I love you very much and I miss you. May you continue to reign in heaven."
As a fitting end to the celebration, Slayer's music played over a montage of Hanneman photos while the audience broke into several circle pits while singing along as loud as they could.
Check out our photo gallery from the Jeff Hanneman Memorial Celebration below:
Jeff Hanneman Memorial Celebration
Nick Bowcott, Marshall Amplifications
Brian Slagel, Metal Blade Recordings
Jeff Hanneman Guitar Shrine
Dino Parades, American Recordings
Slayer's Kerry King
Metallica's Robert Trujillo
Slayer Fans at Jeff Hanneman Memorial
System of a Down's Shavo Odadjian
Kristen Mulderig Speaking for Kathryn Hanneman