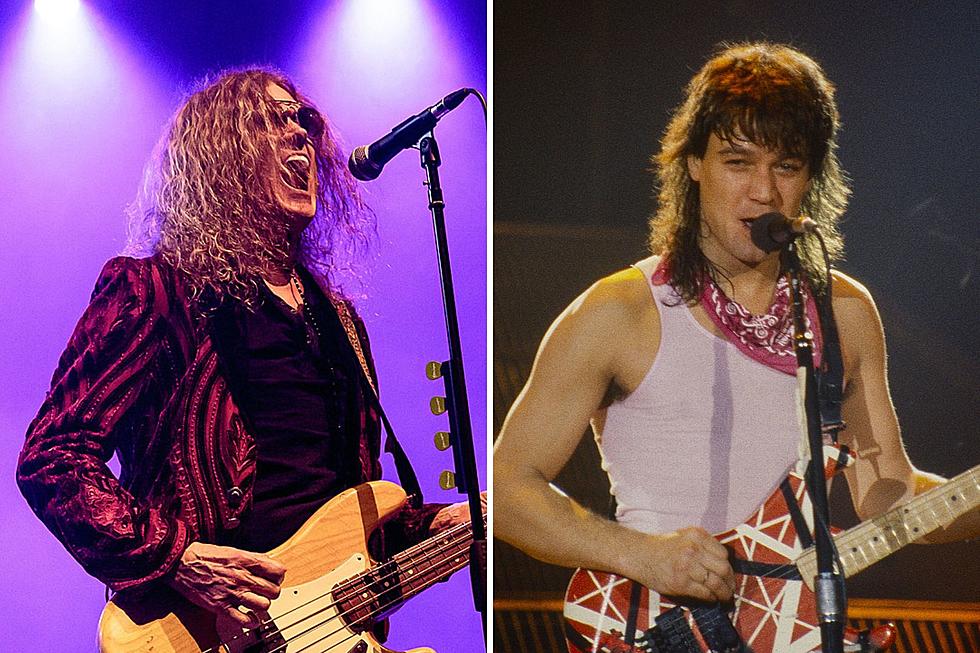 Glenn Hughes Says He + Eddie Talked About Him Replacing David Lee Roth in Van Halen
Sergione Infuso/Corbis, Getty Images / Marc Serota, Getty Images
Can you imagine what it would sound like if the legendary Glenn Hughes wound up singing for Van Halen? According to the singer/bassist, he and Eddie Van Halen once kicked around that very idea.
Hughes' name was evidently brought up when Van Halen were seeking a replacement for David Lee Roth in the mid-'80s. He first rose to prominence as a member of the budding band Trapeze before landing the gig as bassist and co-lead singer in Deep Purple, playing on Burn, Strombringer and Come Taste the Band before thee group dissolved in the late '70s.
In the early '80s, Hughes partnered with guitarist Pat Thrall on a one-off Hughes/Thrall record and was battling addiction.
In an interview with The Classic Rock Podcast, Hughes recalls chatting with Eddie about the band's need for a successor to Roth and the different paths in life he and the guitarist were on. "Well, Eddie was newly sober at that time… And we spoke about it. I had no idea. Eddie had been a friend of mine from the beginning," reveals Hughes (transcription by Blabbermouth).
It doesn't sound like the conversation about Hughes being considered for the Van Halen role went very far. What's likely is that the band probably brought up a lot of different names before the audition stages, casting a wide net to consider all options.
READ MORE: Why Sammy Hagar Believes He Made Van Halen Better When He Joined
"Look… Wow… Would it have worked? I'm not sure," confesses Hughes, who later took an ill-fated gig as Black Sabbath's frontman from 1985 to 1986, singing on Seventh Star, the record that was intended to be a Tony Iommi solo album. His stint with the group was cut short after a fight on the road left him with a broken nose, unable to sing.
Regarding the Van Halen opportunity, he wonders, "Unless I was completely sober — and I've been sober now for 24 years. Yeah, it would have been interesting, wouldn't it? [Laughs] You never know."
Hughes, who will turn 72 on Aug. 21. He's touring with Yngwie Malmsteen this summer, celebrating the 50th anniversary of Deep Purple's Burn. See those dates here.
Listen to the full podcast episodes with Glenn Hughes directly below.
Glenn Hughes on The Classic Rock Podcast
Top 80 Hard Rock + Metal Albums of the 1980s
Top 80 Hard Rock + Metal Albums of the 1980s