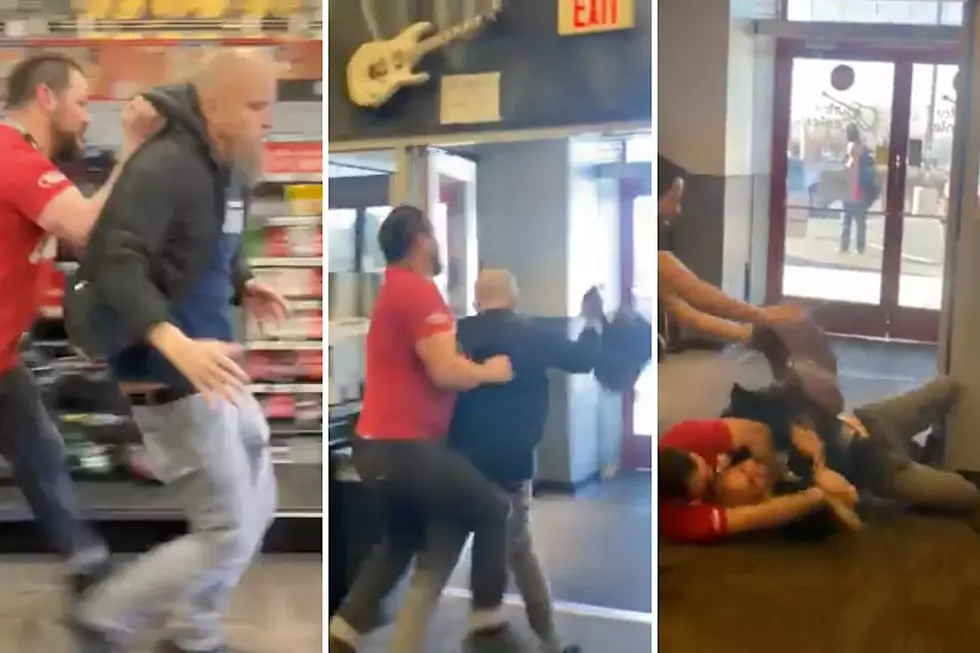 Guitar Center Employee Puts Person in Chokehold, Drags Them Outside of Store
Twitter: @Imposter_Edits
In a viral video from Reddit, someone who appears to be a Guitar Center employee in Albuquerque, New Mexico, tackles a person who was reportedly causing a problem in the store. They put them in the martial arts chokehold called a rear naked choke before dragging them outside the musical instrument retailer.
The poster of the video said, "A couple of my friends are on tour in Albuquerque and a guy got caught trying to steal from a Guitar Center." However, the original clip and the account that shared it on Jan. 12 have since been deleted. The theft was reported by Barstool Sports, Whiskey Riff and others before another Reddit user added, "I was there, just to clarify: he wasn't thrown out for stealing. He had just assaulted an employee."
Watch the video down near the bottom of this post.
"Out of the store," the apparent employee says as they chase the person toward the entrance. After taking them down, they say, "Alright, you're gonna leave right now, do you understand me? Do you understand me? You are leaving this store right fucking now, alright? Gonna gently let you up. Get up, get the fuck up."
Was the assault valid? New Mexico law reportedly gives merchants the right to detain suspected shoplifters to recover stolen merchandise, according to a 2015 Albuquerque Journal article. But many corporate policies forbid employees from pursuing a suspected shoplifter or physically engaging with them.
In the Guitar Center video, the person being chased doesn't seem to be holding any merchandise at first. But they pick up an acoustic guitar just before being tackled, thrashing around with it while down on the floor. After being dragged outside by their belt, the person lays subdued on the sidewalk with one shoe off.
Guitar Center Employee Puts Person in Chokehold
Bands Who Have Admitted to Using Backing Tracks
These musicians say backing tracks help them put on the best show they can and have no shame in confessing it.