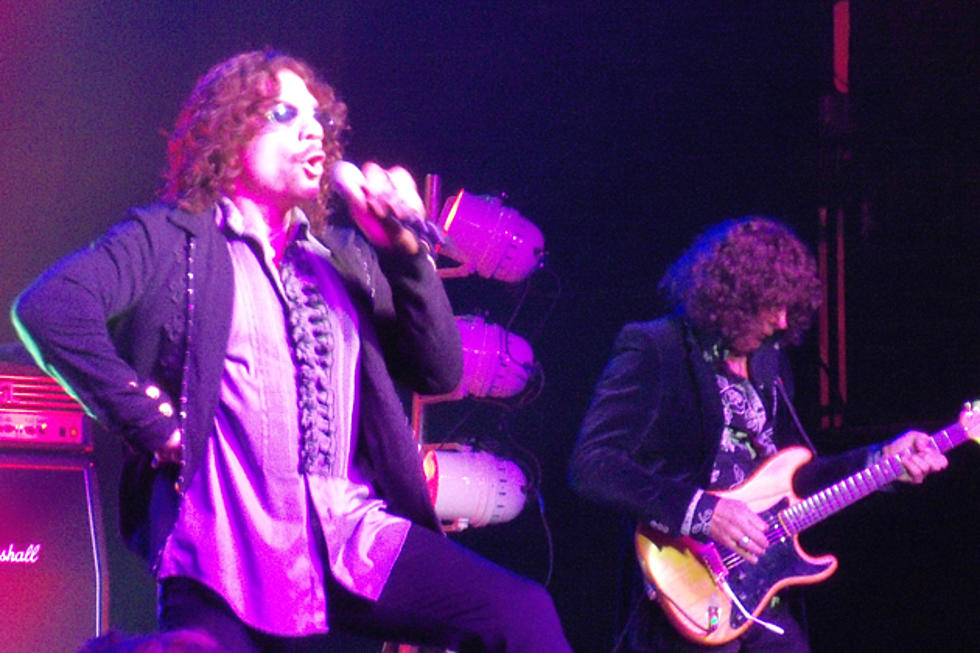 Heaven & Earth Bring Carnival Vibe to L.A. Gig
Chad Childers, Loudwire
Heaven & Earth are building up to the April 23 release of their 'Dig' album and they gave a good barometer of what's to come with their blistering set at Los Angeles' Henry Fonda Theater.
The label showcase started out with pre-show entertainment that included performers mirroring some of the sideshow characters from the band's 'No Money, No Love' video. A stilted giant, carnival-dressed little people walked amongst the crowd, a giant talking ball and a seductive beauty shooting sparks from her metal clad private regions with a power tool helped set the mood before the band took the stage.
Once the curtain finally opened, the audience was ready and Heaven & Earth delivered with 'Victorious,' the first song off their 'Dig' album. What followed was a high-energy set with Joe Retta's powerful vocals reaching every crevice of the Fonda Theater.
Highlights included the current single 'No Money, No Love,' with guitarist Stuart Smith and keyboardist Ed Roth driving the song. 'Man and Machine' gave the band one of their better live moments of the night as Smith wailed on the track. And 'Waiting for the End of the World' provided the audience with some heartfelt soulful rock, complete with backing singers.
The group finished out the night with a confetti shower of the audience and a brilliantly reworked cover of the Spencer Davis Band classic, 'Gimme Some Lovin',' that gave it more of a bluesy rock feel.
Heaven & Earth's 'Dig' arrives in stores April 23 and the band is currently in the process of lining up their future tour dates. In the meantime, you can pre-order the disc at Amazon.com.