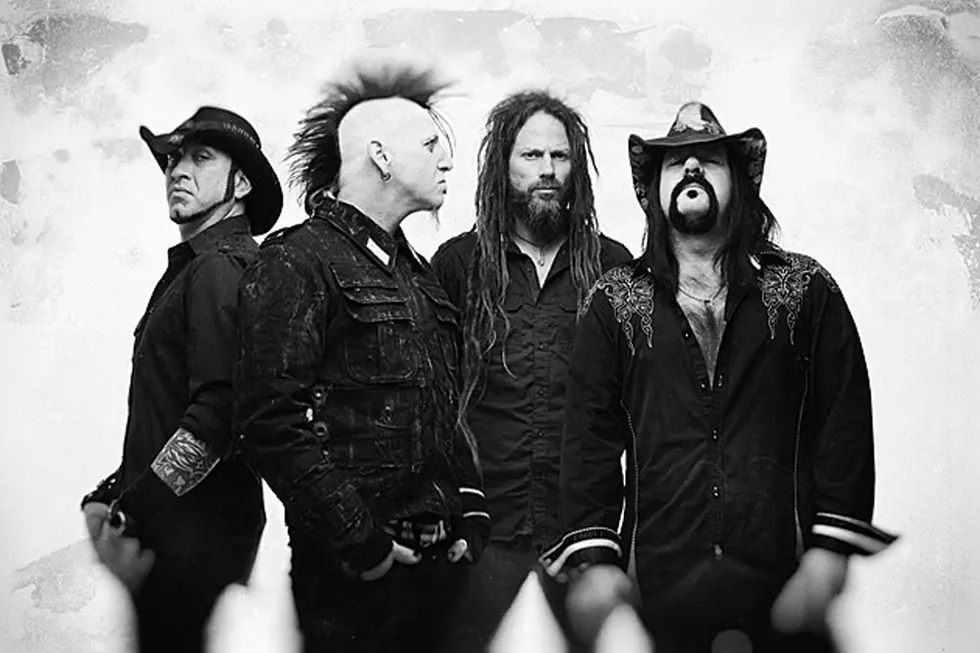 Hellyeah's Kyle Sanders Reflects on Drummer, Friend + Cook Vinnie Paul, Reveals New Album Progress
Eleven Seven Music
The late Vinnie Paul finished recording his drums for the next Hellyeah album shortly before his death, bass player Kyle Sanders told SiriusXM Liquid Metal's Jose Mangin in a recent interview. "We're in the middle of huge things right now. This is the last thing you expect to hear. We're in the studio right now, man. We're doing a record, [this is] everything that Vinnie lives for. It's devastating, man."
Sanders called into Mangin's show to discuss the death of his bandmate, who died in his sleep over the weekend.
"The music that I'm sitting on right now, it makes me so happy to hear it, to have all the music done. We're doing vocals now, we're like 75 percent done with this record. [The] tour's starting in September, all these festivals [are booked]. We just were on the phone with Vinnie talking about the game plan."
Sanders notes that he and Paul always oversee the routing of Hellyeah tours. "We just did [that] last week, looking over the whole run, everything we were supposed to do in September," says the bassist. "Immediately after solidifying the routing, we look at the venues where we know we can barbecue. We were already planning the menus! That's almost as exciting as planning the shows! He lived for that!"
Sanders recalls that, when shopping for food for the barbecues, Paul wouldn't allow any other members of the band to chip in. "He won't take a dime from us! 'I'm buying this food, we're all gonna enjoy it!'" He said that "every band member, every crew member, every security staff member" was invited to the cookouts.
Paul had discussed publishing a cookbook for years, and Sanders laughed when discussing one of his most popular concoctions. "The freakin' peanut butter and jelly jalapeno poppers! Instead of stuffing it with cream cheese, you fill it with peanut butter, and then you sprinkle it with cheese, and then you sprinkle it with bacon bits, and then you grill the hell out of it on a flattop and then you top it off with grape jelly."
"I'd never seen myself smile that much," Sanders said, recalling looking back at photos of himself with the band. "I was like, 'I never smile in pictures, what the hell is going on?' It was just, genuine happiness. it was just a pleasure to be in a band [like that]."
The bassist said that Paul was more than a great drummer, he was a solid friend, recalling, "He brought me into his house: he was like, 'Here, you want to stay here? It's yours. What's mine is yours.' There's not a lot of people like that."
"He wasn't a drug guy, he wasn't depressed," Sanders said. "For all the shit that he's gone through. [His death] was a stupid happening. it's senseless.  He went to bed and didn't wake up."
Of the band's relationship with their drummer, Sanders said, "It truly was a family. After he lost his brother and all he had was his dad, we were the family. And I feel so bad for his father right now, who has to go through this. Outliving your children, that's not supposed to happen. I wish him so much strength and positivity. There's not a whole lotta words you can say."
Sanders told Mangin that he was a fan of Vinnie Paul, and would not have guessed that they would be bandmates one day. "I never met him in the Pantera days, but I saw him in Pantera several times," says the bassist. "The one [show] that stands out is [from] the Pantera/White Zombie tour. It was right when White Zombie was coming out, they were my favorite and they blew me away -- early '90s. It just reassured me that I was doing the right thing for the right reasons."
Sanders isn't a founding member of Hellyeah, but he knew the band from their earliest days. "I was in a band before Hellyeah called Bloodsimple, and Chad Gray, he gave us our start, he gave us a deal on his label, it was right when Hellyeah was starting," said Sanders, reflecting about his band opening Hellyeah's first tour. "That [tour] was when I got to know him, and that was eleven years ago."
Five years ago, Sanders joined Hellyeah, and geeked out over being in a band with one of his favorite musicians. The bassist says, "The first time I jammed with him... he's like a regular dude! He's a brother! There was nothing weird, no rock stardom, no nervousness, it was completely cool and laid back."
He continues, "Until I flew home, and I was like, 'Wow, that just happened. I'm in a band with Vinnie Paul!' It's something that I'll never forget, and I can't believe it's not going to happen again."
Reflecting on Paul's work, Sanders says, "'Five Minutes Alone' always sticks out in my mind. That's my go-to. When 'This Love' came out, that was a game-changer. I couldn't fathom: 'This is unbelievable... these sounds, the guitar and drums that are in these songs!' It was mind-blowing. People keep referring to the Van Halen thing, and that's exactly what it is. That's the connection that those two guys had," referencing that Pantera's siblings mirroring Alex and Eddie Van Halen.
Sanders also discusses one of his favorite Hellyeah jams, "Say When": "That doesn't even sound like a real drummer! It sounds like: 'Did somebody program that? That's not possible to play!' How does he make this happen... and you watch him and you're still not really sure how it happens. But it happens."
He concludes, "Playing bass with that drummer, being the foundation with him in this band, I'm so satisfied with what we've done together. And what we just did on this whole record together. I couldn't be more proud."
Vinnie Paul 1964-2018: A Look Back at Pantera's Legendary Drummer
See Where Vinnie Paul Ranks Among Our Top 66 Hard Rock + Metal Drummers