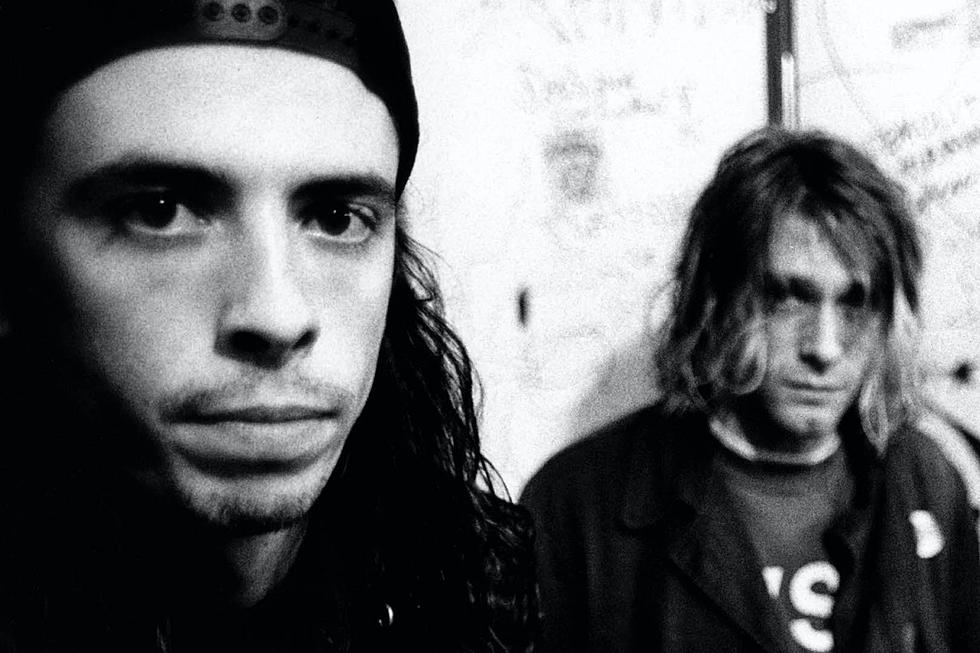 How Dave Grohl Resolved Nirvana's Massive Success With Band's Punk Ethos
Paul Bergen, Redferns / Getty Images
It's a big thing when suddenly you're the biggest band in the world, but it can be a little tricky sledding when you come from a punk scene and punk background which at times had a negative view toward mainstream success. But in a preview clip from an upcoming interview with the Conan O'Brien Needs a Friend podcast, Dave Grohl clarifies how he was able to resolve what would seem to be two conflicting ideals when Nirvana's encountered a sudden rise to fame after their Nevermind album.
"Before we made the record Nevermind we were pretty much living in squalor," recalls Grohl, describing the tiny "f—ing disgusting" apartment he shared with Kurt Cobain in the preview shared by Billboard. The Nirvana drummer recalled their place being "covered in corndog sticks and cigarettes," adding, "I would have done anything to have my own apartment and to be able to do that through making music."
Grohl goes on to say, "I know the transition happened really quickly, but you didn't just end up with a million dollars in your mailbox the next day. It went up to the per diem being $15 a day, and I was like, 'Oh my god, that means I can get two packs of cigarettes' ... and 'Oh my gosh, we're staying in a hotel.'"
As for that DIY-punk ethos, Grohl says, "I didn't feel conflicted or feel any shame in knowing, 'Oh I just paid off my mother's house' or 'I bought my mother a car,' or 'I can now afford to buy a new pair of shoes,' or whatever it was. And I think the reason I didn't personally feel so conflicted about anything is because I knew that the band hadn't done anything outside our true selves to get to where we were. We just did the thing that we did and then it happened."
READ MORE: What Is the Meaning Behind Nirvana's 'In Utero' Album Title?
You can check out the excerpt from interview with Grohl, Krist Novoselic and Nirvana's In Utero producer Steve Albini on The Conan O'Brien Needs a Friend podcast below. The full interview will debut Monday on SiriusXM's Lithium channel at 6PM ET.
Dave Grohl, Krist Novoselic and Steve Albini Guest on the Conan O'Brien Needs a Friend Podcast
Every 'Big 4' Grunge Album, Ranked From Worst to Best
Gallery Credit: Lauryn Schaffner, Loudwire