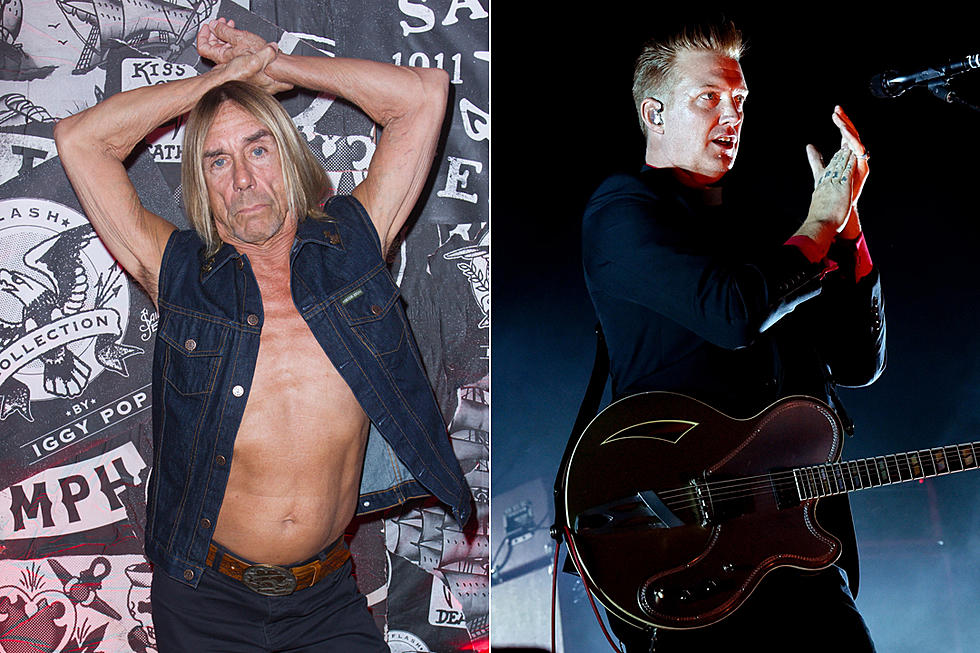 Iggy Pop To Release New Album Featuring Josh Homme; Performs New Song on 'Colbert'
John Parra / Kevin Winter, Getty Images
Punk icon Iggy Pop is set to release a new album which he had secretly been working on with Queens of the Stone Age frontman Josh Homme. The disc, due March 18, is called Post Pop Depression and features a backing band that includes Homme and his QOTSA bandmate Dean Fertita, as well as Arctic Monkeys drummer Matt Helders. Iggy and the band performed the lead single "Gardenia" on Late Show With Stephen Colbert on Thursday night (Jan. 21).
Homme reveals that Pop's Lust for Life era was a starting point for the pair. "Where those records pointed, it stopped. But without copying it, that direction actually goes for miles," Homme tells the New York Times. "And when you keep going for miles you can't see these two records any more."
Pop says of the album's theme, "What happens after your years of service? And where is your honor?" He continued, "In American life, because it's so hypercompetitive, what happens when you're finally useless to everyone except hopefully not yourself? What happens then? And can you continue to be of use to yourself? I have that kind of character in mind. It was sort of a cross between myself and a military veteran."
Homme and Pop reportedly began working on the disc in private last January after Pop had reached out via text. They self-financed the recording without a record label and because it was truly their own work, there were no outside influences on the project. "This was to go where neither of us had gone before," said Homme. "That was the agreement ... And to go all the way."
Pop reveals of the project, "I was feeling challenged at this point in my life to prove my value as a musical artist, not as a symbol of anything." As for working with the legendary Pop, Homme states, "He is the last one of the one-of-a-kinds. This is a much deserved victory lap for a man who's not sure if he won. But he did. He may have tunneled underground for lots of that, but he still got to the destination."
"Gardenia" is a laid back track adorned by Iggy's classic baritone. Josh Homme lends his voice to the track too, harmonizing with Iggy in a higher register. Iggy and Homme told Colbert that it was easy to keep the project secret since they recorded the album in the middle of the desert. "A lot of geezers my age don't work out of their comfort zone anymore because once you become legendary you don't want people challenging you," Iggy says.
The two lived together during the few weeks it took to complete, which Homme described to Colbert. "I'm such a huge fan," Homme said. "To be a huge fan of Iggy and to see him in the morning in a kimono - it's just enough to leave something to the imagination, and I've got a really good imagination."
Iggy and the band are planning a brief tour in March to coincide with the album's release. The live band will be rounded out by QOTSA's Troy Van Leeuwen and journeyman guitarist Matt Sweeney.
Check out their Late Show With Stephen Colbert performance of "Gardenia" above, and the studio version of the track below. And pre-order Post Pop Depression here.
Listen to Iggy Pop's "Gardenia"
Top 25 Punk Albums of All-Time
See Iggy Pop + More in These Rebellious TV Appearances