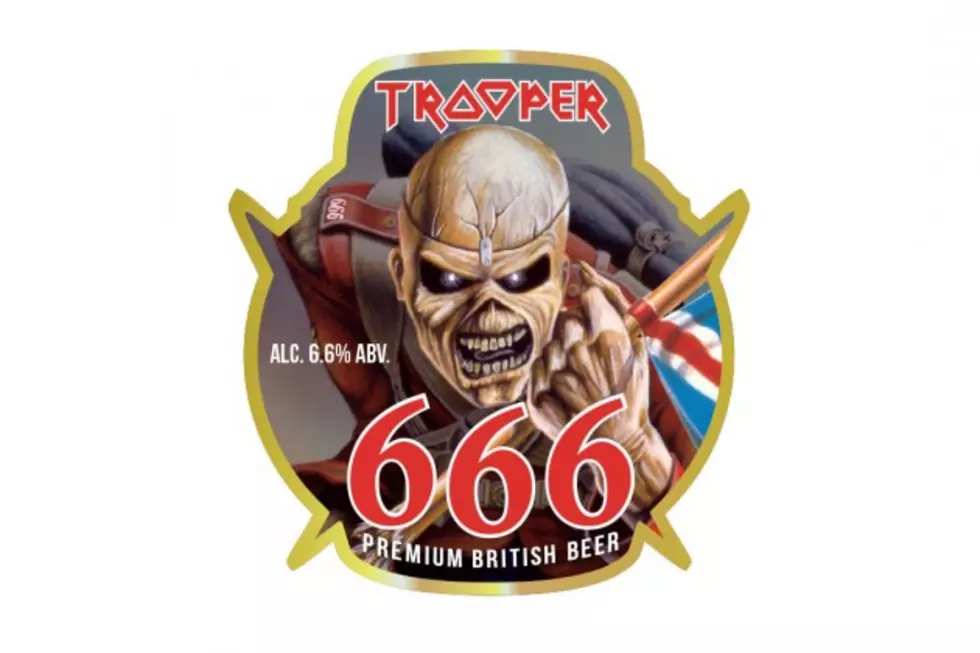 Iron Maiden to Introduce 'Supercharged' Trooper 666 Beer
Robinsons
Iron Maiden's signature beer, Trooper Ale, has been massively successful since its introduction. The ale has reportedly sold 10 million pints in just two years, and to celebrate the landmark, Iron Maiden will release Trooper 666 beer this fall.
Trooper 666 is billed as a "supercharged" version of Trooper Ale, sporting a healthy 6.6 percent ABV instead of the original brew's 4.7 percent. "Our fans have been asking for a stronger brew and it seemed only right to do this at 6.6 percent ABV," says Maiden singer Bruce Dickinson. "Despite the links with our song 'The Number of the Beast,' the name Trooper 666 has actually come about as a result of some detailed research by historian Terry Brighton, who has shown that there were in fact 666 soldiers that rode in the Charge of the Light Brigade during the Battle of Balaclava in 1854, and not just the 600 of Tennyson's famous poem."
That's Iron Maiden for you, always offering a history lesson! "I think it tastes tremendous," Dickinson adds. "And I personally prefer this straight from the fridge."
John Robinson, brand manager for Robinsons Brewery says Trooper 666 has "the same award-winning Trooper recipe but brewed to a higher gravity … another wonderfully authentic beer that is packed with malt but slightly sweeter than the original. It has a dry finish and is remarkably moreish."
Trooper 666 is currently available for pre-order, as is Iron Maiden's upcoming double album "The Book of Souls," which will see a Sept. 4 release. Pre-order the album here.
10 Greatest Iron Maiden Onstage Eddies
100 Metal Facts You May Not Know [Click Through]