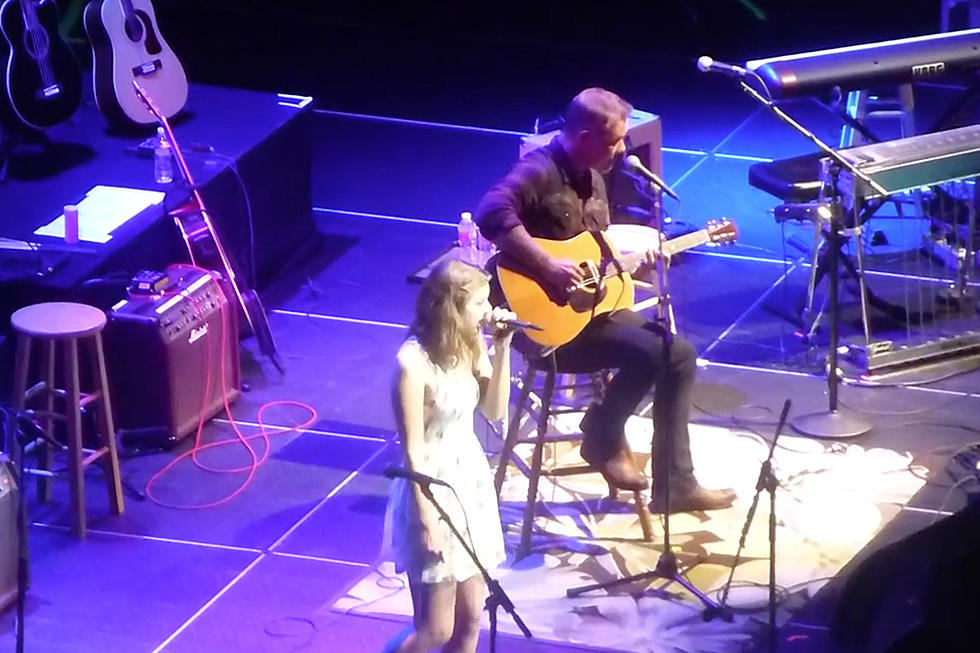 James Hetfield Performs With Daughter Cali at 'Acoustic-4-a-Cure' Benefit
YouTube
The second annual Acoustic-4-a-Cure benefit took place Friday night (May 15) in San Francisco and while James Hetfield may be used to the occasional collaboration, there's now one that likely moves to near the top of his list. The Metallica leader accompanied his 16-year-old daughter Cali on acoustic guitar while she sang the Adele song "Crazy for You." Fan-filmed footage from the performance can be seen above.
Hetfield also shared the stage with Alice in Chains' Jerry Cantrell on a cover of Blue Oyster Cult's "Don't Fear the Reaper" (seen below) and "Mama Said" and also performed the song "A Satisfied Mind" during his time onstage.
The night's other top line performer was Sammy Hagar, who delivered a soulful rendition of "The Thrill Is Gone," honoring the late B.B. King, "Halfway to Memphis" and a slowed down cover of Jefferson Airplane's "Somebody to Love" with Linda Perry, as well as Chickenfoot's "Sexy Little Thing" and "Bitten By the Wolf."
As for Cantrell, he stuck around to play Pink Floyd's "Wish You Were Here" (fan-shot footage below), "Dead Flowers" and "Brother" during his stint onstage. Other performers of note for the evening included Train's Pat Monahan, Perry, Hagar's Chickenfoot bandmates Joe Satriani and Chad Smith and actor/comedian Adam Sandler.
Proceeds from the benefit performance aided the Pediatric Cancer Program at the UCSF Benioff Children's Hospital.
James Hetfield and Jerry Cantrell Perform Blue Oyster Cult's "Don't Fear the Reaper"
Jerry Cantrell Performs Pink Floyd's "Wish You Were Here"
You Think You Know Metallica?
See the Yearbook Photos of James Hetfield + Other Rockers