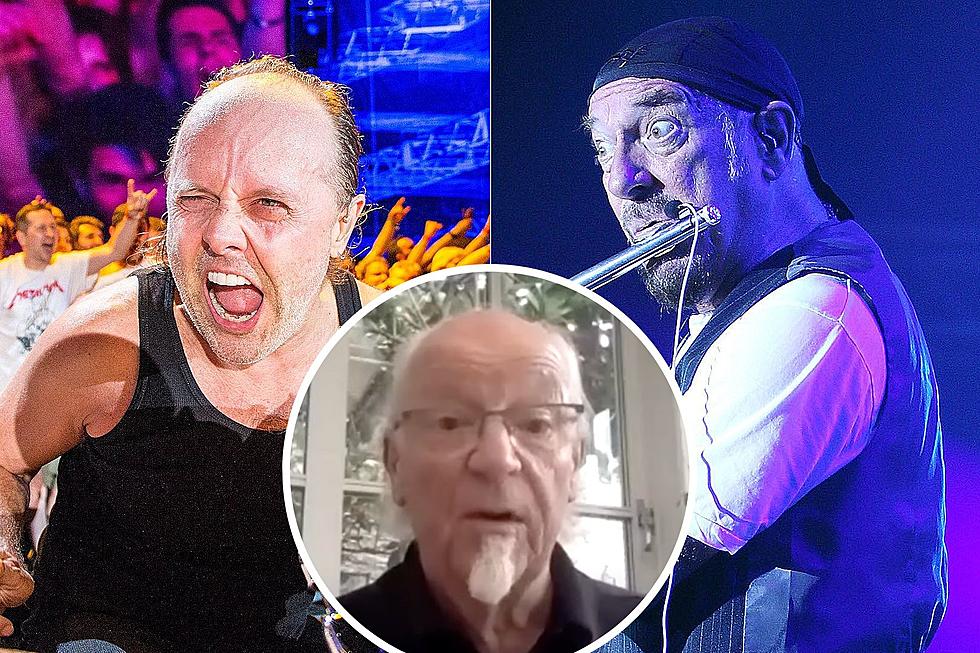 Jethro Tull's Martin Barre Shares Big Regret About Beating Metallica at Grammys
Jeff Yeager/Michael Ochs Archives, Getty Images / Mark Metcalfe, Getty Images / YouTube: VRP Rocks
In a new interview, longtime Jethro Tull guitarist Martin Barre reflects on the infamous night at the 1989 Grammys where his band beat the heavily-favored Metallica. He has one big regret about the event and blames the record company for it all.
At the 31st annual Grammy Awards in '89, the organization combined hard rock and heavy metal into one award for Best Hard Rock/Heavy Metal Recording. Metallica, having released the hit ballad "One" as part of ...And Justice for All, were widely viewed as a shoe-in to take home the award.
"The record company didn't think we'd get it, and they said we stood no chance, and they said, 'Don't go,'" Barre tells VRP Rocks in a recent interview. "I really wanted to go. Even as a loser, I wanted to be there," he continues, "So, I have to say it was their mistake and their lack of confidence in the band."
Winning a Grammy is a major accomplishment for any musician and Barre feels like taking the label's advice and not attending was a mistake.
"What a shame," he says, "because at the biggest moment possibly ever in my career and maybe Ian [Anderson]'s was lost forever. It didn't come across well that we weren't there. It just looked really bad. But despite that, I'm proud of it and it's a big, big deal."
"It's a big deal for me because essentially it was me, Ian and Dave Pegg that wrote, arranged and recorded that album. I feel a big, big part of it. Dare I say, I deserve it," Barre adds, joking, "I better not say that!"
The guitarist also seems to recognize that Jethro Tull's 1989 win may have been more about formal recognition for an influential career, rather than for what they had accomplished just with Crest of a Knave.
"But I don't have a problem with [the win] because to me it represents — it doesn't just represent one album, it represents years and years of a band putting something into the system and I think that year, whoever it was, recognized that we needed a little bit of a nod. And it was a good album to choose," Barre concludes.
Martin Barre on Jethro Tull's 1989 Grammy Win
READ MORE: Metallica's Kirk Hammett Got Into Prog Five Years Ago, Is a 'Full-On' Jethro Tull Fan Now
Best Hard Rock/Heavy Metal Recording Nominees — 1989 Grammys
AC/DC, Blow Up Your Video
Iggy Pop, "Cold Metal"
Jane's Addiction, Nothing's Shocking
Jethro Tull, Crest of a Knave
Metallica, ...And Justice for All
How Ian Anderson Feels About Jethro Tull Beating Metallica for 1989 Grammy
"I didn't think it was very likely that we would win the Grammy," Jethro Tull leader Ian Anderson told Classic Rock in a 2020 interview. "And yes I was a little perplexed and amused when we were nominated in that category."
Barre and Anderson appear to share similar sentiments about winning a Grammy, as Anderson said at the time, "My view is that we weren't given the Grammy for being the best hard rock or metal act, we were given it for being a bunch of nice guys who'd never won a Grammy before," quipping, "And there wasn't an award for the world's best one-legged flute player, otherwise I'd have to buy several more fireplaces to have enough mantelpiece space for all the trophies."
What Have Jethro Tull Been Up To Lately?
Jethro Tull (without Martin Barre, who was with the group from 1968-2012) released The Zealot Gene in 2022, marking the first studio record by the group since 2003's The Jethro Tull Christmas Album. Earlier this year, the prog rock legends released their 23rd full length, RökFlöte.
Metal Grammys Year by Year: Who Really Should Have Won