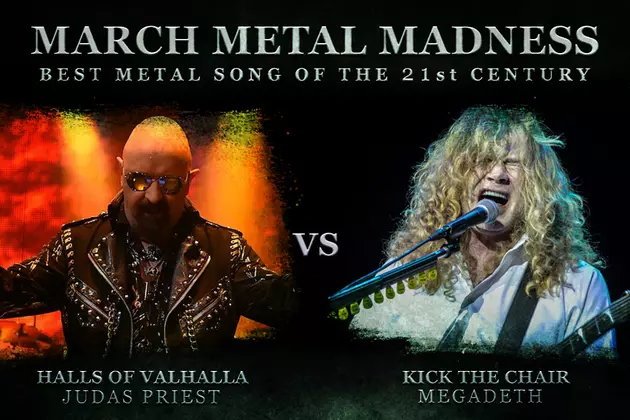 Judas Priest, 'Halls of Valhalla' vs. Megadeth, 'Kick the Chair' – March Metal Madness 2016, Round 1
Ethan Miller, Getty Images / Kathy Flynn, WickedGoddessPhotography.com
Two of metal's most cherished classic bands are going head-to-head in March Metal Madness and it's only Round 1! Judas Priest's "Halls of Valhalla" and Megadeth's "Kick the Chair" will each seek enough votes to enter the second round where the competition will only heat up in a fight to the finish to receive the honor of being called the Best Metal Song of the 21st Century.
Judas Priest released Redeemer of Souls in 2014 and the record was the first to feature the talents on new guitarist Richie Faulkner, who replaced K.K. Downing. The album boasted some fierce new songs, but none surpassed the majesty of "Halls of Valhalla." Falling in line with the hardest-hitting Priest classics, the song could have been taken off anything in the early to mid '80s, boasting epic guitar work and Rob Halford's ageless command of his signature high scream.
Bringing down the legendary Judas Priest can be tough, but if any band is up to the task, it's Megadeth. The System Has Failed was intended to be a Dave Mustaine solo album after the frontman had disbanded Megadeth. Of course things changed, but if songs like "Kick the Chair" were among the last we got from the metal mastermind, it would have been a fitting farewell. The track features a reckless, thrashing rhythm with a melodic hook lying underneath, but is it strong enough to take down the mighty Priest?
So which song will move on to the second round of March Metal Madness 2016? Listen to both tracks and vote for either Judas Priest's "Halls of Valhalla" or Megadeth's "Kick the Chair" as the Best Metal Song of the 21st Century in the poll below!
(This poll will end on Tuesday, March 8, at 9AM ET. Fans are able to vote once per hour, so keep coming back to make sure your favorite song wins!)
Judas Priest, "Halls of Valhalla"
Megadeth, "Kick the Chair"